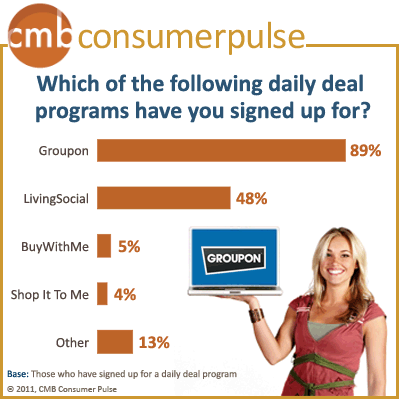 Groupon's filing for an IPO late last week made a lot of us on the consumer pulse team pretty excited. Why? Because we knew that we were sitting on fresh consumer data around "daily deal" programs. Under normal circumstances that's more than enough to get us to dive into the data and start putting a story together. But once we saw the reaction coming from industry insiders, we were psyched to have something extra to contribute.
Groupon's filing seemed to tweak analysts living in the "tech economy" in a very real way. It's fair to say that this is a group that's a little sensitive about anything that could be perceived as an indicator of a bubble (see Jose Ferreira at the Knewton Blog: "There is no tech bubble, just a micro bubble here or there"). Measured responses from mainstream sources pointed out that the Groupon model "has faddish aspects to it, and is an easily copied business." Less measured chatter likened Groupon's business model to a ponzi scheme (ahem…"Grouponzi") and accused the company of being "effectively insolvent."
There's a poll on today's WSJ.com journal community that asks readers whether "Groupon can withstand competition from players like Google and Facebook?" Spoiler alert: that audience is not optimistic.
With all of that serving as a backdrop, let's return to our consumer pulse data. In particular, let's focus on Groupon. Our study came out of field 3 weeks ago and N=1,461.
Here are the highlights:
44% of all respondents had signed up for a deal-of-the-day program
89% who signed up for deal-of-the-day signed up with Groupon
LivingSocial came in a distant second at 48%
Of those who have signed up for a daily deal program, 32% have not purchased one in the last 6 months
Of those who have made a purchase using Groupon, 62% are very satisfied, 9% are dissatisfied
18% of those who have signed up for a daily deal program have purchased a deal and allowed it to expire in the last 6 months
Of those who have not made a purchase, but are signed up for Groupon, 37% are dissatisfied
So what are we to conclude? First, nearly half of a gen pop sample has signed up for a deal-of-the-day program. That's a big number. Second, Groupon practically owns the entire market. Third, and most importantly, it's too soon to tell whether daily deals are a fad or not. So what do you think? Is it a fad or growing trend?
Posted by Brian Neville-O'Neill. Brian is CMB's Content Marketing Manager and loves everything about event booth assembly. You can follow him on Twitter @bnevilleoneill

Wondering if daily deals are right for your brand? Our friends at iModerate are hosting a 20-minute Coffee Break Webinar next week that might help. Click the mug for more details.