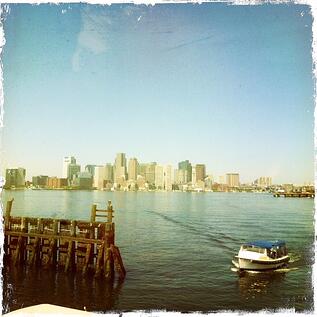 We spent the first half of this week at IIR's Measure Up conference right here in Boston. I had this event circled on my calendar for a while. "Social" is going through an experimentation phase and I was really looking forward to sitting in a room with active practitioners willing to say things like: "this is what worked, this is what didn't, and based on that experience, this is where I think things are heading." Not only did Measure Up deliver in that sense, the agenda also included thought leaders from the supplier-side and the world of academe (gasp!). The result? A lot of smart people in a room thinking about how to define, measure, and apply "social" in an impactful way.
There's no way I could possibly sum up the entire conference, but here are the themes that stuck with me:
1) "Complexity" and "social" are tightly coupled. At the end of the final day's opening discussion, I tweeted that I couldn't count the number of times I heard the word "complexity." Later, Forrester's Zach Hofer-Shall also noticed the recurrent "complexity" and "ROI" themes. In his experience: "I see those two terms come together often with measurement." I blogged last week about answering complex innovation challenges with simple terms and common languages/metrics. That works for innovation, but "innovation" has been under the microscope for 30 years. Social? Not even close.
2) Location based marketing has potential (and is in the business of "manufacturing serendipity"). Mike Schneider and Casey Petersen (Murphy Oil) delivered a great presentation about using social technology that grabs opt-in consumer location data, optimizes on-the-spot/point-of-sale offers (hello, ubiquitous smartphones) and drives incremental revenue. Casey described a case where he used location based offers to drive sales of a poor selling beverage at Murphy USA convenience stores. The program resulted in a 4% increase in sales of that product. FYI – Murphy has 1,000 stores in 23 states. The math speaks for itself. What I liked about Mike was his respect for the consumer and the importance of "opt-in." That's important for location based marketing going forward.
3) Brands need everyone on board, not just marketers. Two presenters, Amy Weisenbach of Beam Global Spirits & Wine and Nancy Dussault-Smith of Massachusetts' iRobot emphasized this point. Amy used education (and a slick video) to convince salespeople that marketing dollars are better spent on social efforts than on billboards. Nancy installed monitors that stream twitter chatter in places where engineers can easily follow along.
4) Being "in the game" and just "being social" isn't enough anymore. You need to engage. CMB's Jon Giegengack generated a fair bit of twitter traffic during his presentation. The idea that "social" is conversational is something that nearly everyone agreed on. Social is not the right place for blatant advertising. Your audience expects more. If brands are people, the audience expects a tone that is consistent with that ideal. You can't talk at people. You have to engage in a dialogue – preferably about things that matter to them.

For more on the conference, check out the conference's blog or read up on Twitter @MeasureUpIIR #MUCONF11.
Posted by Brian Neville-O'Neill. Brian is CMB's Content Marketing Manager and successfully broke down the event booth with only minimal collateral damage. Minimal. Not none. You can follow him on Twitter @bnevilleoneill