At a recent Association of Travel Marketing Exec (ATME) conference, Professor Alan Kantrow stirred the pot on a customer loyalty panel by declaring: "True loyalty is a felt sense of duty, obligation & commitment to purpose or thing larger than oneself."
The tweeps responded: "say what?"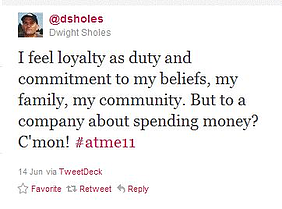 But I was intrigued. Kantrow's challenge is for us to think differently about loyalty – and to differentiate behavioral frequency from true, honest to goodness, capital L, Loyalty. Fully considering "Kantrow's challenge" may lead you to reconsider your loyalty program – and or support functions such as customer service.
Earlier this year in one of our CMB Consumer Pulse studies we asked 1400 people about loyalty – if they feel it, how they define it, and the benefits being loyalty provides them as consumers. We found:
Nearly everybody (97%) considers themselves loyal to at least one company. Almost half consider themselves loyal to more than ten companies!


Loyalty extends across product categories – from infrequent and expensive purchases like cars, to frequent and low-risk retail interactions like grocery stores and banks, to consumables like food and beverage (52%, 64%, 54%, and 40%, respectively).


The top reasons for loyalty include:
Value:
What you get for what you pay – selected by 86%
Product:
How it fits your needs – selected by 81%
Loyalty program
: Points, miles, promotions to reward frequent purchases – selected by 48%
Brand loyalty begins with a positive experience. When respondents have continued positive interactions with a brand – tasty ice cream, friendly sales clerks, a reliable car – they want to continue buying that brand. These positive experiences dampen motivation to consider other brands. Why should they try something else and risk being disappointed, when they have a product that works?
For this reason, price is an important but secondary concern. For most purchases, respondents would rather pay a little bit more and know what they were getting than take a chance on a cheap, unproven brand. For those who define themselves as non-loyal consumers, the bottom line is low price.
So what did respondents say were the benefits of being loyal?
Peace of mind: What they buy will meet their needs, function as promised and make them happy
Customer service: The company will treat them with respect
Making it right: If problems arise, the brand will stand by its product and make things right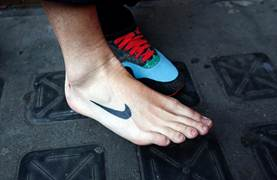 Therefore, it's fair to say that loyalty makes customers feel:
Secure: They know they've invested in a brand that will stand by its product
Relaxed: They can skip some of the comparison-shopping and other 'due diligence' activities
Nostalgic: Recalling the role of the brand in his and his family's life over the years
Some take that loyalty to the extreme, getting a tattoo of the brand to display their loyalty to the world!
While I'm not advocating tattooing your customers' names on your body, I'd like to ask if, as a marketer or manager of a brand seeking to drive revenue, are you treating your customers in a manner that is aligned with the kind of loyalty/commitment that they are showing you? Three points to ponder:
Customer Service: Do you treat your customers – who may call or email to report a problem – with respect? Do you respond in a timely manner? I've been pretty disappointed by some recent interactions with my credit card company and a major airline. I can only describe the time spent on hold and the overall responsiveness of the customer service reps as "pitiful."


Loyalty Program: Does your loyalty program prove how much you "really love your frequent customers?" How engaging is your program to your customers? Is it possible for customers to customize their benefits to make it more relevant? Would changes drive more incremental revenue?


Customer Feedback: Do you collect and analyze information on how well you're delivering on loyal customers' needs and expectations? In your questionnaires, do you include open-ended questions that enable customers to describe – in their own words: "What else could we have done to better serve you?" Any good relationship requires communication… and a relationship with your most valuable customers is worth cultivating.
So to wrap it up, we found that most US consumers consider themselves loyal to at least some of the companies they transact with because they are confident in the product. They know the benefits outweigh the cost. The loyalty they describe is more practical and less aspirational than Professor Kantrow's version – they're talking about peace of mind and confidence – not a commitment to something larger than oneself. But Kantrow's challenge leads us to consider how we can take our relationship with our most valued customers to the next level…

We've got the tools in our kit but some may need to be sharpened to create stronger focus on – and value for – our most frequent and valuable customers.
Posted by Judy Melanson. Judy leads the Travel & Entertainment practice and loves collaborating with clients on driving customer loyalty. She's the mom of two teens and the wife of an oyster farmer. Follow Judy on Twitter at @Judy_LC