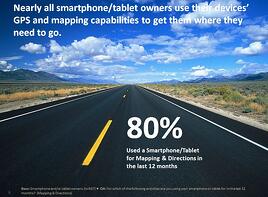 Ten years ago this Labor Day weekend, I moved to Boston from Upstate New York. I had dreams, a '94 Chevy Cavalier that looked like a sneaker, and MapQuest directions carefully taped to my dashboard. For those familiar with Boston, its pre-colonial lay out and slightly aggressive drivers, it's still a wonder I made it to my apartment. As I recently let the soothing voice of Roger (my GPS) guide me to a meeting outside the city, I reflected on how far we've come since the days of the road atlas and printed directions.
Although I'm fond of Roger, it's already clear the iPhone has made him obsolete, I don't need both. This Labor Day weekend I'm traveling to the Adirondacks and Roger is staying home. And according to Richard Read at All Car Tech's Taps for TomTom: The Standalone GPS Unit is Dead, I'm not alone. Read looks at research from our most recent Consumer Pulse and finds the GPS device may be going the way of the road atlas. Findings from our survey of 1,461 people, found 38% of mobile device users are using their GPS less, since getting a smartphone or tablet.
And those aren't the only findings to ponder as we head into one of the busiest driving weekends of the year: nearly all (89%) mobile device owners are using their devices for mapping and directions. Mobile devices are "go-to" devices in every sense, with 67% of mobile device owners eschewing printed directions, and 60% stopping less at gas stations, due to GPS and mapping capabilities on their device
For more on how Smartphones and Tablets are changing everyday behaviors, download our latest Consumer Pulse The "Go-to" Device: Smartphones and Tablets Change Consumers' Entertainment Behavior
How are you finding your way to your Labor Day destination— GPS, map, Smartphone, Tablet, compass?
This post was written by Megan McManaman, who has a perfect driving record.