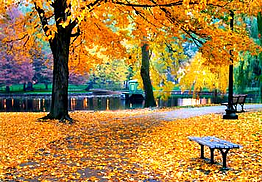 Autumn is in the air at CMB and we thought the time was right to share a few tips for enjoying the "Hub of the Universe" this season. Everyone knows that Boston is a history lover's goldmine, but Boston travelers who want to learn about the history behind the city don't have to stick to boring walking tours. There are bike tours, harbor cruises, leisurely hikes, and mouthwatering food to help you soak up the wonders and attractions of Boston.
Quack Quack!! There go the duck tours. Hop on and make sure you take a tour around Boston's famous spots riding around on this sea and land cruiser. Catch it between March and December when they are still rolling around the city. If you want more exercise, experience the Freedom Trail! Just follow the 2.5 mile-long red trail around 16 of Boston's historical landmarks. The best part is that it's free! You can follow the trail yourself and enjoy an historical adventure. Remember to brush up on your 5th grade history lessons before you head off so you can better understand what you are walking past.
For science and adventure mixed all in one, the Museum of Science is the place to go. Discover more than 700 interactive exhibits, watch a film in the IMAX Theater, or experience the feeling of being in an indoor light storm. This is a great place to go exploring with children, or if you just want to jump into the action yourself. It's a fun and entertaining place for all ages.
To grab a bite to eat for lunch, dinner or to do some shopping, stop at Quincy Market and walk up and down the hall of never ending food until you find something that catches your eye and your appetite (I know something will and probably in the first few steps). This outdoor and indoor market is right along the Freedom Trail and hard to resist with dozens of restaurants and food vendors inside and out.
Looking for an Italian experience? Head over to the North End where you can find streets upon streets of Italian restaurants and bakeries. While there check out the Limoncello Restaurant at 190 North Street. CMBers recommend the Rosette al Montasio ed Olio di Tartufo, otherwise known as 'Rosette.' "It's a Montasio cheese, Proscuitto and White Truffle Oil wrapped in homemade pasta…delightful" says Dana Vaille from CMB. They are open for lunch and dinner, and offer a traditional Italian experience. If your sweet tooth acts up and you need a little sweet treat, grab one of Mike's famous cannolis at Mike's Pastry YUMMY!! Choose from a wide array of Italian cookies and cannolis. Just try not to drool too much while in the bakery.
Working and living in and around Boston is a treat. The opportunities are endless, the food is to die for and the history and adventures in Boston is something that you will never forget. You can find the full list of CMB's recommendations on what to do and see, what not to miss, and where to eat here.
Posted by Stephanie Kimball. Stephanie is CMB's Marketing Operations Manager and loves any and all sports, the beach, traveling, marketing, being challenged, good food, nightlife, and Saturday afternoon naps. You can follow her on twitter @SKBalls