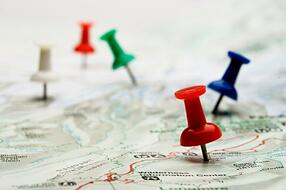 Client researchers are on the frontlines, fighting to redefine and broaden their role in the corporate decision making process. The rest of us are special forces, support troops, or reinforcements –devoted to helping our clients succeed. As a vendor-side attendee, I was pleased to see that the program lineup at the AMA Research & Strategy Summit last week was geared towards helping client researchers effectively "drive transformation." That's where it happens….cutting edge tools and techniques are only transformational if they reveal new insights that will give corporations a competitive advantage.
For many of the presentations, I was drawn in by the sound advice and specific approaches clients have used with success. The program was well done overall, but I have to say that Abby Mehta of Monster Insights, Tim Ruth of AT&T, Jeff Mercer of Microsoft, Dana Williams and Dorette Warms of Southwest Airlines, and Ian Lewis of Research Impact Consulting were especially helpful for those in a client-side role. Without a doubt, this information would have benefited me in my Bose and Wrangler days.
A recurring theme throughout the presentations: client researchers on the frontline need to get out of the trenches and forge ahead with business knowledge, consulting skills, research expertise, and the ability to synthesize and convey insights with great storytelling skills. Even with these capabilities, corporate researchers often face fierce opposing forces from long-standing corporate cultures, which may exclude researchers from having a "seat at the table." As Jeff Mercer outlined for the audience, client researchers face continued challenges—changing the expectations of their internal partners, breaking old habits, and fitting talent into the new mission.
The focus on client researcher needs not only furthers the support troops' appreciation of the challenges our clients are tackling, but also benefits the AMA as an organization. IIR Conferences are known to have a higher ratio of end users. This not only increases overall attendance, but also allows them to command a premium price. If AMA can attract more end users and keep their conference fees reasonable, they will fill a sorely needed niche in the market research conference arena. Budgets are tight and conferences have become a luxury for many corporate researchers – those who would benefit from the information the most.
I applaud AMA for having a great line-up of speakers – including our clients Christopher Frank and Marilyn Franck, and our partner NetBase – and for focusing content on where "the rubber meets the road."
Did you attend? What did you think?
Posted by Cathy Harrison. Cathy is a client services executive at CMB and has a passion for strategic market research, social media, and music. You can follow Cathy on Twitter at @virtualMR
You'll also find Cathy at The Market Research Event (TMRE). Are you planning on going to TMRE? CMB is an event sponsor and presenter at the conference. Feel free to use the code: TMRE11CMB when you register for a discounted price. We hope to see you there. Learn more about the conference here.