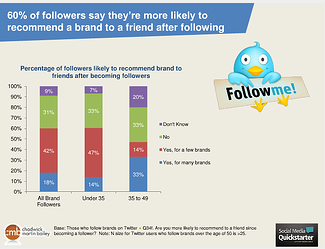 Last month, we released our 10 Quick Facts You Should Know About Consumer Behavior on Facebook, and there was a lot of great discussion about how different companies are using the mega-site. The sheer number of Facebook users, all over the world, means brands and companies know they need to engage and they want to know what fans like about their brand (and what they don't like) and how it impacts their behavior.
But, what about that other social media giant—the place where everyone from hip techies to budding revolutionaries go to speak their minds in 140 characters or less? This week we released a new Consumer Pulse report highlighting 10 Quick Facts You Should Know About Consumer Behavior on Twitter. In collaboration with our friends at Constant Contact, we asked nearly 1,500 Americans over 18 about their Twitter habits, and the results are in. Here are a few of the facts that stood out:
Consumers follow brands on Twitter for exclusivity, promotions and to be "in the know" (tweet this)
While Facebook users are interested in showing off their brand loyalty, brand followers on Twitter like getting the latest news and promotions before anyone else. What is the lesson for brands? Don't treat your Facebook content like your Twitter content, while the vast majority of Twitter users are also on Facebook, they don't need warmed over content they've already seen, they want to hear about innovations and deals before everyone else.
One-third of brand followers are interacting with brands more this year than last (tweet this)
As Twitter grows, brands have a great, and growing, opportunity to listen to their promoters and detractors, and respond directly. While the majority of brand followers on Twitter do not engage in two-way conversation with brands—brand followers are engaged, the vast majority follow fewer than 10 brands.
75% of consumers have never "un-followed" a brand on Twitter (tweet this)
While "un-following" a brand is as simple as clicking a button, most brand followers are loyal to the brands they follow. This loyalty is no reason not to invest time in your tweets, 67% of brand followers expect unique content from the brands they follow.
Nearly half of consumers on Twitter have been tweeting less than one year (tweet this)
Twitter just celebrated its 5th birthday but many users are just diving in now. Once, home primarily to early adopters and those in the tech industry, a significant percentage of Twitter users are very new to the platform. And it's not just the very young. Twitter's gaining new ground with older folks as well, a quarter of users over 50 reported tweeting less than once month.
In short, consumers expect brand presence on Twitter, and they expect more than just recycled Facebook posts. Twitter is a unique medium with its own rules, language, and etiquette, but the opportunity to listen and interact with consumers in your backyard and around the world is priceless.

Download the full report here.
Posted by Kristen Garvey. Kristen is CMB's VP of marketing, a mom of two and is getting ready to hit Orlando for The Market Research Event. You can follow Kristen on Twitter @KristenGarvey