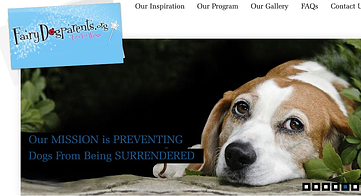 One of the things I love most about working at CMB is the people I work with. They are some of the smartest, most fun loving, and dedicated people I have ever met. Not only are they passionate about their market research, but they are passionate about their personal lives as well. And our HR Manager Marlo is no exception.
Marlo Manning is our HR Manager by day and the founder of fairydogparents.org by night. Marlo started this non-profit in 2009 after losing her own dog. With that nagging feeling of wanting to do something to honor her dog, she started a non-profit to help people down on their luck still afford to keep their dog. Heart wrenching stories like one on NPR: Pets and Recession: Hard Times for Snoopy detail the agonizing decisions pet owner face when they run into financial hardship. Marlo took her passion for dogs, sadness for her own loss and made a difference. Take a look at this:
Visit msnbc.com for breaking news, world news, and news about the economy
One year later Marlo was on the Nightly News again with Brian Williams. The segment aired on Wednesday the 21st:
Visit msnbc.com for breaking news, world news, and news about the economy
We're pretty proud of Marlo for turning her passion into action, for taking an idea and making it happen, but most of all for the difference she has made in the lives of so many.
Wondering what to get your dog for Christmas? My dog is getting a donation in her name to fairydogparents.org You can donate here.
Posted by Kristen Garvey. Kristen is CMB's VP of Marketing, a mom of two, well three including her 2 year old labradoodle Clementine.