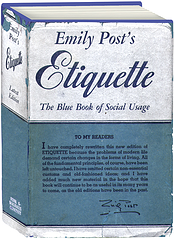 Last week I blogged about the positive intentions of consumers who take the time to participate in customer feedback surveys. One of the more disappointing findings is that most companies fail to respond when customers give poor scores or negative feedback. On this point, we asked respondents to recall the last time they provided negative feedback or a complaint in a customer satisfaction interview, and whether a company provided a response. A majority say they did not receive any response—just 35% recall any type of response from the company.
This was quite a surprise. Companies are investing tens of thousands of dollars in their customer feedback programs, but many are missing the point. When customers complain it's because they feel disappointed or disrespected, treating them like an anonymous statistic is another kind of service failure. How do you teach a company or brand to mind their P's and Q's? Maybe we need an Emily Post for corporations!
When you think about it, customers who take the time to respond to a customer satisfaction interview have given time and effort to provide information that should be valuable to the company. Those who've had a bad experience could easily turn and walk away. Instead they respond to a request for feedback. Whether it's a complaint about a service failure, a suggestion, or even a review of a positive experience, companies need to let customers know they're being heard.
And yet the majority of companies are turning their back on these people!
The thing is, technology makes it easy to manage and respond to feedback; and most people don't expect much. In fact, confirmation and a commitment to improve will go a long way to show appreciation. And of course, a simple "thank you" can't hurt.

Download the full report: Customer Satisfaction Surveys: Open the Door to Customer Engagement
Posted by Jeff McKenna, Jeff is a Senior Consultant at CMB, and the creator and host of our Tools and Techniques Webinar Series.