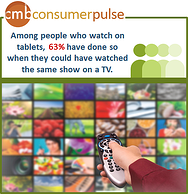 When we set out, in our latest CMB Consumer Pulse, to discover how consumers are navigating the unprecedented range of options for accessing TV and movies, we knew some of the things we'd find out—e.g. the number of people who have completely cut the cord is still small, Netflix streaming is very popular, and many people are watching on smartphones and tablets. However, some things surprised us:
Completely cutting the cord may be rare, but that's not the only, or even the most important thing to worry about
People who have completely "cut the cord" entirely are a very small group (3% of the study's population). The more compelling finding is the number of people who may be "on deck"— those who have tried Over-the-Top TV (OTT) and/or those who are considering reducing their pay TV service.
More than half (54%) of respondents used the Internet to watch TV at least once. (tweet this)

Nearly half (43%) of pay TV subscribers said that they were at least somewhat likely to cut back on premium services (like Pay-Per-View or premium channels) in the next year. (tweet this)
This suggests that a big chunk of consumers' TV-watching dollars could shift, even if their pay TV cords remain intact. And, that awareness and perceived value of OTT have risen to a point where consumers of all kinds are investigating OTT as an option.
The biggest screen does NOT always win, and the definition of "watching TV" is changing
Everyone knows that new devices are impacting consumer behavior. But our research suggests technology is driving fundamental changes in how people define the "TV watching experience." For example:
Among people who watch TV on tablets, 58% say that they watch TV on their tablet when they're at home. (tweet this)

Nearly two-thirds (63%) of those people say they've used a tablet even when they could have watched the same show on their TV. (tweet this)
There's no indication that people will stop using their televisions entirely. But this does suggest that mobile devices have a role in the TV experience that transcends their mobility; and there are more scenarios where people will choose something other than the biggest available screen.
Not all elements of the TV watching experience are created equal
In our survey, consumers completed an exercise that forced them to trade off different attributes of a TV service provider based on what was most important to them. Some of the findings were obvious (e.g. people want to pay less for their TV). But other priorities offered more of a surprise:
Streaming Content beats Owning Content: Consumers prefer alternatives that rent/stream video over those where you download and own the content. (tweet this)

More Content beats Newest Content: More consumers say having the largest catalog of content was more important than the fastest access to new content. (tweet this)
In short, technology and features matter but complexity is a barrier to switching over completely. Today, people who want an OTT solution have to manipulate a Rubik's cube of devices, platforms/providers, and payment models. However, that will change as more streamlined solutions come online.In the future, the most successful offerings will be those that provide a simple solution that's built around the things that matter most to consumers.
Check out this short video:

We surveyed nearly 1,500 consumers in the U.S. to get a pulse on their TV and video viewing habits and what it means for the future of OTT. Learn more, download our Consumer Pulse: The New Age of Television
Posted by Jon Giegengack, Jon is a Director at CMB and leads research for digital entertainment companies in television, music, videogames, and social media. As a veteran cord cutter, he knows the good, the bad and the ugly of today's TV options.