From the giant cups of Coca-Cola featured on every America Idol, to the two and half hour GM car commercial Michael Bay called Transformers, product placement can provoke a lot of eye-rolling. There's something so inauthentic about it, and really if something looked inauthentic in Transformers, that's saying something. And behold Stephen Colbert, reading a memo from sponsor Wheat Thins, detailing how he could incorporate the crackers into his show:
Yes it can be bad, really bad.
However, we are forced to admit to enjoying how Niemen Marcus and Target promoted their joint holiday collection during the November 11th episode of our guilty viewing pleasure—Revenge. The retailers were the only sponsors for the whole show and the long-form commercials were in effect a "story within a story," featuring the show's actors. In each spot a character was sent a fancy piece of clothing and told to meet at a secluded location revealed in the last ad, and both of us watched each and every one.
So, why did two people, with DVRs and a dislike of product placement, sit through what amounted to roughly ten whole minutes of commercials?
Athena says: The ads really looked like part of the show. I didn't speed through them because at first I wasn't sure they were commercials at all. Making the ads so seamless clearly took a lot of effort; the retailers partnered with the show's writers and designers and it really showed in how the ads were staged and shot.

Caitlin says: Because I'm already invested in the characters on the show it wasn't a stretch to watch the commercials. The character, Nolan, who turns out to have sent the gifts, is a millionaire, but very young, quirky and a nice guy. The rich but accessible angle fit perfectly with the Neiman/Target partnership.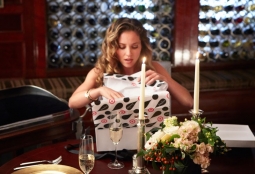 And we both agreed they did a great job focusing on the items from the collection. The tissue paper in the boxes had the logos, and the clothes looked like clothing the characters would really wear, especially the Lela Rose dress worn by Charlotte.
Ultimately the ads worked because they told a story, both of us genuinely wanted to know how the story ended, and after the show Athena Googled the collection to take a closer look. Now that we have so many ways to avoid ads, it takes something special to make people stop, watch, and maybe as Target and Niemen's hope, even buy something.
Athena is Team Director for CMB's Financial Services practice. Caitlin Dailey is a Senior Associate Researcher on our Retail practice. They're both looking forward to shopping the collection, which debuts on December 1st and finding out if Jack and "Amanda" make it through the holidays.