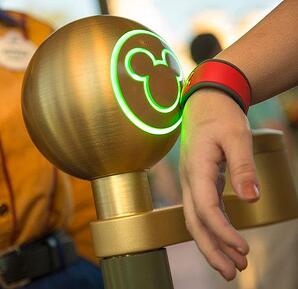 You may have heard the latest from Disney—they're about to introduce a new "MagicBand" wristband letting wearers take advantage of perks like skipping to the front of the line for rides, as well as pay for meals, and purchase gifts. It offers guests the ability to leave the wallet and paper tickets at home and focus on having fun. The benefits to Disney can be huge, and a lot of people are seeing it that way; as one headline proclaimed: "Disney creates the happiest data mine on earth." Pretty clever, but of course there are those who aren't quite as happy about the innovation; besides the thought of Big Brother entering our lives, won't somebody think of the tan lines?But let's focus on the business aspect, the ability to track all activities and purchases on-park creates an immense opportunity for marketing, and much of the chatter concerns how Disney can use the data for direct marketing. Did the guest ride all of the roller coasters? Target promotional offers touting the latest thrill rides. Did the guest get a picture with one of the cast members? Send a doll to the guest's suite to increase engagement. Did the guest make a purchase at any of the retail stores? Give them a coupon for a Disney store near their home.
Nearly everyone is coming up with ideas for how this might help Disney directly sell more of what it offers. I'd like to think about how Disney can learn from this data in order to innovate and improve the experience. In the direct marketing examples, the data remains data— it's used solely to trigger marketing offers. For market researchers, the data isn't useful until we find relationships that are relevant to decisions.
So, here is my challenge for you: what type of analysis do you think needs to be done? What potential relationships might Disney find to innovate and change the experience?
I'll get it started:
Disney could run on-property communication tests to improve messaging and information delivery. By placing unique signs throughout the park, Disney can track all guests who pass each sign and capture behaviors after passing the sign. Instead of waiting many weeks or months to gather feedback, Disney can get an "immediate" understanding of which signs work best – and potentially why.
Tell me your ideas in the comments:
Jeff is VP, Market Science Solutions at CMB. He'll have a pair of shiny new mouse ears for the most interesting idea. If he's not wearing his wristband you can still find him tweeting @McKennaJeff.