In 2006, psychologist Daniel Gilbert published a book called Stumbling on Happiness. It posed a provocative question: "Think you know what makes you happy?"
Spoiler alert! You don't.
The basic premise is that people are bad at predicting what will make them happy in the future. But they know when they're happy now. In fact, scientists who study emotion generally agree that the best way to learn how someone is feeling at a given moment is not to scan their brain or read their face—it's to ask.
So, according to Gilbert, the best way to predict whether something will make you happy in the future is to ask people who are experiencing it now: How does it them feel?
This speaks to the awesome utility of user reviews—some of which are also fun to read. (A special shout-out to the Amazon shoppers who've reviewed BiC's Retractable Ball Pens "For Her"…)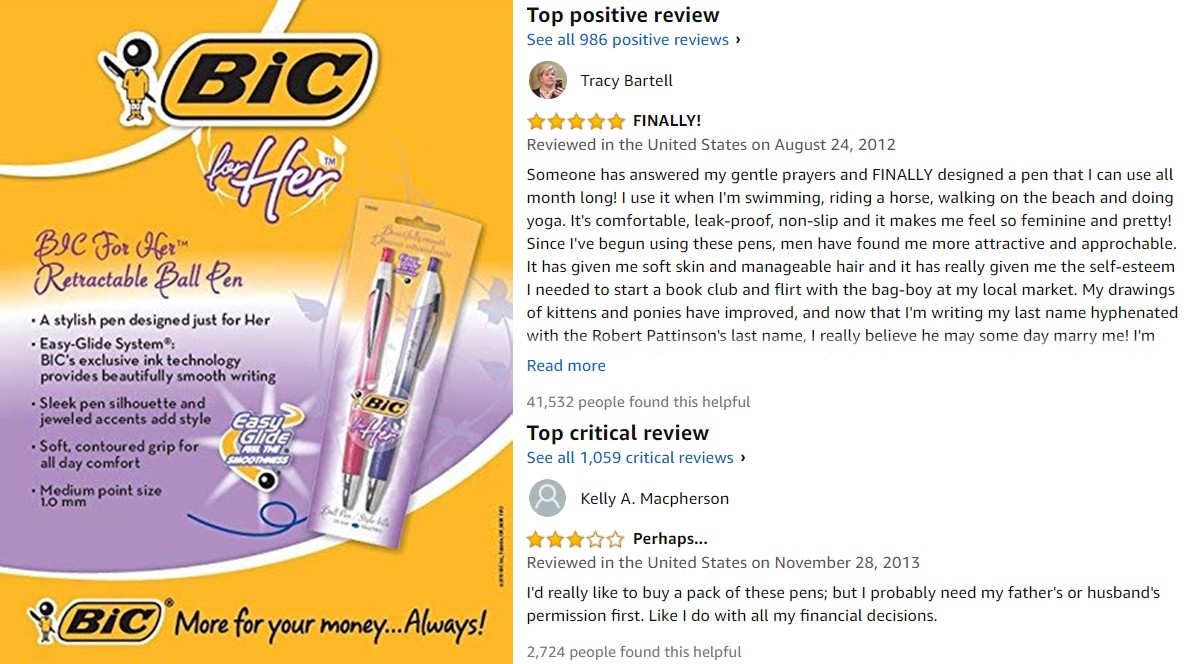 But while user reviews can be quite helpful, most have a built-in bias: The people who write them tend to be experiencing emotions high in activation.
Emotional activation is one of two dimensions that underly all emotion; the other is valence.
Valence is the intensity of a positive or negative feeling
Activation is the amount of physical energy associated with it
They are often correlated, but they aren't the same. Take, for example, feeling angry vs. feeling sad: Anger and sadness can feel equally and intensely bad in terms of valence. But anger is high in activation. It's agitating and makes people want to act. By contrast, sadness is low in activation. It's wearying and makes people want to withdraw.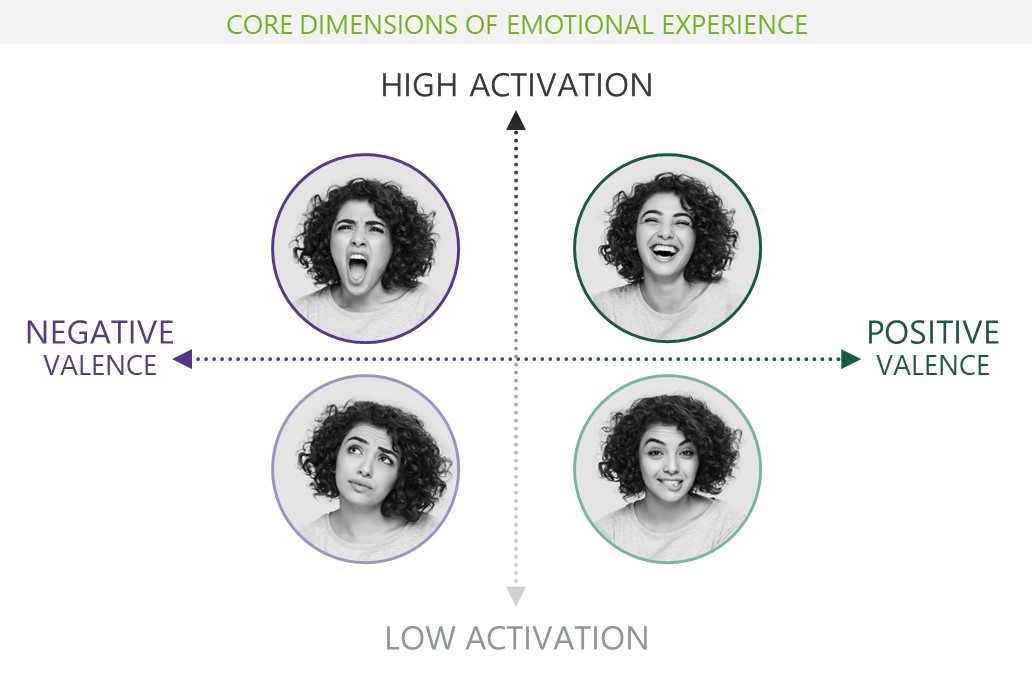 Critical user reviews tend to come from customers feeling negative high activation emotions (e.g., anger, frustration or disgust) because they want to funnel that energy into something—like calling customer service, lodging a complaint, quitting the brand, or venting their feelings in other ways. Incidentally, that's also the reason why stories about brands that spark moral outrage are particularly likely to go viral. (Don't believe me? Just ask United Airlines.)
Negative low activation emotions (e.g., feeling disappointed or discouraged) can be damaging in their own ways—for example, when they lead customers to quietly lapse. But those customers are much less likely to raise a fuss or write a scathing review.
The same goes for positive emotions: Inspiring high activation positive emotions (e.g., excitement, delight or pride) leads customers to do things like proactively recommend the brand or take time to write a glowing review. Positive low activation emotions can be good too—for example, in financial services, making customers feel comfortable and secure drives retention. Still, customers who feel comfortable and secure aren't likely to shout it from the rooftops.
In short, user reviews only tend to capture extreme poles within the top two quadrants of emotional experience: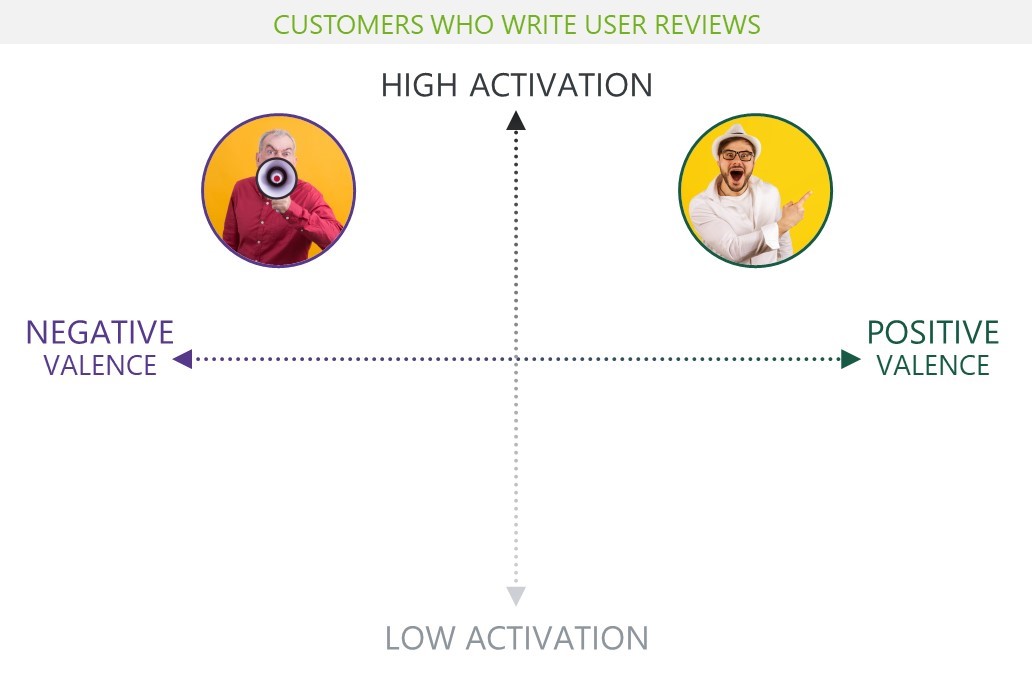 But if we can't rely on user reviews to give us the full picture, what can we do to predict how a brand will make us feel?
As luck would have it, at CMB, we just fielded a major study on the psychological benefits delivered by a range of brands. We had a nationally representative sample of over 20,000 people. And, to assess the emotional impact of using each brand, we applied our proprietary measures of valence and activation—so the results are perfect for (among other things!) identifying brands that make people feel great.
This brought to mind Stumbling on Happiness and got me wondering… What brands should I be considering? I can't disclose all our results, but I can share a few things that I plan to do differently based on our findings:
First, I'm going to use

PayPal

more often. We found that, for most people, using PayPal inspires low activation positive emotions like security, peace and calm—and that's exactly how I want to feel when I'm sharing my financial data. (Interestingly,

Netflix

also scores well on low activation positive emotions, bringing new meaning to the phrase "Netflix and chill".)
I'm also going to surprise my kids with

Mario Kart

, which drives high activation positive emotions for players. But I'm sticking to my hard "no" on

Fortnite

. Fortnite makes players feel a whole host of negative emotions, and middle school is hard enough as it is…
It's not just Fortnite! We identified many brands that trigger negative emotions—including specific

financial institutions

,

tech brands

, and media IPs like

Game of Thrones

. (The latter really resonated for me—the final season made me so mad I blogged about it.) There are even whole sub-industries that evoke negative emotions—like

cable providers

.
I can't drop my cable provider. What I can do is spend more time managing my investments, which—under normal, non-epidemic circumstances—generates surprisingly strong positive emotions. In fact, we found that investing with companies like

Fidelity

and

Vanguard

feels as good as shopping

Amazon

or watching

Star Wars

, and better than checking

Instagram

—the top social media platform in terms of eliciting positive emotions. To quote my colleague Lori Vellucci, who discussed this in her blog Social Detox, Financial Retox: "If you want to feel really good in 2020, log off social media and invest with a financial services firm!"
Our research also has implications for brands regarding the critical importance of understanding the emotions expected and experienced by their target consumers in terms of both valence and activation.
To motivate the kinds of actions that

support customer acquisition

—like trying the brand or recommending it to friends—brands need strategies that inspire positive, high activation
To

improve retention

, they need strategies that cultivate the comforting sense of inertia that flows from positive, low activation Particularly in industries, like financial services and tech, where peace of mind is key to customer satisfaction.
To

minimize fallout

from negative, high activation emotions, brands need channels that enable customers' frustrations to be expressed privately, addressed efficiently, and tracked in order to see whether the same issuers are irritating others.
To

prevent attrition

from customers feeling negative, low activation emotions, bands need strategies for flagging them—since they may not be making much noise—and fixing the issues they find disappointing or draining.
To

attract new customers

, brands must also manage prospects' emotional expectations. Anticipating negative emotions—whether high or low activation—is a strong barrier to brand consideration.
Understanding brand performance in each emotional quadrant is one of the ways we help our clients inform strategies that are high in consumer EQ. And that's the real reason we do this research—to help our clients.
Implications for how to live life more joyfully are just the cherry on top!
---

Erica is CMB's VP of Consumer Psychology. She holds a Ph.D. in psychology from Princeton University. Prior to CMB, she led insights research at American Express, where she was a recipient of the CMO Award for Achievement in Excellence.
Follow Chadwick Martin Bailey on Facebook, LinkedIn, and Twitter for the latest news and updates.