The Market Research Event (TMRE) is one of—if not THE—favorite conference of ours each year. It's the industry's "can't miss" event where over 1,000 market research and insights professionals descend upon Orlando, Florida for three days jam-packed with speaker sessions, learnings, networking, and more. As a supplier, TMRE is an opportunity for us to catch up with clients, peers, and colleagues, while learning (and sharing) the latest industry trends and topics.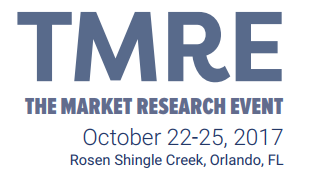 This year, we're especially excited to be teaming up with one of our favorite clients, ABC, to present on recent work we completed on content discovery in the age of disruption.
Digital disruption is on every business leader's mind. From the financial services industry to entertainment, we're all susceptible to the technological forces reshaping how the world works. Technology is empowering consumers—providing them more decision-making power, more options, and higher expectations.
This consumer-centric digital disruption is particularly important to the entertainment industry. There is more original content (and ways to view it) available than ever before, so content creators and broadcasters like ABC need to understand what drives consumers to try a new show AND what keeps them watching. Consumers' time is precious, and with a seemingly endless supply of content available at their fingertips, they choose wisely.
At TMRE, CMB's VP of Travel & Entertainment, Judy Melanson, and ABC's Director of Sales Research, Lyndsey Albertson, will share learnings from a comprehensive content discovery initiative that will resonate with any brand looking to gain traction with new products while navigating a market in flux. Audience members at TMRE will get an inside look at the art and science behind ABC's deep understanding of the view path to engagement, loyalty, and advocacy.
Speaking of loyalty—some brands may think it's a hard thing to come by these days. But with the right insights, it's possible to stay relevant in today's fickle consumer market.
Another client of ours, SF-based robotics and AI firm, Anki, will also be presenting on an exciting multi-phased segmentation study we recently completed with them. While creating a truly engaging, long-lasting product may begin with understanding your target segment, it doesn't (and shouldn't) end there. Effective segmentation should act as a roadmap for product innovation, be a guide for marketing and sales efforts… and quite frankly serve as gospel for the entire company.
Jeff Resnick, Sr. Director of Global Consumer Insights at Anki, will share the trials and tribulations, the highs and lows, the blood, sweat, and tears… that go into working at a start-up seeking to understand the true essence of WHO is most interested (and will stay interested) in their new products. Their consumer-friendly robot, Cozmo, is cute and all, but what also keeps him relevant is his deep emotional engagement with current and future customers
Want a sneak peek on our segmentation work with Anki? Click below for your copy of a recent webinar hosted by Jeff Resnick and CMB's VP of Digital Media & Entertainment, Brand Cruz:
Will we see you at TMRE? If so, as a sponsor, we're happy to extend a special discount for you to join us. Mention code TMRE17CMB when registering. We also encourage you to visit our booth and attend either (or both!) presentations:
Monday, October 23, 2017

Judy Melanson – SVP, Travel & Entertainment, Chadwick Martin Bailey
Lyndsey Albertson – Director, Sales Research, ABC

Tuesday, October 24, 2017

Jeff Resnick – Sr. Director, Global Consumer Insights, Anki
We're looking forward to connecting and sharing insights with you at TMRE in October!
Savannah House is the Marketing Manager at CMB who is looking forward to connecting with other insights professionals at TMRE in October!