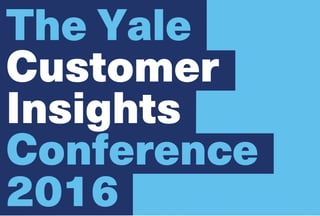 A hidden gem of a Consumer Insights conference, the Yale Customer Insights Conference is great for researchers seeking advanced quantitative methodological thinking. This conference is a rare mix of business and academia. Well-known PhDs came from Yale, Harvard, Columbia, and Wash U to share their research and findings. Not to be outdone, mega-brand thinkers from companies including Spotify, Vail Resorts, Viacom, and REI also came to share their insights. Here are a few key takeaways:
Be sure to add this conference to your calendar for next year, and we'll see you there.
Julie blogs for GreenBook, ResearchAccess, and CMB. She's an inspired participant, amplifier, socializer, and spotter in the twitter #mrx community, so talk research with her @julie1research.
We're hiring! Learn more about joining our team: