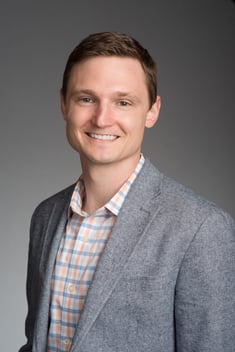 Earlier this year, CMB proudly introduced our new Consulting and Research Services team (CRS). This team is an extension of our long-term commitment to extending the reach of traditional market research through strategic consulting services. To better understand this team's unique contributions to client engagements, I sat down one of our strategy consultants, Andy Cole.
Andy, thanks for taking the time out of your day to connect. Can you tell me a little about your professional background and experiences?
In a word, I would describe my career as "varied" or "diverse," but most people look at my background and wonder if I have a problem sitting still. I'm originally trained as a mechanical engineer, and I started out doing R&D projects involving aerospace with Google, non-emissive fuels with the EPA, military-focused brain trauma with the Walter Reed Army Institute of Research (WRAIR), and vehicle collision forensics (with a small, lesser-known engineering company). My first regular job had me working for a large alternative energy company that would send me all over North America to climb 300-meter industrial wind turbines to figure out why they were offline, design temporary solutions to get them up and running ASAP, and work with R&D in Denmark to develop a permanent fix for systemic issues.
I'm not sure if that meets anyone else's definition of a regular job. So, how did you get from scaling wind turbines to a career in strategic consulting and research?
I realized that I had a strong interest in business and management, so I got my MBA and began consulting with large, small, and non-profit organizations on a wide range of topics, including social media marketing, energy, executive training programs, and product development. I also launched two successful businesses in the innovation marketplace, helping large corporations rapidly develop new technologies and discover emerging markets, which was a great adventure but lacked the lifestyle I was ultimately looking for.
I value diverse experiences because the most innovative solutions are borrowed from other industries and combined or repurposed in a new way. To me, this is the difference between being a true partner who can "connect the dots" versus a consultant who simply knows the best practices in a given industry. Clients don't hire CMB if they're just looking for best practices—we recommend a Google search for that purpose.
Given your unique line of sight, in your opinion, what's the greatest opportunity facing businesses today that a research-based consulting engagement could support?
There is an enormous trend in companies turning from sales-focused strategies to customer-centric design. When you hear companies embracing things like user experience, VOC, pivoting, and iterating, it's all about observing and listening to customers, making constant measurements, testing new concepts in the market, etc. That all just screams for custom research.
When companies are looking to become more customer-centric, they have to have a deep understanding of the target market that is backed by market information and unique insights. This is a huge opportunity for businesses to gain an advantage over their competition, and it's truly CMB's sweet spot.
It seems that more and more consultants are embracing the impact of research. What's your take on the role of research in the future of business consulting?
The bottom line is that companies are looking for clear and confident strategic direction, and the language of today's business is increasingly metric-oriented. It's not enough for consultants to simply say that customers will like an idea or that a decision will result in greater revenues. The savvy business leader needs to know exactly how much more preferable a concept is and exactly how much revenue they should expect compared to taking an alternative path. Smart clients don't trust advice without evidence to support it, and that is exactly what research provides. Good research forms the foundation on which effective strategies are built.
Can you provide an example of a recent client engagement that blurred the lines of delineation between market research and strategic consulting?
With the Affordable Care Act shaking up the entire healthcare industry, a large national insurance carrier saw an opportunity to use intimate knowledge of customer journey experiences and expectations to figure out which stages and channels were most influential (and would therefore pose the greatest marketing opportunity). Furthermore, the company wanted to know what messaging resonated with individual customers at each stage and within each channel, so it could be sure that marketing efforts would be as effective as possible.
To tackle this ambiguous challenge, we took a multi-pronged and multi-phased approach:
A qualitative phase—involving in-depth interviews and moderated online discussion boards—to surface key stages, channels, and underlying context from the customer journey.

A facilitated workshop with stakeholders and decision-makers to discuss key findings/insights and hypotheses, brainstorm potential solutions, and align on the path forward.

A quantitative phase to reveal what individual customers value most throughout their experience and to identify which experiences have the potential to be particularly influential in the decision to purchase.
It's great when you get the opportunity to really dig in to that level of detail. What did you learn?
At the conclusion of the project, we not only identified a number of surprising marketing opportunities by disproving a few fundamental assumptions, but we also validated (and put to rest) several long-standing hypotheses that were a stagnating source of internal debate. We also collaborated with the client to identify creative messaging campaigns that directly aligned with the trends stemming from our research as well as with the organization's overarching strategic objectives.
I look forward to hearing about more projects like this one that blur the lines in the future. Thanks again for taking time out of your day, Andy.
Heather Magaw is the Vice President of Client Services at Chadwick Martin Bailey and has never climbed a wind turbine in her life. . .and never intends to.
Andy Cole is a Consultant at Chadwick Martin Bailey and has already left the interview to go investigate three seemingly unrelated things.