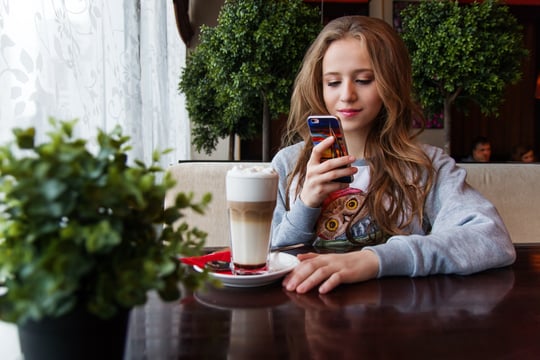 Brand image matters.
For marketers, that's a truism—and for good reason. Brand image does matter. I see evidence of it every day, in the work we do at CMB, uncovering insights that help brands craft winning strategies. We spend a lot of time helping our clients decide how to fine-tune their brand image, market it effectively, support it with products and customer experiences, and track their progress. Some brands have been wildly successful in their pursuit of a brand image that has helped them maintain a competitive edge (e.g., Disney is "magical," Apple is "innovative," Walmart is "affordable").
But the traditional focus on brand image hasn't kept-up with people's lives.
We live in a world where people are inundated with options. Are you looking for something to eat? Something to watch? Something to wear? Whatever it is, rest assured you'll have lots of possibilities. Even something as mundane as shampoo yields over 100,000 hits on Amazon. It's gotten to the point where scientists are studying the effects of "too much choice" on our wellbeing.
In a market this saturated, competing on brand image is no longer enough.
Most brands already strive to communicate a positive brand image and a well-defined set of brand benefits. In every industry, many brands are vying for the same customers and claiming the same (or similar) attributes. People are quick to say that Apple is "innovative"—but they say the same thing about Samsung. So, when they're choosing their next smartphone, "innovative" won't be a deciding factor.
Furthermore, competing on brand benefits (like service, cost, and convenience) isn't always practical. I witnessed that firsthand in my time at American Express. Great customer service and Membership Rewards were once part of a unique value proposition. But, nowadays, card benefits offered by one brand are quickly copied by others, and the industry is stuck in a "race to the bottom." In their efforts to beat competitors and increase share, brands are undercutting profitability to offer ever richer card rewards.
What's a brand to do in a world where it's gotten this hard to compete on brand image and benefits?
The answer: Compete on brand tribe.
People love brands that help them express their identities. And, thanks to the explosion of options for consumers, every choice is now a chance to express who we are.
Yet decades of scientific research have shown that our identities are social—they are shaped by our social groups, norms, and connections. Who we are depends on our real and aspirational relationships with other people. So truly strategic brands lead people to equate using the brand with joining a tribe that expresses an identity. And the secret to creating that connection is a clear, compelling brand customer image. After all, brands aren't people. But brand customers are.
Your brand's customer image is the mental picture people have of the kind of person who typically buys or uses your brand. It's related to brand image, but it's not the same. To take one of my favorite examples, consider Subaru. When we ask people to describe the brand Subaru, they say "safe" and "reliable." But when we ask them to describe the typical Subaru owner, they say "middleclass," "family-focused," and "outdoorsy." They picture someone with kids and a dog, who likes to hike, and who supported Bernie Sanders in the 2016 presidential primaries. There's a lot of nuance to their image of the typical Subaru customer—including attributes a person can embody, but a brand cannot.
Of course no image of your brand's typical customer will truly capture your actual customer base. Your brand's customer image is more like a stereotype: A set of overgeneralized assumptions about typical members of your brand tribe. But people tend to rely on stereotypes—often unconsciously—in order to navigate our complex world. Accordingly, brand customer image has powerful effects on consumer behavior.
For example, at CMB we've found that:
When people identify with their image of a brand customer, they are 14-times more likely to choose that brand, and 15-times more likely to recommend it.
As predictors of brand engagement, our measures of identification with the perceived

customer

routinely beat perceptions of the

brand—even on dimensions as important as quality, price, value, service, convenience, authenticity, reputability, and innovation.
Taking all this into account, it's no surprise that many of the most iconic ad campaigns have invoked a clear, compelling customer image. Remember "I'm a Mac / I'm a PC"? Dove's "Real Beauty"? Or the insidiously cliquey "Choosy moms choose Jif"?
To effectively compete on brand tribe, make sure that you have answers to these three questions:
What is your brand's

current

customer image? Does your target audience already have an image of the kind of person who uses the brand? If so, how clear is it? What attributes define that image (e.g., what demographics, motives, and values)? And what (if anything) makes it unique compared to competitors' customer images?
How

compelling

is that image?

Is it an image of a person your target audience can relate to? Is it a kind of person they know and like, or would like to know? Does it represent an "ingroup" or an "outgroup" tribe—and how appealing is it compared to their images of competitor brand tribes?
How can you

optimize

that image? What's working about the image, and what isn't? Which assumptions should you reinforce—and which should you work to change—to own a customer image that is compelling and unique for your audience, and realistically attainable for your brand?
If we want to influence consumer behavior, we must remember that consumers are people, and that people are social animals. Show them a group that they want to belong to, and they'll adopt the attitudes and behaviors they believe to be normative (i.e., typical) for that group—including choosing the same brand.
Yet most brands today are not leveraging this powerful insight in a truly disciplined, quantitatively-validated, systematic way.
And in the current competitive context—across industries—it's more important than ever. Brands assume that consumers are asking themselves, "What brand do I want to use?" But, at a deeper and more decisive level, they are really asking: "Who do I want to be? Do I want to be the kind of person who uses this brand?"
Interested in learning more about how CMB leverages consumer psychology, advanced analytics, and market strategy to help clients build customer-centric brands? Watch out latest webinar on BrandFx and the three critical pieces to the brand engagement puzzle: