If you're a studio, developer or marketer of games and/or gaming platforms, you know there are evergreen customer truths in developing a successful product, experience and go-to-market (GTM) strategy. For example, applying an influencer strategy for launches. But do those truths apply to new gaming platforms such as cloud gaming, VR, or the impending next gen consoles?
Some gaming truths are vitally relevant to these nascent platforms. But there are a few new surprises from A Gamer's Journey. This comprehensive study of nearly 4,000 U.S. gamers rigorously explored how gamers become aware, evaluate, buy, and use traditional and emerging gaming platforms.
The three implications for studios and platformers roll up to partnering and planning even closer together to deliver the best player experience and longevity for the franchise and platform. As you read the below, the dance steps are similar, which makes dancing together much easier.
1. FEED THEIR CURIOSITY & EASE THEIR EFFORT
Even though VR products such as Oculus and Vive debuted in 2016 and cloud gaming has been around even longer, gamers spend significantly more effort in VR purchase journey (and expensive gaming PCs) compared to consoles, games and peripherals.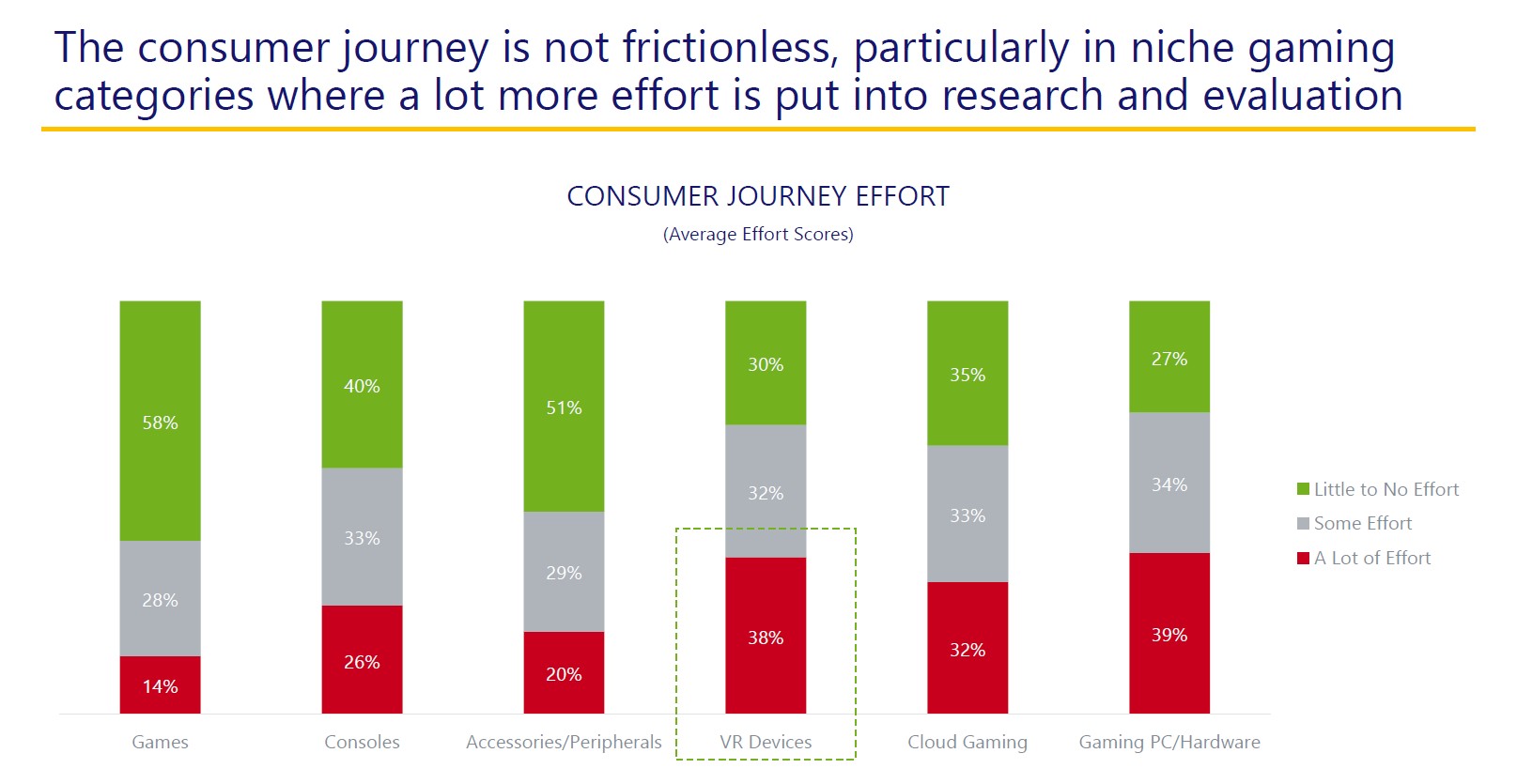 Within this category, comparing and researching products are first and bigger steps compared to more established gaming categories. That's a lot of motivation and curiosity to feed!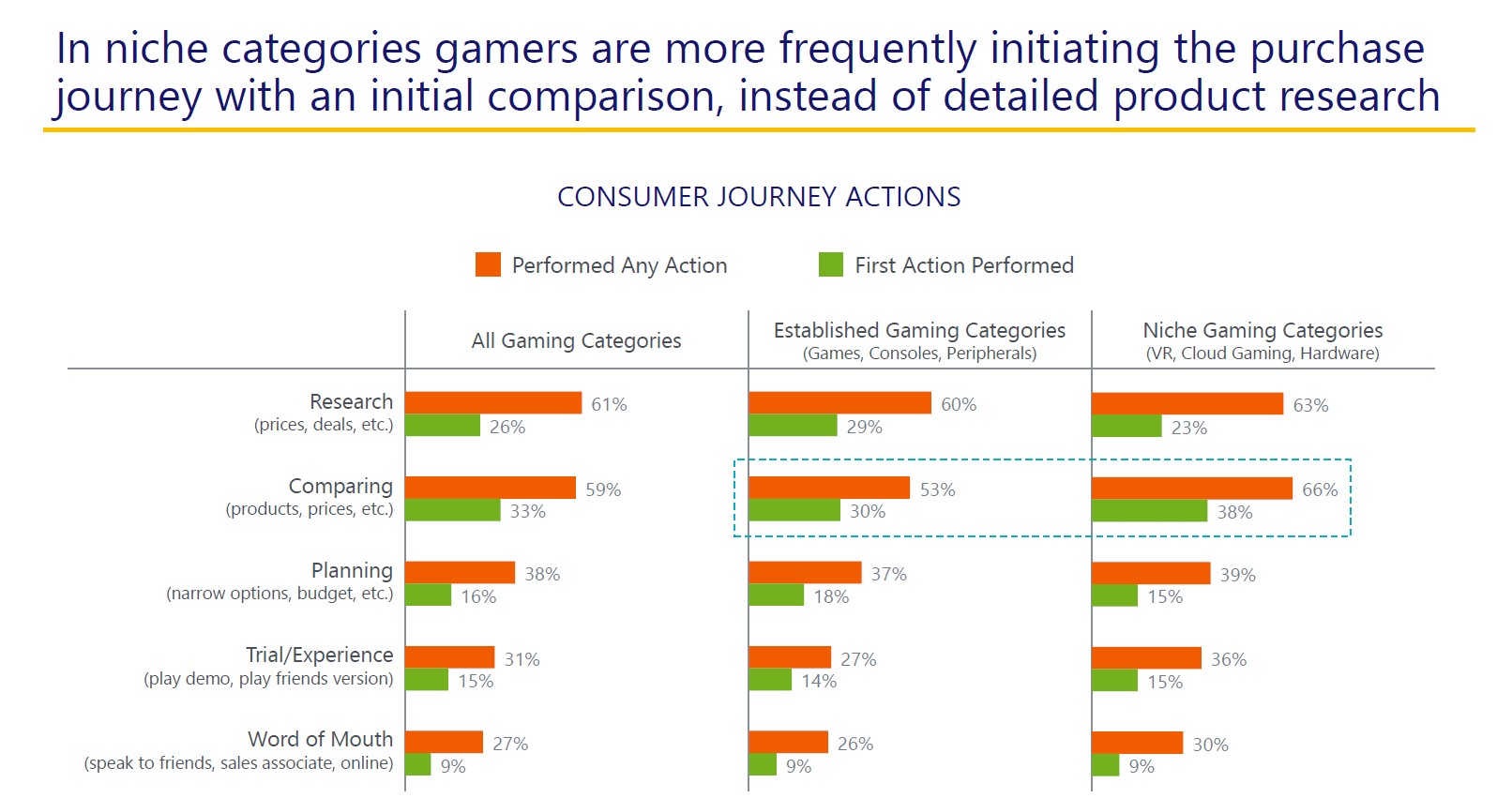 With so much time and effort comparing platforms, there's more receptive 'reach and frequency' available to raise awareness of your game if it's available on multiple VR headsets and cloud gaming services. In other words, if your game isn't exclusively on a single product or service, it's in studios' and platformers' best interest for the gamers, to feature available games with the core hardware or service specs—not a one or two clicks away or purely separate ads for games.

2. DON'T TREAT EVERYONE THE SAME
If VR and cloud gaming have been around for over four years, what type of gamers do you need to reach, and does it change your GTM strategy? It turns out the biggest detractors are casual gamers.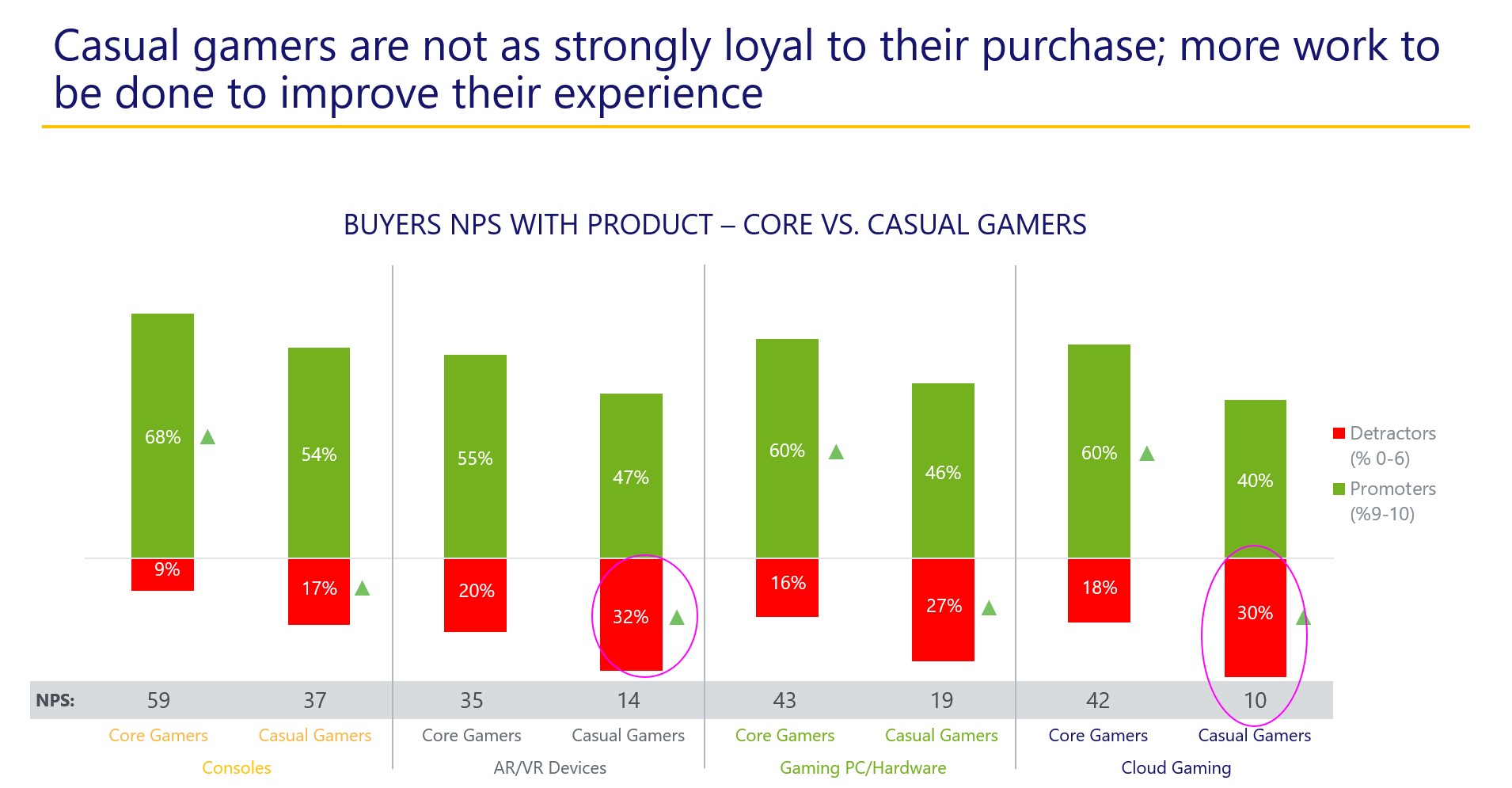 Most surprisingly, the assumption that everything you do to reach hardcore gamers is not the same for casual gamers. Yes, word-of-mouth is the top purchase trigger. But you can save on advertising with casual gamers because they are less attuned. However, the investment you make in providing available trials and earning solid reviews with hardcore gamers will reverberate and trickle down through word-of-mouth to casual gamers.
3. LOYALTY STARTS WITHIN
Managing your studio's or platform's reputation is reflected by how you treat your employees.
With the movement of activist employees in high tech, gamers are noticing, and they care. When asked what is important to a studio's reputation, all gamers (regardless of age, self-identified gender, platform, core or casual) agreed the

top priority for studios is improving treatment of employees: "I'm more likely to buy a game from a studio that treats its employees well."

This is much more important than managing the perception of putting profit before players or confronting wider societal issues. People--employees and players--first. Now that's a welcomed universal truth, pre-COVID-19, that will likely endure.
In a coronavirus world, one thing for certain is the uncertainty of the supply chain hitting next gen consoles' Holiday 2020 launch timeframe and delivering significant unit volume availability. And with E3's cancellation, feeding and managing gamers' expectations requires intense, dance-like synchronization between studios' and platformers' game experience availability. The good news is this close partnership applies to cloud, PC, VR and mobile gaming too.
---

Brenda Ng, VP of Strategy, specializes in applying research to product development and GTM strategy and decisions, with expertise and global experience in high tech.
For more insights, please follow us on LinkedIn, Facebook, and Twitter. Don't forget to immerse yourself in our latest gaming research: A Gamer's Journey | The Virtual Reality Edition. And stayed tuned for more of our findings--VR and beyond.