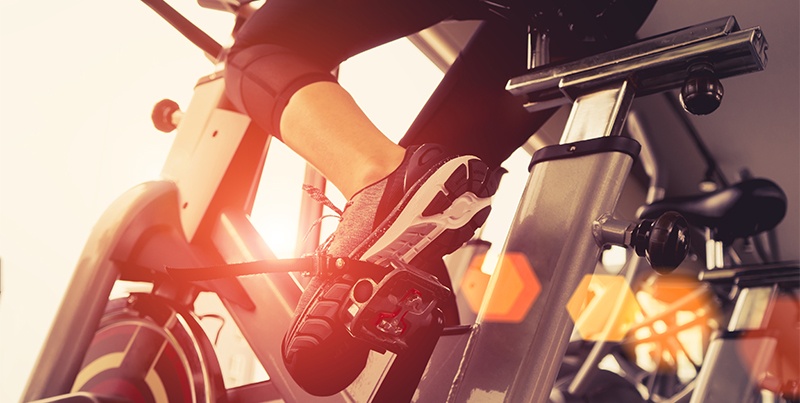 Scroll through Instagram and you'll see ads from every conceivable fitness craze—from trampolining and aerial yoga to infrared saunas.
What's "hot" today (seriously, check out these saunas) might not be tomorrow, and because apps like ClassPass make it easy to try new workouts, it's an even tougher market for upstarts to break through and survive.
That's why I am a huge admirer of indoor cycling studio SoulCycle, and how it's managed to survive and thrive despite the rise and fall of other fitness fads (is water aerobics still a thing?)
Last week at INBOUND 2018, Julie Rice, co-founder of SoulCycle, shared how she built a fitness empire. In just over 10 years, she grew a single studio in Manhattan (Rice herself working the front desk) into a multimillion dollar pop culture phenomenon with a cult-like following.
What is it about a 45-minute spin class that catapulted SoulCycle into the ranks of brands like CrossFit and Nike? A brand that successfully fulfills the functional, emotional and social identity needs of its target customer.
SoulCycle's workout lives up to its promise
This goes without saying, but SoulCycle is one heck of a workout. It's more than riding a bike. Riders clip into stationary bikes and pedal to the beat of the music—following the lead instructor by adjusting speed and resistance based on the song.
From a customer experience perspective, SoulCycle delivers on the promise of an intense workout. Having been to a few classes myself, I can attest to how physically demanding their classes are—leaving you sweaty and physically drained (but accomplished).
This, in a sense, is the most tangible and functional benefit SoulCycle provides its customers—presumably the biggest reason why riders pay $36 per class.
But, there are other reasons why riders love SoulCycle beyond the solid workout.
SoulCycle sends riders on an emotional journey
As Rice explained last week at INBOUND, SoulCycle was always intended to be as much an emotional experience as it is physical. Twelve years later, that still holds true.
Words like "athlete", "legend" and "warrior" adorn the SoulCycle studios. When the studio lights are off, these words are illuminated in white as vibrant reminders of how riding at SoulCycle is supposed to make you feel.
It's emotionally transcending to be in a dark room with music blasting, pedaling in unison with 30+ other riders, while the words "LEGEND" and "WARRIOR" (and of course the instructor) scream at you to keep pushing. It's empowering. You feel like a bad ass each time to dig your foot into the pedal.
At the end of the workout, you're left feeling lifted, encouraged, and powerful. Few fitness brands can achieve this level of emotional connection with their customers—a force that drives riders into the saddle week after week.
The SoulCycle community
A good workout and emotional connectivity are integral to the SoulCycle experience. But perhaps what's most compelling about SoulCycle is its masterful way of tapping into the social identity of its riders.
SoulCycle has strategically cultivated an "in" community that riders can't get enough of. Both in the studio and out on the streets, riders gladly sport SoulCycle swag as badge of membership to this close-knit community.
A recent study by Harvard Divinity School researcher, Casper ter Kuile, underscores the importance of community in choosing fitness brands. People are drawn to fitness classes like SoulCycle because they "long for relationships that have meaning and the experience of belonging rather than just surface level relationships," he continues, "Going through an experience that tests you to your limits…there's an inevitable bonding that comes from experiencing hardship together."
SoulCycle is about riding as a pack… and more importantly, being part of that pack.
It's this feeling of inclusion and being part of a group of likeminded athletes that drives its unprecedented tribal following—a loyalty rivaled only by CrossFit.
And for SoulCycle in particular, maybe it's the exclusivity—being a member of not just any community, but THIS community—that makes SoulCycle so alluring.
The Final Sprint
In 2011, Rice and business partner Elizabeth Cutler sold SoulCycle to national luxury fitness gym Equinox—forming a united front between the elite brands.
This partnership represents the continued success of SoulCycle as a leading fitness and lifestyle brand—one whose customer loyalty has continued over the years.
Fitness brands (all brands, for that matter) can learn a lot from SoulCycle in terms of what it takes to truly delight and retain customers. Of course, it's necessary to provide a superior customer experience (a solid workout, in this case) and establish an emotional connection with customers. But, brands cannot forget about the critical role social identity and community play in maintaining customer loyalty.
As markets continue to be disrupted by technology, innovation and new entrants, brands must leverage functional, emotional, and identity benefits to stay in the metaphorical saddle of customer consideration and loyalty.
Savannah House is a marketing manager who is slowly but surely ticking different fitness classes off her bucket list.