Last week, CMB and VIVALDI released the results of our watershed study: Business Transformation through Greater Customer-Centricity: The Power of Social Currency. In the report, we share insights from 18,000 consumers, about 90 brands, across 5 industries (beer, restaurants, auto, airlines, and fashion).
The genesis of this research was VIVALDI's Social Currency concept. Introduced in 2012, Social Currency is a framework for understanding brands' ability to fit into how consumers manage their social lives in today's social, digital, and mobile context. This year, CMB partnered with Vivaldi to refine the concept and offer fresh insights into a changing marketplace.
One of the most powerful lessons from our research is that today's customers don't see themselves as serving brands as the traditional "influencer" or "brand ambassador" was thought to, but instead act in service of themselves. We see people looking for brands that help them represent who they are and what they believe. Today, the brand is in the hands of the customer and brands that facilitate experiences and behaviors that help consumers explore, develop, and express their identities are the brands that outperform their competitors. This level of performance difference includes high levels of Consideration, Loyalty, Price Elasticity, and Advocacy.
So, how does Social Currency come together? There are two parts; one is an overall score that is a weighted average of the 7 core factors or dimensions (shown below) that influence brand success. Topping that list of dimensions are two important forms of Identity—Personal and Social. Our research shows that identity is a key driver in people's relationships to brands. The other piece of this framework is a Social Currency Assessment that helps brands develop truly customer-centric activities – messaging, advertising, content development, and digital media that align with customers' needs and wants. It's important to note that we're not just talking about brands being good at social media campaigns—it may be that customers express their needs and wants quite often in social media channels, but they also express themselves in many other social situations, and capturing that full spectrum is of vital importance.

The Case of Under Armour
Let's dig in! One of the stellar performers we uncovered was Under Armour. Founded in 1996, Under Armour is a relative newcomer in the sports apparel space, especially compared to well-known brands such as Nike (1964) and Adidas (1949). Without question, UA founder Kevin Plank had his work cut out for him when he began carting around his unique moisture-wicking T-shirts from the back of his car. It's hard to imagine how a company with such humble beginnings has risen so quickly to take on many other well-established competitors.
As customer influence has grown, we can see patterns in the performance of those brands that create and nurture the activities that allow customers to identify and share their interaction with the brands. This concept was borne out very clearly in our study, which showed how Under Armour has eclipsed Adidas in its overall ability to deliver Social Currency, and edges closer to the top performer across all industries—Nike. Despite Under Armour's size, it has done a masterful job understanding its customer and its customer's needs, and through messaging, shareable content, and the linking of its customer's Personal and Social Identities to the Under Armour brand, it has emerged as a force to be reckoned with in the sports apparel space. You can see in the diagram below "The Under Armour Success Story" that Under Armour scores particularly well in Personal Identity, Information, and Conversation dimensions.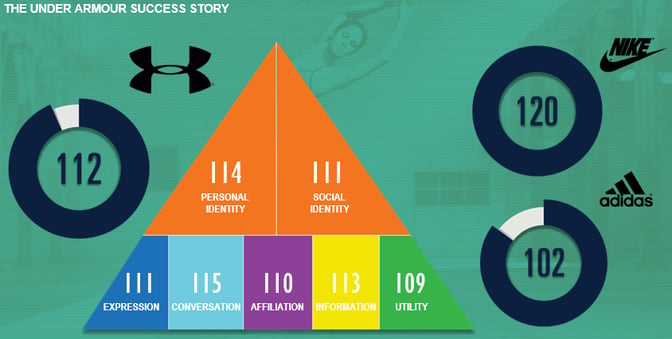 How does Under Armour achieve these high marks of Social Currency and build its brand?
The Misty Copeland example:
From our report: "Like Nike's "Just Do It" tagline, Under Armour's "I Will" messaging, is empowering, inspiring, and inclusive. Under Armour's messaging also celebrates the underdog with the competitive spirit embodied in its "I will what I want" campaign, featuring Misty Copeland, the first black woman to be promoted to principal dancer in the American Ballet Theatre's 75-year history. The campaign produced $35 million in earned media and was particularly effective with women with a reported 28% increase in women's sales. This success is supported by our research, while overall men's Social and Personal Identity scores are higher across all sports apparel brands, Under Armour's Social Identity scores among women (44.5) coming closer to those of men (48.1) than any of the others we tested in the category (Reebok, Adidas, Nike)."

The Michael Phelps Example:
You know we wouldn't let this post go by without an Olympic reference, and neither would Under Armour. The Michael Phelps featured "Rule Yourself" campaign (part of the "I Will" strategy) and video has grown to become one of the most shared Olympic videos of all time. What's so appealing? Why are so many people identifying with the message of "Rule Yourself" as put forth by Under Armour?
Katie Richards, writing for Adweek: "For one, it's striking the right emotional chord with its target audience: millennial men between the ages of 18 and 34. The dramatic nature of the Phelps spot (with a killer track from The Kills) and its ability to take viewers through the swimmer's intense training process elicited a sense of inspiration among 47 percent of overall viewers, and 68 percent of millennial men."
"Droga5 co-head of strategy Harry Roman echoed Prywes, adding that the Phelps ad is so shareable because it's able to convey the sacrifice that the swimmer makes each day to prepare for Rio."
As someone who grew up playing every sport imaginable as a kid, and continued to do so through high school and beyond, I can relate to the "Rule Yourself" idea. I've now converted to low-impact sports to save my aging knees, but there is part of me that identifies with that idea of not letting go, of taking one more shot. It's a natural bent of athletes, elite or otherwise. Under Armour has made it easy for me to identify personally, join the conversation through the videos created for the campaign, and express myself regarding the brand. A pale comparison it may be, but I can see that small bit of Michael Phelps in myself, the person who says "I will."
One final note about the "Rule Yourself" campaign. According to Adweek, to date, 56 percent of the spots' shares are coming from Facebook, followed by Twitter at 28 percent. You'll also notice, in the chart below, that across the social spectrum, people are expressing their personal and social identities in virtually every type of social environment.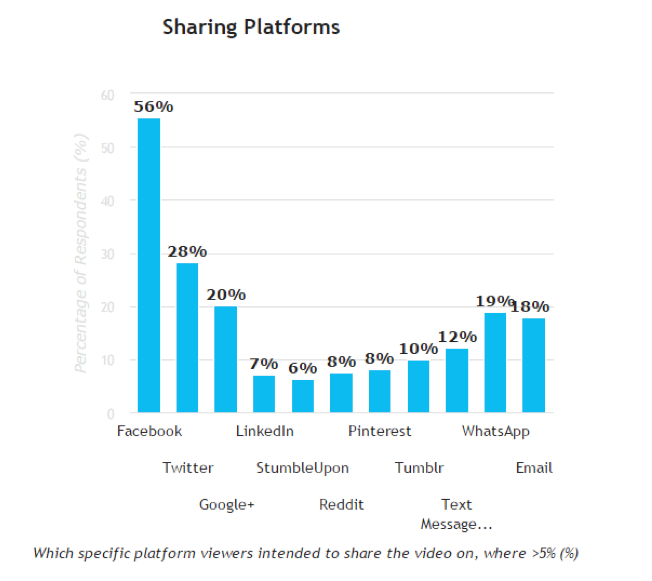 It's clear, after studying the 90 brands, that those brands that facilitate digital, socially-driven experiences and behaviors that help consumers explore, develop and express their identities are clear winners. Under Armour, in particular, has done an exceptional job in this regard. They have built on the experiences of Misty Copeland and Michael Phelps and made them identifiable to their customers, and hence identifiable with their brand. Under Armour has then made it possible to share great content and express oneself as a function of that brand. Anyone, dominant athlete, former athlete, weekend (or weekday) warrior can see that underdog, and know that "I Will" also!
Ed is CMB's Director of Product Development and Innovation. He thinks there is a game-changing product or idea within everyone, and it's his job to dig it out. You can share ideas with him @edloessi.
Download the full report, and let us show you how Social Currency can enable brand transformation:
And check out our interactive dashboard for a sneak peek of Social Currency by industry: