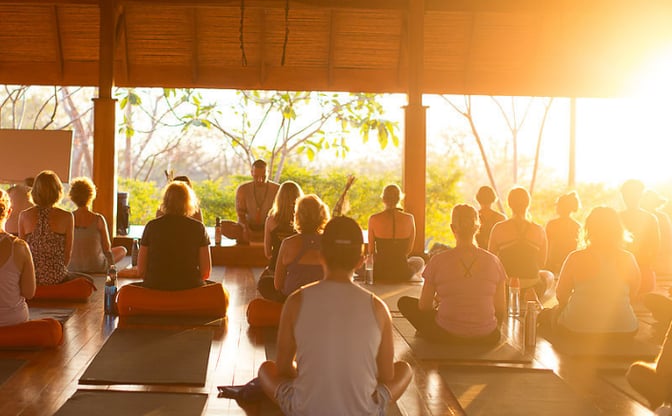 Last month I spent a week in Costa Rica attending a yoga retreat and returned home feeling relaxed and balanced. As I reflected upon what I learned, I realized that what was driving my positive feelings can be applied equally well to driving success in new product innovation.
I recently wrote an article commending brands for thinking "outside the box" to drive innovation, so this parallel struck me as a relevant and timely follow up. Here are the seven steps:
Step 1: Remove Distractions
At the retreat, we were encouraged to remove distractions that interfere with being present and mindful. Try this: take a couple deep breaths, focus on steady breathing, and try to quiet your mind. Once your mind is clear, you may find yourself at peace, more relaxed, and with space to visualize your goals. Similarly, when embarking on new product innovation, a company needs to remove distractions, ground itself, and make space to visualize its goal(s).
Step 2: Articulate the goal and visualize a successful future
Now you have space to identify your goals and visualize the future—to explore your personal purpose and to consider your North Star (your guidance). Similarly, brands must recognize and articulate the purpose of its new product innovation: Why is innovation important (or necessary) to the organization? What are the desired outcomes? Is it attracting new (next generation) customers or reengaging current ones? What brand benefits (or positioning) can be leveraged? What is the North Star: Where will success take the organization?
Step 3: Identify the roadblocks
To progress along the path of personal development, at the retreat we identified the barriers to achieving our goal. This is personal and can be challenging, but if roadblocks aren't identified early on, it's possible that you'll run into them later. What's holding the organization back? Is there anyone or anything that is preventing/hindering innovation? How can these obstacles be overcome?
Not all barriers are negative. When I'm working with clients on new product development, we look for the constraints–the rules by which the innovation must exist. While it's tempting to chafe at the constraints—to react negatively to existing guiderails—we've learned about their value. Without any constraints, it's easy to lose your way. Paradoxically then, these constraints can become a tool of innovation.
Step 4: Stretch your thinking
With your mind clear, goals outlined, and obstacles identified, it's time to start moving. Brands need to step outside their comfort zone into an expanded way of thinking, so develop an action plan to stretch your perspective and view of what's possible. For me at the retreat, the action that brought me out of my comfort zone was yoga dance (!!), but brands should consider other methods. How about running a Co-Creation session? Or instead engage a panel of thought leaders or futurists on perceptions of where the industry is headed. Perhaps reach out to some Gen Z-ers, artists, or hackers—someone who will make you think differently. If a brand is open and mindful, it'll find points of inspiration.
And remember to keep going—even when you think you're done. Just like in yoga, the work starts when you're getting tired.
Step 5: Draw from and reflect energy back to your community
Sometimes it feels like you're the sole voice of change, but recognize that you are part of a greater ecosystem. In yoga, this community is called your "sangha" and can provide strength, power, and support when you need it. Seek it out. Listen for it. Feel it. Innovation demands teamwork and collaboration across multiple teams, so leverage these different insights and perspectives.
Step 6: Service for others
At the retreat, I learned that yoga is something far more powerful than a fitness routine or a timeout from a busy life. Yoga is a transformative tool that enables you to show up for others and be of service to them. Similarly, an organization seeking innovation needs to act in service of its consumers. It must believe in and clearly articulate the benefit innovation provides to the consumer. Focus on how it will positively serve the consumer instead of the features and functionality it provides.
I've been in sales for most of my life, but I've never considered myself a "salesperson". I like to consider myself a "facilitator"—someone who helps people/brands accomplish their goals. I'm motivated by this place of serving others.
Step 7: Commit to daily practice
Innovation that drives business results doesn't happen overnight, and just like yoga, it requires continual practice and study. Even after you've launched a new product, you and your team should commit to reviewing results and continued adaptation and growth. My suggestion for daily practice: Turn off your email and go for a walk. Stretch your thinking and listen carefully to those with different perspectives. Be open to learning. Give yourself permission to fail. Just keep trying and never give up.
I hope these learnings can help ground and focus your plans for new product innovation. I hope you find yourself more confident in your path, with a stronger sense of your organizational purpose and a franker assessment of the barriers. I hope you feel better aligned with the opportunity and to your community. I hope you feel more flexible while still being focused on your goal.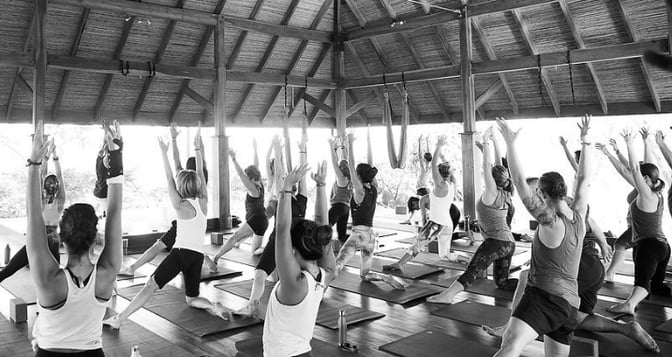 Namaste (Peace).
Judy Melanson leads the Travel and Entertainment practice at CMB, focused on helping companies prioritize operational and marketing investments to drive positive business results. An empty nester, Judy now has time in her life to enjoy painting, running and, obviously, yoga!