Emotion, Identity & the Benefits of Disney+
Welcome to 2020! If you're like me, you did at least three things over the holiday—visited family, ate too much, and read about the "decade in review." Most articles looking back at the 2010's mentioned the massive evolution in how we consume entertainment and the onset of the streaming wars. Disney+ and Apple TV+ have launched; HBO Max and Peacock are on the way. Analysts predict there will be too many subscription services to survive. Which will be among the last ones standing?
Netflix famously focuses on the customer, not the competition. But, if they're going to learn to live with a major competitor, I suggest they focus on Disney+. Primarily because of how well Disney's bastion of brands delivers emotional and identity benefits, and how important those benefits are to driving engagement—even compared to the functional benefits (like convenience) that helped Netflix upend the industry.
What are these different kinds of benefits? I'm so glad you asked! Here's a bit of background…
At CMB, we identified four psychological benefits that drive brand engagement:
EMOTIONAL BENEFITS

(e.g., positive feelings; enhanced joy; reduced frustration)

IDENTITY BENEFITS

(e.g., strong self-esteem; pride; a positive self-image)

SOCIAL BENEFITS

(e.g., conversation; social connection; a sense of belonging)

FUNCTIONAL BENEFITS

(e.g., ability to accomplish tasks or goals; saving time or money)
Each plays a role in BrandFx, our approach to helping clients attract and retain their target audiences.
As a psychologist, I love our framework because it captures what drives people in all things—not just in how they spend their time and money. Each type of benefit fulfills a core human motivation. People strive to maximize good feelings and minimize bad ones (emotional benefits), enhance their self-image and self-esteem (identity benefits), connect and build relationships (social benefits), and efficiently achieve their goals (functional benefits).
In a recent study with over 20,000 consumers, we found that these benefits are important for brands across diverse industries. But the relative importance of each benefit does differ by industry, sub-industry, and even by brand. In the media space:
For

umbrella brands

(e.g., Disney, Universal, Warner Bros.),

emotional

and

identity

benefits dominate importance, followed by

social

. So, to drive engagement, these brands must inspire positive feelings, bolster positive self-perceptions, and facilitate social bonds.
For

franchises and IPs

(e.g., The Simpsons, Harry Potter, Stranger Things), the same three benefits are key.

Emotional

and

social

are most important, followed by

identity

.
For

streaming brands

(e.g., Netflix, Hulu, Amazon Prime),

functional

benefits are pretty important—so streaming brands should make things easy and affordable. But

emotional

and

identity

benefits still dominate.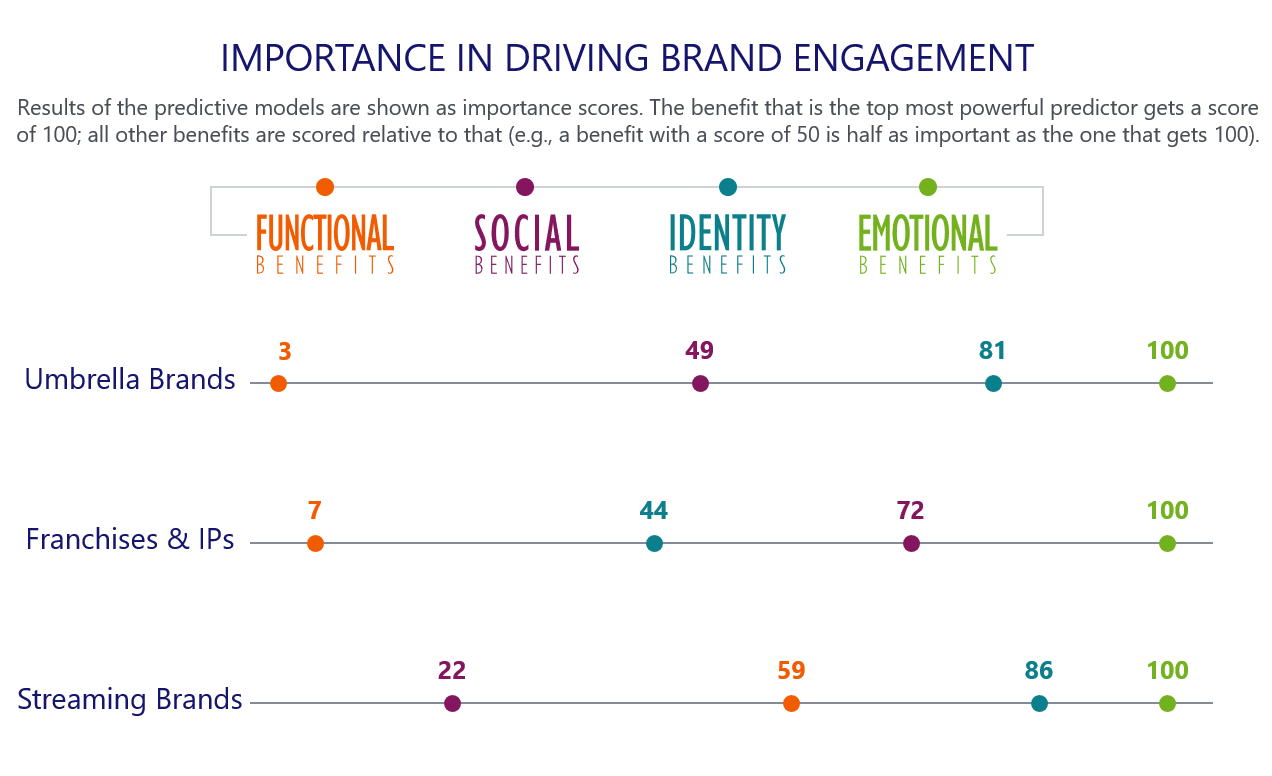 And, while streaming brands score well on functional benefits, they lag Disney on emotion and identity. Among the many media brands we tested:
Disney brand Pixar wins on delivering

emotional

benefits to fans (by a large margin!)
…and Disney itself wins on

identity

.
Disney's strength on identity benefits is linked to the strength of its brands, franchises and IPs—like Marvel, which also scores well with fans on identity. And, when people think of Disney, its IPs are top-of-mind. In analyzing over 10,000 responses to a free association question, we found that streaming brands call to mind generalities (e.g., "movies," "shows," "videos"), while the brands that line the top of the Disney+ homepage call to mind specifics—either specific characters, movies, shows or franchises (e.g., Mickey Mouse, Frozen, Iron Man, MCU, Yoda), or specific content elements (e.g., action, animation, space, superheroes, princesses).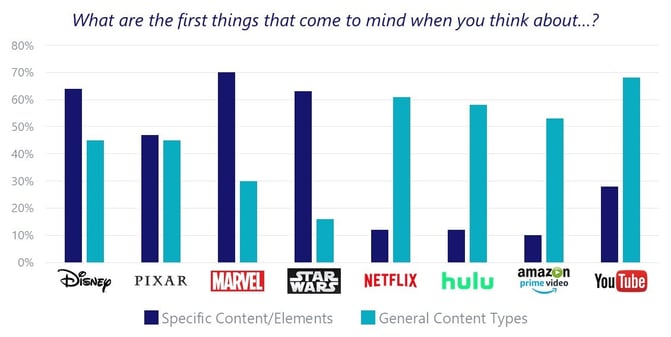 This pattern holds even among streaming customers (e.g., Netflix or Hulu subscribers)—i.e., generalities are top-of-mind, not specifics. Arguably that's good if the goal is to entertain the masses, but it limits the ability to enhance subscribers' identities. For example, we found that pride in being a media brand's fan is highly correlated with liking characters from its content.
I may be an outlier—and an ideal scenario—for a streaming brand like Netflix. When I think of Netflix, the first things that come to mind are Peaky Blinders, The Crown and Stranger Things. These are shows I'm proud to watch (identity benefit!), and all three are Netflix originals. Maybe I'm a sign of things to come. But there are yet more reasons to bet on staying power for Disney+, including:
Disney's vast machinery devoted to helping fans experience emotional,

identity

and

social

benefits outside the platform. It handily beat other brands we tested on the many ways in which fans interact with its content (e.g., via consumer products, theatrical releases, theme parks and more).
Its strength with kids and families. Our study focused on adults, but it's safe to assume Disney brands would perform well with kids. And today's Descendants fans are tomorrow's subscribers.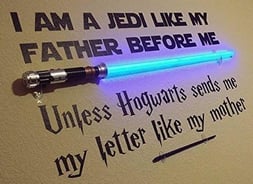 On a related note, nostalgia is an emotional benefit that pulls double-duty for media IPs. Kids who are fans grow-up to be parents who bring their own kids into the fold. (This image captures my household dynamic pretty well...)
Then there are the strong social benefits that come with family co-viewing and bonding over shared interests.
Yes, Disney+ will have to succeed in delivering the functional benefits expected in the streaming space—like convenience and value for the money. So pricing Disney+ competitively was a smart move.
But, again, success in media isn't about functional benefits. Not even for streaming brands. It's about content that engages; that evokes strong feelings; that resonates, inspires and empowers; that sparks conversations and connects us with larger communities… In a way, the word "entertainment" trivializes the intense emotional, identity and social benefits we get from the content we love. (Why else would so many people be arguing online about Star Wars? They can't all be Russian bots!)
I'm a sample of one, but my experience fits these findings. I got Disney+ the day it launched. They made the sign-up process easy. So far, so good with the functional benefits. But what really impressed me were the rows of recognizable, quality content I saw when I first logged in. I literally gasped. And I mean literally literally. Not literally in the way Millennials mean literally (i.e., not literally).
Compare that with my experience on other platforms. I tab through rows of shows and movies I've heard nothing about, rejecting lots of options before finding something of interest.
This suggests one more way in which Disney+ enters with an advantage: Its well-known franchises create a high ratio of familiar (vs. unfamiliar) content. This matters because…
People like the familiar! The comfort of the familiar feels good—it's an

emotional

benefit in and of itself. The tendency to prefer things just because we know them even has a name in psychology: the "mere exposure effect."
The glut of peak TV has created "too much choice" for viewers which, paradoxically, generates negative emotions. In this context, the reputable content on Disney+ makes it feel like a cultivated selection. Like Trader Joe's vs. a grocery store.
To be clear, I'm not counting other subscription services out by any stretch. But they'll want to carefully evaluate potential strategies for attracting and retaining customers in light of this shift in the competitive landscape (i.e., the giant mouse in the room). For example, by identifying:
Which of their original series inspire the strongest

emotional

and

identity

benefits for the broadest populations of viewers
Ways to market these series—both on and off their platforms—to harness the

emotional

perks of familiarity
Opportunities to help fans of these series express themselves and connect with each other (e.g., via licensed products), which boosts

emotional

,

identity

and

social

benefits
Meanwhile, Disney+ will need to keep delivering fresh content without saturating fans' appetites. (Our analysis found that boredom is a death knell for media IPs.) But any brand that can showcase so much celebrated content is in a great position to survive—and even thrive—in the streaming wars.
---

Erica is CMB's VP of Consumer Psychology. She holds a Ph.D. in psychology from Princeton University. Prior to CMB, she led insights research at American Express, where she was a recipient of the CMO Award for Achievement in Excellence.
Follow Chadwick Martin Bailey on Facebook, LinkedIn, and Twitter for the latest news and updates.