In a recent Technology Pulse we asked 145 IT decision makers from US-based companies and organizations of all sizes about their use of and priorities for IT- related services for their organization. One of the more interesting findings in this study is the lack of brand distinction for IT service providers. When we asked IT professionals about the uniqueness of several brands (based on a variety of brand attributes), the option "None" among these brands was actually ranked highest by IT professionals with 37% of respondents.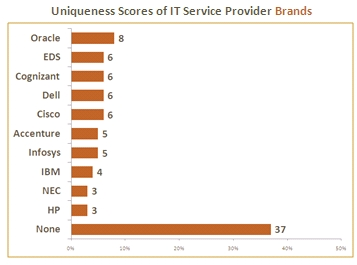 When the "brand" that had the highest distinctiveness was "None," that means that there are some brand attributes that IT decision-makers don't think any providers do well, and others where they think many providers do this well. Overall, we see that most IT services providers have not achieved distinct brand positioning among IT decision makers. Even large brands with very strong awareness, favorability, and purchase consideration momentum (such as IBM or HP) often do not stand out for any one particular attribute.
HP, for one, is taking steps to broaden their brand awareness. In a recent Wall Street Journal article "H-P Revealing Its New Personality In Corporate Campaign" the author writes about the launch of Hewlett-Packard's first corporate ad campaign in more than five years. Clear positioning regarding services should be a focal point of these efforts.
It's vital for IT services companies to gain a better understanding of the opportunities to create distinction around their brand and understand what brand attributes are most important to their customers. Otherwise their biggest competitor "None" will beat them all.

Learn more by downloading the full CMB Tech Pulse report: IT Services
Posted by Don Ryan. Don is the managing director of CMB's technology practice. Don is an avid tennis player and enjoys reading political commentary and spy novels.