When I Google the term "netbooks" I get close to 16 million results. 16 million results for a new market entry!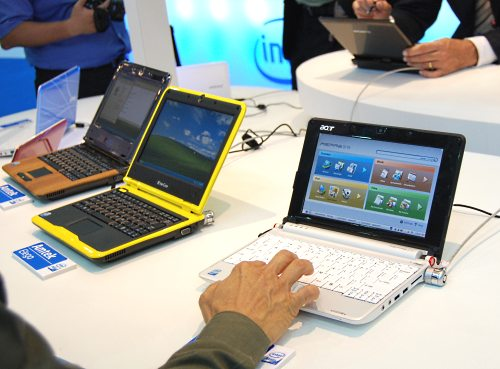 The netbook market is growing rapidly for consumers, but we are also seeing growth in the enterprise. Similar to how smartphones slowly infiltrated the enterprise market, growth is slow but steady as the consumerization of IT continues.In our CMB Tech Pulse Netbooks in the Enterprise we asked over 150 IT decision makers about their interest in netbooks, deployment strategies, as well as current and future use.
The findings from our netbook research shows a lot of interest with close to 40% considering deployment of netbooks in their organization and 20% already using netbooks in some capacity.
20% are already using netbooks in the company for a handful of selected people

38% have not deployed them yet, but are considering it

29% do not currently have any netbooks deployed and have no plans to do so

13% do not have any deployed, but have it in their budget to do so
Not surprisingly, we also see a trend that has heavier deployments in those organizations with a highly mobile workforce and in those companies that are using cloud computing applications.
Learn more by downloading our report or seeing us at the Netbook Summit taking place May 24th- 25th in San Francisco. We will be presenting our research and sharing our insight with many other thought leaders.
Posted by Don Ryan. Don is the managing director of CMB's technology practice.