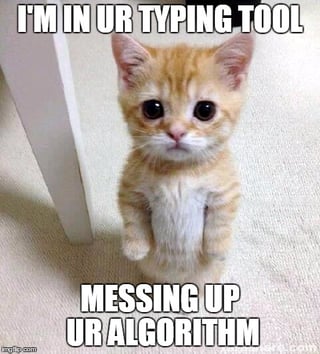 "Which Starbucks Drink Are You?" "What Role Would You Play in a Disney Movie?" "Which 'Friends' Character Are You Least Like?" These are the deep existential questions posed on websites like BuzzFeedand PlayBuzz. My Facebook and Twitter feeds are continuously flooded by friends posting their quiz results, and the market researcher in me can't help compare them to the segmentationwork that we do at CMB every day.
So let's take a closer look at a few of the basic concepts segmentations share with Buzzfeed quizzes and learn why I'm not too worried about losing my job to BuzzFeed writers just yet:
You answer a predetermined set of questions. In the Starbucks drink quiz, you might be asked to identify your favorite color or your ideal vacation spot, even though these questions have nothing to do with Starbucks. At CMB, we focus on the product or service category at hand, we make sure we include questions that measure real customer needs. That way, we know our final solution will have implications in driving customer behavior. It's much easier to see the relevance of a solution when the questions we ask have face validity.
You are assigned to a group based on your answers. While I don't know exactly what happens on the back end of a BuzzFeed quiz, there must be some basic algorithm that determines whether you are a Double Chocolaty Chip Frappuccino or Very Berry Hibiscus Refresher. However, as far as I know, the rules behind this algorithm are entirely made up by the author of the quiz, probably based on hours hanging out at their local Starbucks. When we conduct a market segmentation study, we typically use a nationally representative sample, which allows our clients to see how large the segments are and what true opportunities exist in the market. We also ensure that we end up with a set of clearly distinct segments that are both statistically solid and useful so that our clients can feel confident implementing the results.
Each group is associated with certain traits. When your quiz results pop up, they usually come with a brief explanation of what the results mean. If you are an Iced Caramel Macchiato, for example, you're successful, honest, and confident. But, if you are a Passion Iced Tea, you are charismatic and hilarious. As a standard part of our segmentation studies, CMB delivers an in-depth look at key measures for each segment, such as demographics, brand preference, and usage, to demonstrate what makes them unique, and how they can be reached. We tailor these profiles to meet the needs of the client, so that they can be used to solve real business problems. For example, the sales team could use these segmentation results to personalize each pitch to a particular type of prospect, the creative team could target advertisements to key customer groups, or finance managers could ensure that budgets are being directed towards those with whom they will be most effective.
I'll be the first person to admit that personality quizzes are a great way to waste some free time and maybe even learn something new about yourself. But what's really fun is taking the same basic principles and using them to help real businesses make better decisions. After all, a segmentation is only useful when it is used, and that is why we make our segmentation solutions dynamic, living things to be reapplied and refreshed as often as needed to keep them actionable.
Amy Maret is a Project Manager at CMB with a slight addiction to personality quizzes. In case you were curious, she is an Espresso Macchiato, would play a Princess in a Disney movie, and is least like Ross from Friends.
Download our latest report: The Power of Social Currency, and let us show you how Social Currency can enable brand transformation:
And check out our interactive dashboard for a sneak peek of Social Currency by industry: