My friends and family greeted the news that I was joining a boxing gym with more than a little disbelief. Granted I am an imposing 5 feet tall and have a reputation for tripping over my own feet, so maybe they had a point. But four months and two pairs of gloves later, I'm not only fitter and stronger, I've learned some essential truths about boxing that I can apply to my professional life as a qualitative researcher.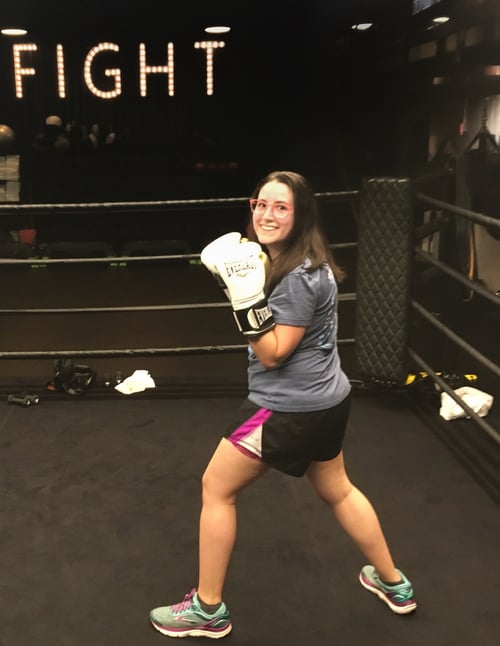 Don't forget the "Why"
Boxing is a commitment—physically, financially, and mentally—and it's tempting to hit the snooze button when I don't want to get out of bed for an early morning class. Oftentimes, I must remind myself why I keep up with it. To help motivate members, there's a large chalkboard titled, "Why I Fight" filled with trainers' and members' "whys" in the front of the gym. It's the first thing you see when you walk in and serves as motivation to both me and fellow boxers.
Focusing on the decisions or the "why" is critical for researchers. Before kicking off a project, we work hard to fully understand our clients' business needs and the decisions they need to make—this focus keeps us on track for everything from designing a study and choosing a methodology, all the way to the final deliverables and implementation. It's also important to consider our participants' "why"—that's the reason we often use tools like projective techniques in qualitative research to dive deep into participants' thoughts and uncover their beliefs, motivations, feelings, etc.—the old one-two punch, as some might say.
#FightFam
One of my favorite things about my gym is the sense of community it provides. My #fightfam challenges me to put my all into every class, whether it be Gennifer reassuring me I'm "crushing it," or Roscoe in the bags room reminding the class we are winners ("And what do winners do? THEY WIN!"). While I feel a personal sense of accomplishment after every class I finish, I also feel a shared sense of pride with my fellow classmates and trainers—and that's important.
A knockout team is also the foundation for greatness in qualitative research. At CMB, our all-star roster, VP of Qualitative Strategy + Innovation, Kathy Ofsthun, Qualitative Research Director, Anne Hooper, Qualitative Project Manager, Erin Stilphen, and I work together and encourage one another to perform at our highest capacity. We bring inventive and innovative qualitative methodologies like co-creation, and over 40 years of combined qualitative experience to the ring. We're also adept to thinking on our toes—ask me about the time I recruited for a study in a Canadian train station! And when we need to tap other teammates, we've got specialized qualitative research consultants in our corner.
Master Technique, Prepare to Improvise
Boxing is known as the sweet science (the nickname is an appreciation of the technical skills required—strength, endurance, conditioning, core, and flexibility), but it's just as much an art, requiring improvisation and creativity.
The same goes for qualitative research. We're masters of improv, but good technique is integral. Recently, I was thrown through a loop while moderating an in-home ethnography for our self-funded research on Millennial and Gen Z use of virtual assistants (think Siri, Cortana, etc.). Shortly into one of the interviews, it turned out the participant belonged in a different segment than what my guide had indicated. Instead of stopping the interview, I used my improvisation skills and reframed the questions without interrupting the flow of the conversation. Going a little off script helped us gather the insights we needed.
I love that I've discovered a sport and gym I am passionate about, and I'm even more thrilled I can draw meaningful parallels between boxing and my profession. Of course, there are times when my muscles ache, my wrists hurt, and I'm tired, but then I remind myself why I keep going. I box because it makes me stronger, faster, and confident—and that these attributes help me be a better qualitative researcher is a bonus!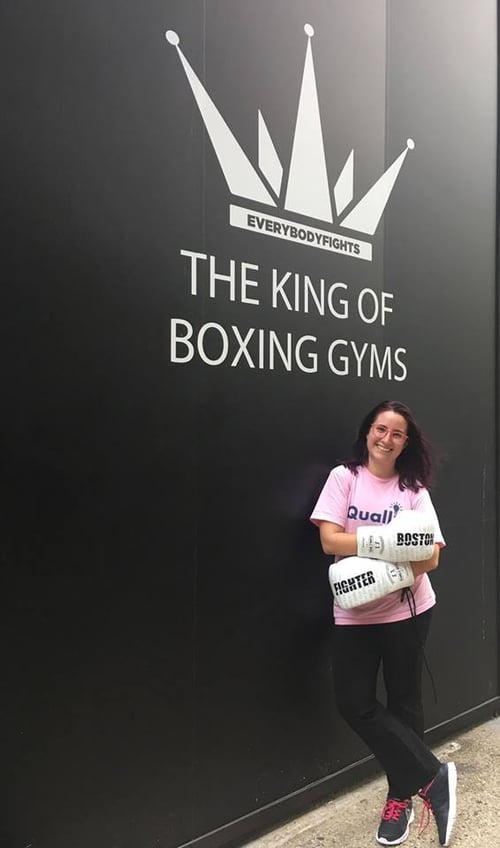 Kelsey Segaloff is CMB's Qualitative Associate Researcher, and can be found working on her jab-cross at EverybodyFights Boston.