Imagine you see the picture below in an ad for Jack Daniels. Who is this guy? Where is he? What's he like?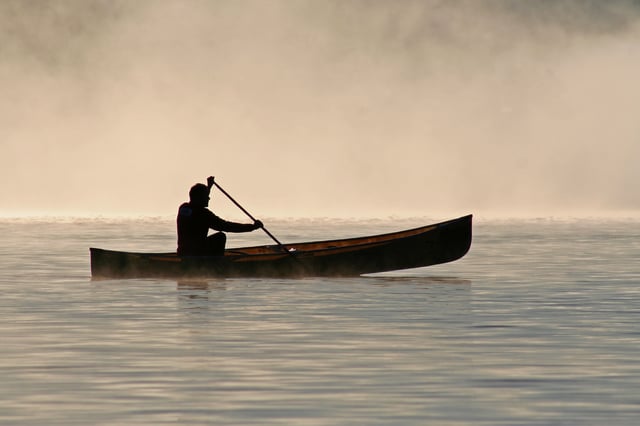 I see a middle-aged man somewhere in the south. He's out fishing. He's a stoic, rugged, "salt of the earth" kind of guy. He drives a truck—and if it breaks down, he can fix it himself, thank you very much.
But what if, instead, you saw this image in an ad for the clothing brand Patagonia? What would you think about the man in the picture?
I'd imagine him on adventure vacation someplace exotic. He's from California. He cares about looking good, feeling good, and doing good. Later, he'll be scaling a mountain and drinking a juice cleanse.
In other words, if he's in an ad for Patagonia (vs. Jack Daniels), I'd make a whole different set of assumptions.
This effect is driven by our tendency to develop stereotypes. After all, consumers are people, and people are social animals. We tend to categorize other people into types, and use our beliefs about those types to guide our perceptions, expectations, and behaviors. Stereotypes can be nefarious, no doubt. But they're a fact of life. They're a mental shortcut we've evolved in order to navigate a complex world—and they're hard to avoid because they often operate at an unconscious level.
A brand can easily become the basis for a stereotype—an image of the kind of person who uses that brand (e.g., the kind of guy who drinks JD, or wears Patagonia). And that image can bias how consumers see the brand's advertising.
Case in point: Research we conducted for a financial services brand with a reputation for being popular among older, affluent consumers.
The goal was to test advertising that would broaden the brand's appeal—particularly among Millennials. But when we showed Millennial prospects an ad with a picture like the one above, they assumed that the man was much older. They said things like: "He was a Wall Street businessman. Now he's retired and canoeing alone on a lake… This is probably his last vacation." (Ouch!) To succeed in shaking-up their image of who uses the brand, the ads had to unambiguously portray customers in young adult life stages (e.g., a couple having their first baby).
The ads also had to show activities that were appealing without being too out-of-reach. Pictures of twenty-somethings yachting, or at the ballet, just reinforced prospects' ingoing image of uber-wealthy customers with whom they couldn't relate. ("I don't identify with any of these pictures! I don't own a boat… I never go to the ballet.") And, for some prospects, these pictures just seemed unrealistic. Yachting Millennials didn't fit with any type of person they knew.
Another pitfall were pictures of young people that struck prospects as realistic, but inadvertently
triggered other negative stereotypes. For example, a picture of a man wearing a hat like this…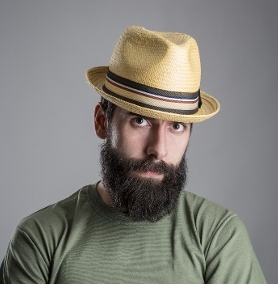 …triggered a "Hipster" image, and that was a turn-off. Prospects didn't think they had much in common with him, didn't aspire to be like him—and definitely wouldn't want to hang out with him.
These perceptions matter a lot. Consumers' image of a brand's typical user needs to feel real and be compelling—because, as I wrote in an earlier blog, consumers' image of the kind of person who uses a brand can really help (or really hinder!) brand growth. To attract consumers, the image should feel like a kind of person they know and like, or would like to know.
Here's the good news: Marketing can play a powerful role in shaping that image. Not to say that it's easy. Great marketing is art + science. So we developed AffinIDSM to support brands and agencies with science that can help them get the art of the marketing right. More specifically, AffinIDSM is a research solution designed to tackle three key questions:
What is consumers' current image of the brand's typical user?
Note: They may not have a clear image, which is a challenge and opportunity for the brand—but that's a topic for a different day!
How compelling is that image?
How should you optimize that image?
In other words: What should marketing and brand initiatives seek to communicate about the kind of person who uses the brand in order to drive consumer engagement?
Then we can test ads to make sure that they convey the intended image, and that they avoid hard-to-predict missteps. (See above re: the "Hipster" hat… Who knew?)
I'll be talking about AffinIDSM in an upcoming webinar. Curious? Sign-up below!
In the meantime, "The More You Know" lesson for today is that consumers' image of a brand's typical user—and their stereotypes of people in general—will bias their perceptions of marketing, whether we like it or not. The best course of action is to understand what those images are, the effect they have on consumers, and how to strategically influence them so that they work in the brand's favor.

[Tweet this]
Erica Carranza is CMB's VP of Consumer Psychology. She has supplier- and client-side market research experience, and earned her Ph.D. in social psychology from Princeton University.
PS – Have you registered for our webinar yet!? Join Erica as she explains why to change what consumers think of your brand, you must change their image of the people who use it.
What: The Key to Consumer-Centricity: Your Brand User Image
When: February 1, 2017 @ 1PM EST