Includes spoilers through season 8/episode 5.
My love affair with Game of Thrones developed gradually and, by season four, I'd fallen head-over-heels. Like most fans, I enjoyed watching it buck narrative conventions, leaving them littered along the way like so many torched wights. But what really captured my heart was its subtle feminism.
Finally, here was a show where the women were just as varied, complex, and important to the story as the men. They had goals of their own, well-developed personalities, and together they represented an impressive range of attributes—vulnerability, compassion, strategic thinking, naivete, cynicism, resilience, physical strength, and more. They fought the patriarchy, but each in her own way. And, by the time Daenerys met her war council in Westeros, her strongest allies were women. That could have felt like a heavy-handed attempt by the writers to give women roles traditionally held by men. Instead, it felt like the natural result of all that had happened up to that point.
What's more, even the men of Game of Thrones subverted expectations. My favorites among them were smart and funny—but also kind and compassionate. And few of them had the pretty face or chiseled physique worn by typical epic heroes. In its first season, Game of Thrones inspired the term "sexposition"—yet somehow it had delivered a smorgasbord of compelling male and female characters. And the world was watching.
With all these reasons to love the show, I was worried about how it might end. A happily-ever-after would betray what had made it great. But, truth be told, I didn't want a villain to win. I was sympathetic to the conundrum the showrunners must be in, and pessimistic about their finding a good way out.
Turns out I wasn't alone.
Right before "The Long Night" aired (season 8/episode 3), we ran a survey among friends and colleagues. We asked them their predictions for how the series would end, and how they expected to feel about it. While the survey was just for fun—and hardly a representative sample—the results were revealing:
Less than a third (30%) thought they'd feel mostly good about how the series ended.
A third (34%) thought they'd feel ambivalent (i.e., good and bad in equal measure).
Nearly a quarter (23%) thought they'd feel mostly bad.
In total, over half (57%) predicted having strong negative emotional reactions to whatever would unfold in the final episodes (i.e., the 23% expecting to feel bad, plus the 34% expecting to feel ambivalent). Only 13% of viewers—whose lack of emotional investment in the show I've come to envy—thought they would end up feeling neutral.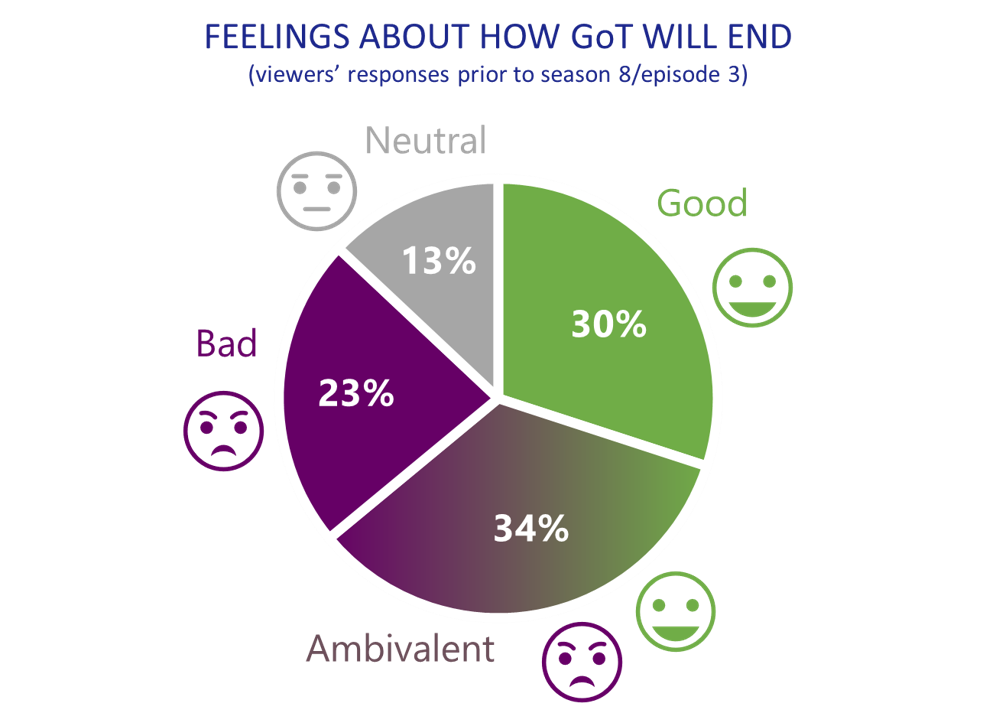 Furthermore, viewers thought they would feel highly activated, energetic emotions.
A bit of background… At CMB, we use a method of measuring emotion (EMPACT℠) that we developed to capture its two core dimensions: valence (i.e., intensity of the positive or negative feelings) and activation (i.e., their level of energy).
For example, sadness and anger can feel equally negative in terms of valence. But sadness is low in activation, while anger is high. Sadness is low energy and makes people want to withdraw. Anger is agitating—it makes people want to act. Not surprisingly, online content is particularly likely to go viral when it evokes high activation emotions.
When viewers predicted how they'd feel about the way the series ends:
Half (49%) predicted highly activated negative reactions. Specifics included feeling frustrated, annoyed, anxious, stressed, angry, and even disgusted.
About half (46%) predicted highly activated positive reactions. Specifics included feeling entertained, amused, amazed, happy, and excited.
Relatively few (27%) predicted low activation negative reactions (e.g., feeling drained, depressed, disappointed, and discouraged).
Even fewer (11%) predicted low activation positive reactions (e.g., feeling pleased, satisfied, and nostalgic).
So nearly everyone expects to feel highly activated—but viewers were split in terms of positive vs. negative valence. That's a precarious situation for a show as it approaches its series finale.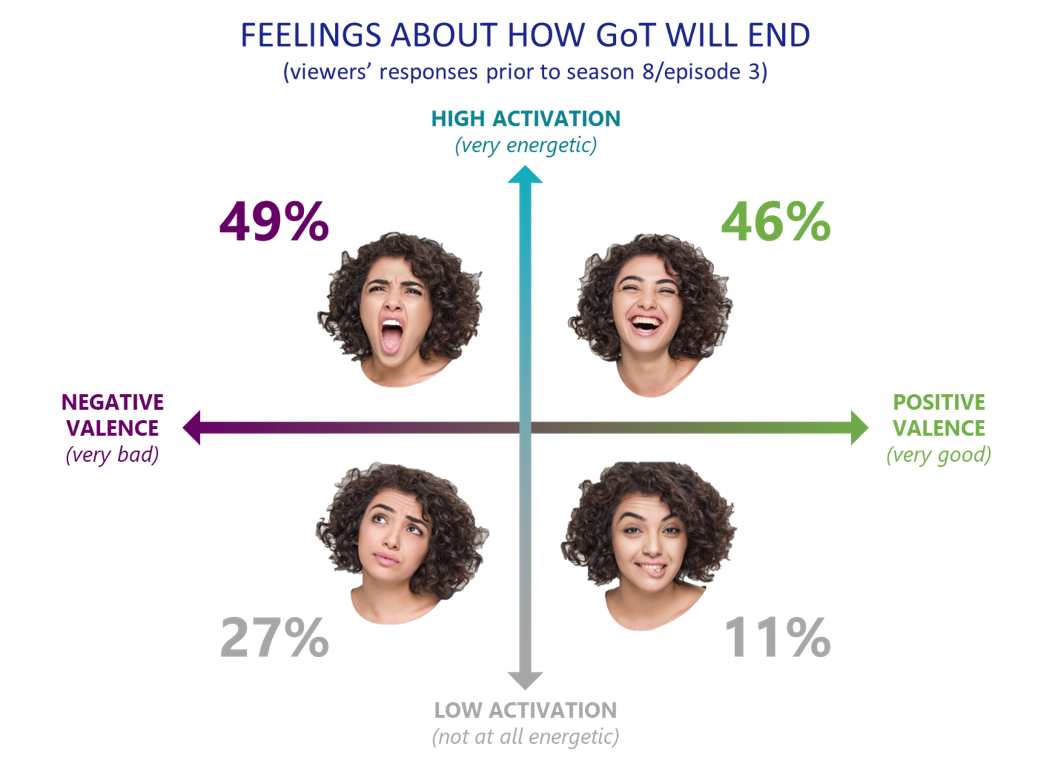 Linking viewers' expected emotion to their predictions for the show also uncovered some interesting trends. For example, those expecting to feel activated positive emotions (e.g., happiness and excitement) were particularly likely to think the "good guys" would survive—including Jon, Arya, Sansa, Tyrion, Samwell, and even little Sam. Other viewers were less optimistic. But, regardless of their predictions, most shared an intensely emotional relationship to the show.
I can relate. In fact, the anxiety I felt about whether Game of Thrones could stick the landing is nothing compared to how I feel now, having watched it ruin most of its best characters:
Sansa expressed gratitude (!) for her worst abusers and is now (according to showrunner Dan Benioff) stealing moves from Littlefinger's playbook. Plus she continually snipes at Dany despite Dany's essential help in saving the North.
Last we saw Brienne—the first and only female Knight of the Seven Kingdoms—she was pathetically bawling in her bathrobe as Jaime rode out of her life.
Then Cersei, having finally proven herself her father's equal, died crying in Jaime's arms.
Varys is burned alive thanks to Tyrion, who continues his two-season track-record of making inexplicably poor decisions. (He used to drink and know things. Now I guess he just drinks.)
Grey Worm led the remaining allied forces into a wave of war crimes.
And Dany, who locked-up her dragons when Drogon killed a single innocent child, has brutally murdered a whole city full of innocent children. Why? Because she feels threatened by a man, hurt by his rejection, frustrated by the skepticism she met in Westeros, and enraged at the beheading of a friend.
Yes, Dany losing her mind may have been in the cards from the start. But to have flipped in that moment—and for those reasons—didn't fit with most of what we'd learned about her. Game of Thrones never made excuses for the ascent of powerful women. Now it's making-up excuses to tear them down.
So it looks like the show that reveled in subverting narrative conventions will end by validating the oldest tropes in the book…
The hero where all our sympathies and hopes should lie is a white man. He's a stoic warrior with a noble heart—and, lo and behold, he's of noble blood.
Women, on the other hand, are weak, petty, manipulative, and overly emotional.
Women who seek power are particularly bad. Two women vying for the Iron Throne is apparently worse for Westeros than the Night King and his army of undead.
How does this turn of events make me feel? Discouraged, disappointed, angry, aggrieved… The last Game of Thrones episode has yet to arrive, but my love affair with the show is already over.
And, again, I bet I'm not alone.
__
Erica is VP of Consumer Psychology at Chadwick Martin Bailey. She has over ten years of experience leading market research for major brands across a range of categories—including clients such as Disney, Viacom, Mattel, Instagram, Prudential and American Express. A PhD social psychologist, Erica applies this expertise to give her clients a unique edge in understanding and engaging their target audiences.
---

Erica has a B.A. from Wellesley College and a Ph.D. in psychology from Princeton University. Prior to CMB, she led insights research at American Express, where she was a recipient of the CMO Award for Achievement in Excellence.
For more insights, please follow us on LinkedIn, Facebook, and Twitter.