This article was cowritten by Savannah House, Julie Kurd, and Megan McManaman.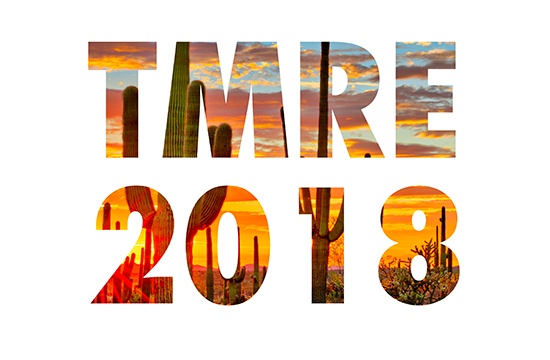 Last week we headed to the Arizonan desert for TMRE 2018. Amid the cacti, snakes, and breathtaking desert sunsets, TMRE was bigger and better than ever as insights leaders challenged us to embrace innovation, inspire change, and push the industry forward.
If you couldn't make it to TMRE 2018 or just want to relive the magic, here are some highlights:
Marrying MR with data science. Market research and data science offer parallel tracks to answer critical questions—but all too often they are completely siloed. Members of Viacom's very cool Content Innovation Analytics team, including Thomas Grayman, Tetiana Nosach Quignon, and Bingqing Ge, gave a fantastically meaty presentation with examples of how they integrate market research and data science techniques to leverage the best of both worlds and offer deeper insights to fuel program development and market strategy than relying on just one approach.
Staying focused in a $500B business. Linda Vytlacil, PhD, and Salome Aguilar of Walmart introduced us to the company's $500 billion revenue line through the lens of insights. Researchers at Walmart have a maniacal focus on business objectives (e.g., to make every day easier for busy families) that serve as guide posts for their work—they marry transactional and survey data together for a multidimensional approach to understanding the customer and delivering value.
Vytlacil and Aguilar remind us to:
Keep the main goal ("easier") the primary focus
Identify and remove unexpected friction points
Never underestimate the power of extreme ownership because transparency and accountability lifts everyone's game
Invest in relationships with your consumers
Walmart customers aren't necessarily seeking great stores with easy pickup, ship to store, scan and go, etc. Instead, they're focused on living connected and happy lives with family, friends, purpose and community. As researchers, we need to connect with the main goal.
Research that inspires change. Yoni Karpen of Airbnb believes his research doesn't matter unless it informs or inspires decisions. His goal isn't to tell people what to do or how to think, but to provide structure to a chaotic and ambiguous world. For example, Airbnb strives to help hosts be better hosts—to master the art of hospitality. To do this, Yoni's team explored various dimensions between high and low performing hosts—their focus, motivations, effort, responsibility, self-perception, etc. By understanding the nuances between these distinct groups (e.g., high performing hosts are motivated by pride and passion for hospitality while low performing hosts are motivated by money), he introduced a framework for hospitality that his stakeholders can leverage to move hosts up the ladder. Yoni's research doesn't exist in a vacuum—it's used across the organization to help drive Airbnb forward.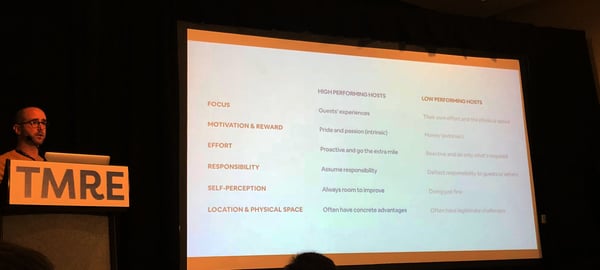 Yoni Karpen of Airbnb highlights the stark differences between high and low-performing hosts.
Will AI replace market researchers? It's a question many of us likely think about as AI continues to shape and reshape the industry. In an Oxford style debate, experts from both sides shared their thoughts. David Ginsberg of Facebook argued AI will not replace market researchers. In fact, as Facebook continues to leverage AI, his research team has grown because no machine can uncover the intimate details—the why. Similarly, Marina Kosten of 20th Century Fox's team interrogates data produced by AI. She admits, yes, AI will continue to get better and better, but only humans can take this data and turn it into meaningful insights through storytelling. On the other side of the debate, Anthony Lambrou of Pfizer posits AI might not eradicate the need for researchers entirely, but will change the traditional role of market researchers. AI systems will take on some tactic responsibilities like data collection, leaving more time for researchers to focus on digesting and turning the data into a story.
Are you ready for Gen Z? Sheila Dreyer Van Buskirk of Synchrony and Lori Vellucci of CMB took the audience through an immersive and in-depth look at Gen Z. With over $44 billion in collecting purchasing power, Gen Z is on track to be the most disruptive generation yet—upending all industries from financial services to travel and hospitality. We may be a little biased because this was our presentation, but as researchers, it's critical to stay ahead of these emerging generational trends so we can work with stakeholders to provide services and experiences that excite and resonate.
Connections and serendipity are often underrated at conferences. While of course it's critical to attend as many sessions as possible, it's also important to spend time at the sponsor booths. You'll expand your knowledge (and your network) while learning about the latest and greatest market research innovations—you also might get a chance to ride in a Ferrari like Julie did with the Qualtrics team.
Want to learn how Synchrony ditched PowerPoint and created a dynamic and compelling research report that excited and engaged stakeholders? Reach out to learn more!