Last month, we released the results of our 5 industry, 90 brand study: Business Transformation through Greater Customer-Centricity: The Power of Social Currency—a collaboration between CMB and VIVALDI. In the coming weeks we'll release 5 industry specific reports covering Beer, Fashion, Airlines, Automobiles, and Restaurants. This week we're taking a closer look at 14 of the top brands in the Beer Industry in our new report: The Power of Social Currency: Business Transformation in the Beer Category.
For those of you who have been following these posts, you'll recall that the genesis of this research was VIVALDI's Social Currency concept. Introduced in 2012, Social Currency is a framework for understanding brands' ability to fit into how consumers manage their social lives in today's social, digital, and mobile context. Measuring and understanding the 7 dimensions (below) of Social Currency are critical to building strong brands in today's market. The age of the brand ambassador is over—consumers don't act in service of brands, they act in service of themselves—interacting with and promoting brands that help them express themselves.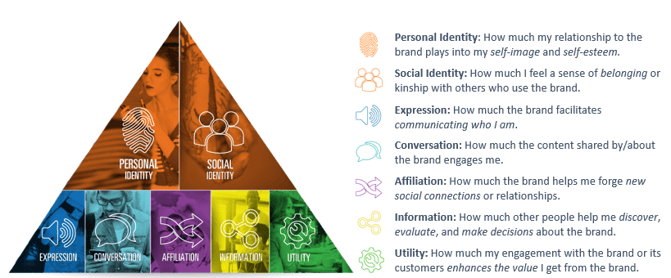 The wide world of beer
By most industry statistics, Americans consume just north of 6 billion gallons of beer every year. Thousands of varieties of beer are crafted in over 3,400 breweries across all 50 states. Although 90% of the beer is produced by just 11 companies, there is still an immense amount of brand building, marketing, advertising, and storytelling aimed at beer drinkers. Truthfully, this is the stuff of nightmares for brand builders. It's one thing to be in a competitive market; it's an entirely different thing to be in a market with so many companies trying to build a brand for a product that pretty much looks the same when poured into a glass. Whoa now! I'm sorry if I'm offending the beer connoisseurs, I realize that I'm ignoring the the vast differences between hoppy IPAs, chocolatey stouts, and Belgian Saisons, but you get the idea.
If you're going to build a strong brand for beer today, you need to understand the personal and social identities of the consumer. You need the customer to know who the drinker of that beer is – is s/he a quirky creative, independent thinker, old-school beer and barbecue, or the person looking for that next beach party? From that, you need to create the social opportunities and content that allow each of those consumers to express themselves through your brand.
Each of the five brands (pictured below) that topped our measure of Social Currency, have established a clear picture of the person who drinks their beer and they understand why that's important. Each brand has worked hard to provide engaging social and content opportunities for their consumers.
How are these companies using Social Currency to build their beer brands?
Sam Adams: The Boston Beer Company's co-founder, Jim Koch, embodies the brewery's spirit of independence. This independence has manifested itself in the name chosen for their famous lager – Sam Adams Boston Lager, and it has been a part of the brand message since the very beginning. Their most recent commercial "Stay Independent" keeps to that message and entices the independent thinker to become a drinker of Sam Adams. The personal identity of the Sam Adams beer drinker is very clearly the independent thinker, not your average corporate beer drinker.



Budweiser: The "King of Beers" – if anyone would have cause to worry about the numerous competitors in this market, it's the King. But, this King still has his crown. Long known for its unique Super Bowl ads, Budweiser came out of the gate this past year with a bold attack on craft beer drinking. Budweiser reasserted its beer as "not craft", "not imported", "not small", and "not backing down". In delivering this message, against the powerful backdrop of its famous Clydesdale horses, it also reasserted the identity of its target market, the no-nonsense, deeply rooted and not swayed by the trends of the day beer drinker. This identity is strong and reliable.



Corona: Simple message - sand, sun, and lime wedges! Corona has long been associated with those beautiful summer days being pursued by happy people, looking for a place to relax, and have fun. Corona has used these simple messages extremely well and has built a perfect image of the personal identity of someone who drinks Corona.
The beer industry is unlike other consumer industries. It has a concentrated power base regarding brewing capacity, but its brand managers, marketers, advertisers, and social media teams must deal with literally thousands of brands in the form of small brewers competing for the same customers. Understanding how to use Social Currency is of vital importance in building a brand. By crafting messages that align with consumer's personal and social identity, and creating social and content opportunities, beer companies can differentiate themselves in this crowded market. So pull up a stool, grab a pint, and learn how Social Currency helps insights professionals and marketers create content, and share the messages that support consumer identity—spurring engagement, purchase, and advocacy.
Ed is CMB's Director of Product Development and Innovation. He thinks there is a game-changing product or idea within everyone, and it's his job to dig it out. You can share ideas with him @edloessi.
Download the beer report and let us show you how Social Currency can enable brand transformation:
And check out our interactive dashboard for a sneak peek of Social Currency by industry: