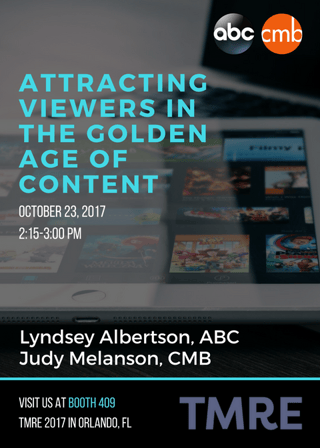 We're less than 24 hours into TMRE 2017 and it has been a whirlwind of sessions and great conversations with researchers and marketers from all over the world. If you're not one of the 1000+ people who've converged on Orlando for one of the biggest market research events in the U.S., don't worry—we won't let you miss out.
This afternoon, CMB's own Judy Melanson and ABC's Lyndsey Albertson presented an in-depth look at how ABC is building a deep understanding of what drives content discovery and what keeps viewers watching! You don't have to be ABC Disney to know how critical it is to gain traction for new products while navigating a market in flux. As you navigate your customer journeys, amid seismic shifts, are you asking and answering these 7 critical questions?
What does "new" mean to your consumers; what content, products, and materials can you re-merchandise?
Do you understand how your industry's disruptors are meeting customer needs?
Are you regularly evaluating your schedules to ensure offerings break through and remain relevant?
How well is your brand's story connecting with your customers' emotions?
Are you fully leveraging the power of social to engage?
How are your distribution points ensuring relevance and stickiness?
Have you adapted your product availability to better fit with consumer needs (that may be changing due to competitor offerings)?
Learn more about how we're helping leading brands ask, answer and act on the questions that matter, drop us a note or give us a call:
At TMRE now? Stop by Booth 409 to chat!