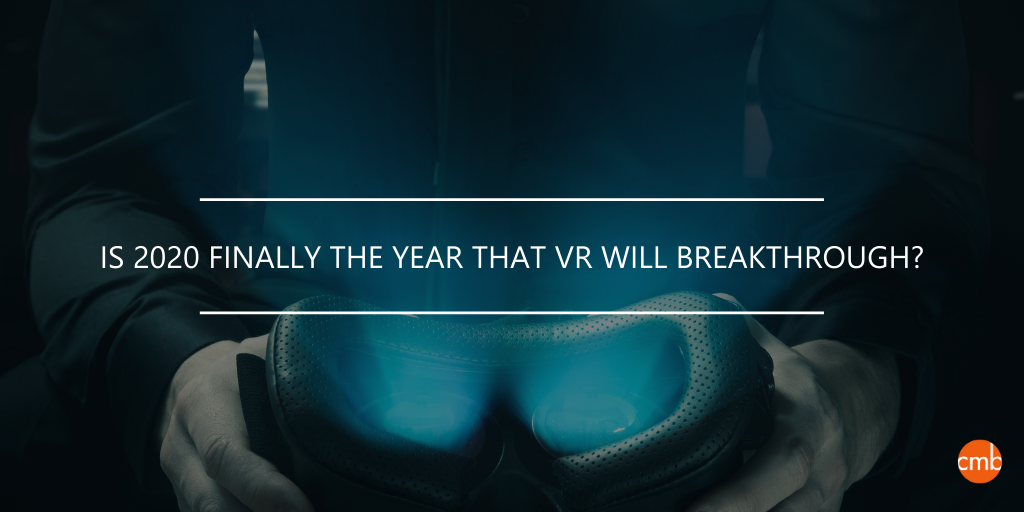 You've heard it countless times: "this is the year for VR," "2020 is finally the year that VR will break through," "the VR revolution is upon us." These messages have consistently reverberated over the past 5 years, but virtual reality (VR) headsets have never quite managed to abandon the hype train. There are three reasons that help to explain why VR has stuttered:
Hardware has often been clunky or uncomfortable
High cost to entry has detracted many potential adopters
A lack of AAA or blockbuster games, experiences, and content
While head-mounted VR displays have existed since the late 1960's, modern VR headsets as we know them can be more definitively traced back to Palmer Luckey and the initial Oculus Rift prototype. After a $2.4 million kickstart campaign, the company would be purchased in 2014 by Facebook for $2 billion. Since then, the market has proliferated with offerings from Google, HTC, Samsung, Sony, and Windows Mixed Reality. Despite these heavy hitters pushing the market forward, VR hasn't quite managed to advance beyond the initial phase of the disruption cycle: "emergence."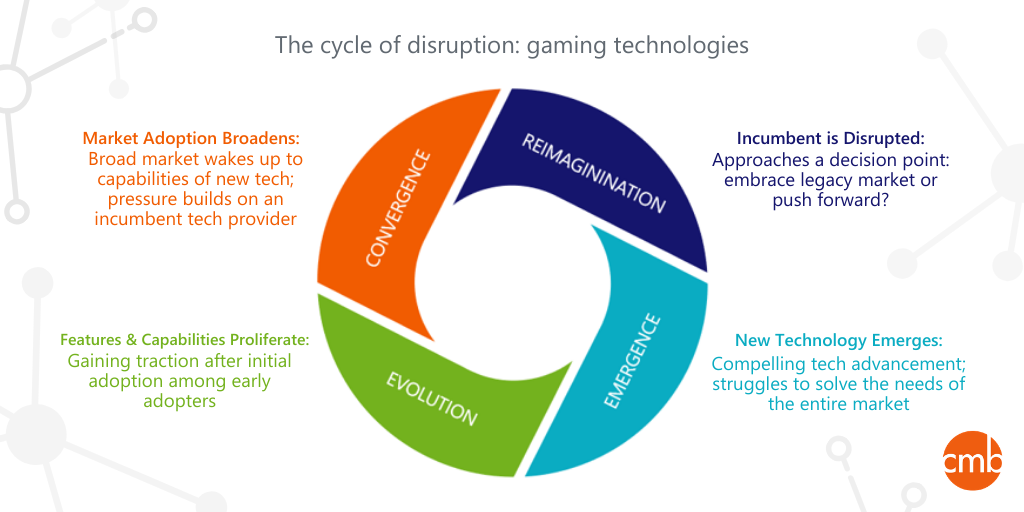 Now, more than ever, we may have legitimate reason to believe that VR could finally be advancing into the second phase of disruption: "evolution." In this phase, technology begins to gain more mainstream traction after initial bouts of early adoption and new features, capabilities and advancements begin to proliferate. Here are some reasons to feel renewed optimism about VR's ability to cross the chasm into mainstream appeal:
Increased dedication to AAA quality content:
VR's struggle with content has been a huge initial barrier. A VR headset is a significant investment, typically ranging anywhere between $500 to $1000. Compare that to the price of current-gen consoles retailing under $500 or a gaming PC (which on the lower-end may cost you anywhere from $600 to $1,000), and with the more consistent stream of blockbuster AAA and low-budget indie content, it's no surprise that a console and/or gaming PC purchase might be deemed a safer bet. The high cost to entry for limited content makes VR a niche purchase for those with the appetite and means.
But there is currently an increasing flow of AAA content helping to drive device sales. The announcement of Half-Life: Alyx garnered so much intrigue that it led to global shortages of the higher-end Valve Index device in November (that retails at $999 for the full VR kit). Even now, device shortages mean you'll need to wait 8 weeks for shipment of the Valve Index. In its 2020 State of the Game Industry report, GDC offers even more hope that game developers are increasingly tantalized by VR. While only 15% of surveyed game developers had stated to have developed their last game for VR (lagging PC on 54% and mobile on 40%), VR as a platform is piquing interest. 27% of game developers claimed to be interested in VR as a platform; this exceeded interest for Xbox's next-gen device (albeit, at a time when few details were available and it was simply known as "Project Scarlett"), as well as Google's emerging cloud gaming platform Stadia. 2020 also marks the year where over 100 VR games have hit at least $1 million in revenue, suggesting appealing content is beginning to proliferate.
Device evolution and access democratization
VR headset manufacturers have also remained dedicated to device improvement and innovation. Screen resolutions have dramatically improved; headsets have become smaller and more agile; fields of view have expanded, and more powerful processing units embedded. One of the more pivotal innovations in VR, however, was the release of the Oculus Quest—helping to untether VR headsets from the PC, while maintaining significantly more power than weaker mobile VR headset alternatives. The untethering of the high-end VR device was a critical moment, helping to democratize VR gaming beyond those with VR-ready gaming PCs, a significantly lower price point of $400 also lowered the cost to entry. Sales of the Oculus Quest bear this out, the device is consistently sold out and incredibly difficult to find.
Gamer interest is starting to peak
In our recent self-funded research Pulse, A Gamer's Journey, we also observed signs of optimism for VR gaming. When asked to rate interest in different emerging gaming technologies, VR trailed only next-gen consoles in interest. The youngest gamers (14-17 years old) interest in VR is almost twice that of the interest that cloud gaming or subscription-based gaming models have.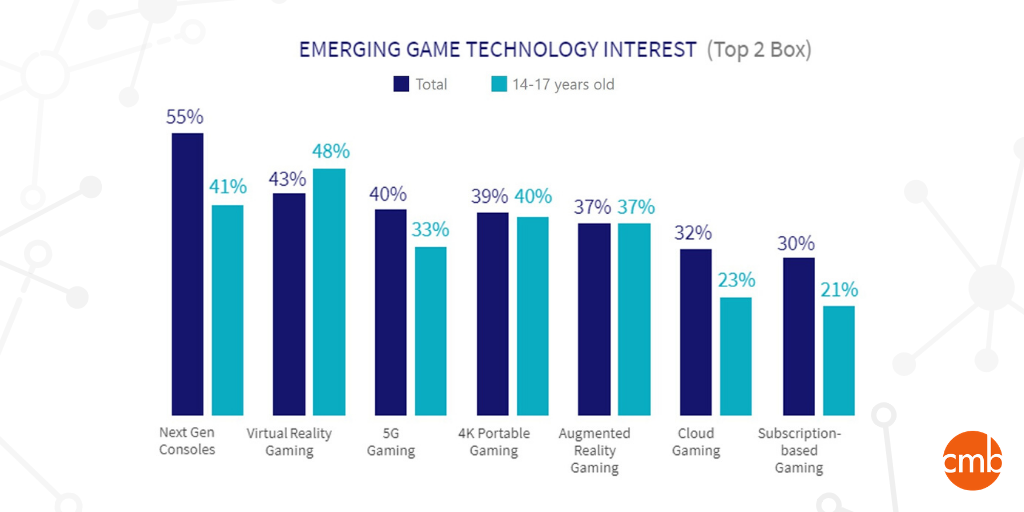 While the youngest gamers demonstrated the strongest interest, we observed strong overall latent demand for VR. Of the 4,000 gamers interviewed, 23% have actively considered a VR device, but there are still some hesitations inhibiting VR purchase. The upside is that many of these barriers feel actionable to overcome. Price remains a continued challenge, even for the more affordable standalone devices. But as the market matures, manufacturers achieve greater economies of scale and competitors potentially begin pushing prices lowers, VR should become more affordable. Increasing the prevalence of opportunities to experience VR (such as in VR arenas, albeit, a significantly more challenging feat in the current lockdown environments), and continued investment in content will help overcome the big barrier of uncertainty, which is also currently blocking growth.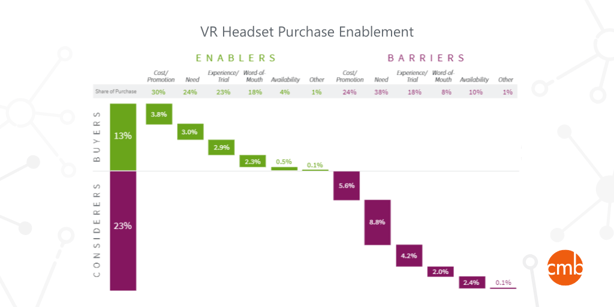 The reality of it all
As we all continue to adjust to the new reality of isolation, now more than ever, the promise of escapism that VR offers could be as compelling a proposition as it ever has been. Increasingly more high-profile content is being delivered, more headsets are entering the market, and usage statistics from services like Steam are all pointing towards a positive direction. Yet, despite this all, the potential of VR remains divisive: an exchange in Forbes perfectly exemplifies this with a May 4th article proclaiming "VR Headers Are Dying A Lonely Death," yet on May 5th an impassioned rebuttal rejected the notion that "Virtual Reality is Dying." While hurdles and barriers exist, this gamer remains cautiously optimistic.
---

Josh Fortey is an Account Director at CMB, and avid gamer.
Follow CMB on Facebook, LinkedIn, and Twitter for the latest news and updates.
Don't forget to immerse yourself in our latest gaming research: A Gamer's Journey | The Virtual Reality Edition. And stayed tuned for more of our findings--VR and beyond.