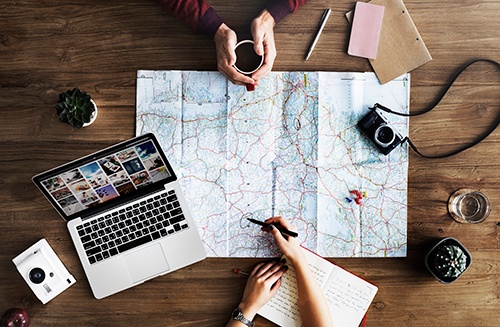 Buying a plane ticket can be a gamble. Right now, it might be a good price, but who's to say it won't drop in a day—a week? Not only that, it may be cheaper to take that Sunday night flight instead of Monday morning. And oh—should you fly into Long Beach or LAX? As a frequent traveler (for leisure and work!) and deal seeker, I face dilemmas like these a lot.
The good news is that there are loads of apps and websites to help passengers make informed travel decisions. But how? How can an app—say, Hopper—know exactly when a ticket price will hit its lowest point? Is it magic? Is there a psychic in the backroom predicting airline prices with her crystal ball?
Not quite.
While it seems like magic (especially when you do land that great deal), forecasting flight prices all comes down to predictive analytics—identifying patterns and trends in a vast amount of data. And for the travel industry in particular, there's incredible opportunity to use data in this way. So, let's put away the crystal ball (it won't fit in your carry on) and look at how travel companies and data scientists are using the tremendous amount of travel data to make predictions like when airfare will hit its lowest point.
In order to predict what will happen in the future (in this case, how airfare may rise and fall), you need a lot of data on past behaviors. According to the Federal Aviation Administration (FAA), there are nearly 24,000 commercial flights carrying over two million passengers around the world every day. And for every single one of those travelers, there's a record of when they purchased their ticket, how much they paid, what airline they're flying, where they're flying to/from, and when they're traveling. That's a ton of data to work with!
As a researcher, I get excited about the endless potential for how that amount of historical data can be used. And I'm not the only one. Companies like Kayak, Hopper, Skyscanner, and Hipmunk are finding ways to harness travel data to empower consumers to make informed travel decisions. To quote Hopper's website: their data scientists have compiled data on trillions of flight prices over the years to help them make "insightful predictions that consistently perform with 95% accuracy".
While the details of Hopper are intentionally vague, we can assume that their team is using data mining and predictive analytics techniques to identify patterns in flights prices. Then, based on what they've learned from these patterns, they build algorithms that let customers know when the best time to purchase a ticket is—whether they should buy now or wait as prices continue to drop leading up to their travel date. They may not even realize it, but in a way those customers are making data-driven decisions, just like the ones we help our clients make every day.
As a Market Researcher, I'm all about leveraging data to make people's lives easier. The travel industry's use of predictive modeling is mutually beneficial—consumers find great deals while airlines enjoy steady sales. My inner globetrotter is constantly looking for ways to travel more often and more affordably, so as I continue to discover new tools that utilize the power of data analytics to find me the best deals, I'm realizing I might need some more vacation days to fit it all in!
So the next time you're stressed out about booking your next vacation, just remember: sit back, relax, and enjoy the analytics.
Amy M. is a Project Manager at CMB who will continue to channel her inner predictive analyst to plan her next adventure.