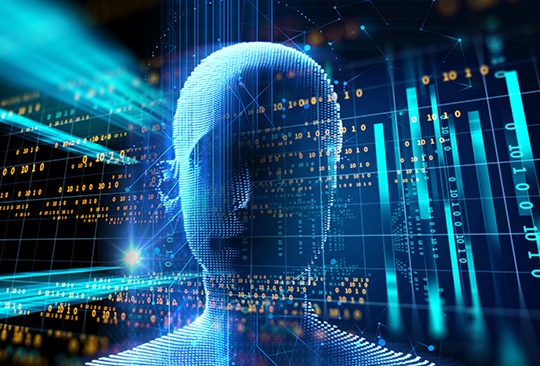 Last week the 2018 Consumer Electronics Show (CES) wrapped up in Las Vegas and left us feeling excited and invigorated about what's to come in tech. From talking toilets to snuggle robots, CES 2018 was yet another reminder of how deeply technology has infiltrated every aspect of our lives.
This year, once the world's largest tech show found its way out of the dark, CES was all about virtual assistants.
Alexa vs. Google Assistant
Amazon's Alexa has dominated the virtual assistant category—claiming 70% of the market share in 2017 and then ending the year with strong holiday sales as the most downloaded app for Apple and Android on Christmas Day. But this year, Google (who typically keeps a low profile at CES), made its presence loud and clear.
From wrapping the Las Vegas monorail with the words "Hey Google" to erecting a massive playground in the CES conference center parking lot (complete with a giant gumball machine), Google is making it clear that it intends for Google Assistant to be a legitimate contender in the virtual assistant space.
It's about integration, not separation
Both Google and Amazon used CES 2018 as a platform to announce new partnerships for their virtual assistants. Alexa will soon be found in Toyota cars, Vuzix smart glasses, and Kohler smart toilets. Meanwhile, Google is integrating its smart technology with a slew of products from leading brands like Sony, Lenovo, and Huawei.
If there's one takeaway from these partnership announcements, it's that voice assistant technology will not be confined to the realm of their makers' product lines. Instead, voice assistants intend to be everywhere—plugging into smart glasses, smart earbuds, and smart toilets—underscoring the tech industry's expectation that voice assistants will continue to play a much bigger role in our digital lives.
Crossing the chasm
It appears Google's goal at CES wasn't necessarily to woo tech lovers with its Google Assistant. Rather, it was to show regular people what is possible with virtual assistant technology. This is important because it demonstrates the (potential) ubiquity of this category once thought of as only for early tech adopters.
However, despite pushes to show "regular" people that virtual assistants are meant for everyone, our research indicates that social identity is playing a role in preventing widespread virtual assistant adoption.
As the chart indicates below, peoples' ability to relate to the typical user is the biggest driver in virtual assistant usage: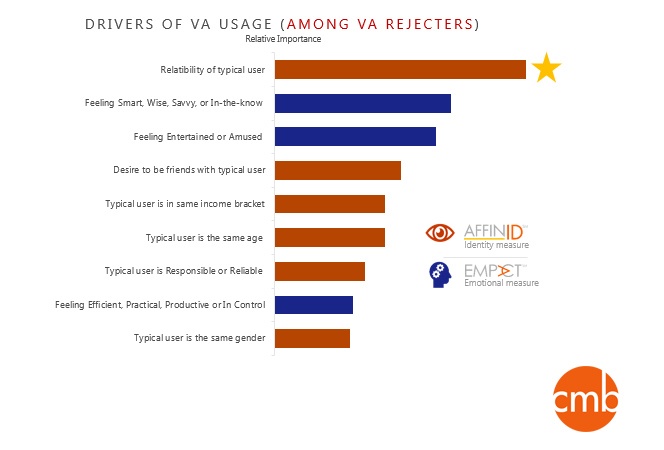 However, currently, consumers can't relate to the typical virtual assistant user, which is keeping them from "crossing the chasm" and becoming regular users themselves.
The virtual assistant category will only grow in complexity as more companies enter the game (let's not forget about Siri and Cortana). But, while flashy conference displays, exciting partnership announcements, and product demos are all helpful in attracting more consumers, if virtual assistant brands want to achieve more mainstream adoption, the brand and creative teams need to tackle the virtual assistant image problem head on.
Savannah House is the Marketing Manager at CMB, and as a light sleeper, is most excited about the robotic pillow.