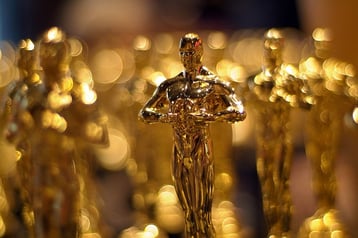 When I watched this year's Academy Awards, I celebrated with the rest of Hollywood when—after six previous losses—Leonardo DiCaprio won his first Oscar. USA Today reported: "It was an arduous journey for DiCaprio himself getting to the Oscars stage and taking a winning lap, but he got there. And for now at least, undoubtedly, he is king of the world." King of the World. The Winner.
All this talk about "winning" (given the Oscars and the political primary season) has me thinking about what it takes to be a winner in the corporate world. To win in a crowded field, you must:
Be excellent: Winners consistently perform better than competitors. They understand the importance of skill, practice, training. . .and maybe a little bit of luck!
Be different: Winners capitalize on their unique strengths to propel themselves forward and stand out from competitors.
Take risks: Living a life of safety and conformity may be really comfortable, but winners push the envelope, try different things, and take paths that others don't.
Surround themselves with a high-performing team: In every category—sports, entertainment, business, etc.—winners are supported by a group of committed, talented colleagues.
Project confidence: Winners expect to win. They project confidence in their body language, posture, tone, and words.
For those of us executives and managers without a golden statue, medal, or election, how can we tell if we're winning?
In business, we frequently use sports—and war—metaphors to describe our activities and accomplishments. We hit a home run with a new ad campaign. We battle for market share. But, the definition of winning varies by industry and company. For some, it can be measured by stock price/performance; for others, it's measured by market share. But the focus on market share, in a rapidly changing environment, can mean that you're the winner in a market that's shrinking or disappearing altogether.
Unlike a single metric, a balanced scorecard—aligned with the future success of your organization and considering multiple metrics (financial, customer, employee, and operational)—may provide a better assessment of organizational "winning."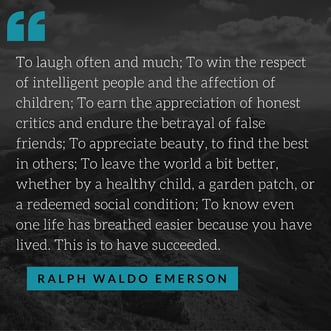 For most of us, there is no finish line. Because of this, we all have to individually define what success means to us in our current job. From my perspective, in addition to executing on the core requirements of our jobs, success means that we are continually:
Improving: Always developing, learning, and evolving our skills
Contributing: Supporting the financial success of our firms
Purposeful: Acting with passion, genuine interest, and excitement
On my bureau, I have a framed copy of Ralph Waldo Emerson's definition of success. I will never win an Academy Award or Gold Medal, but I will be successful, and I will be a winner.
Shall I start writing my acceptance speech?
Judy leads the Travel and Entertainment Practice and has a red carpet dress picked out just in case she gets nominated in the future.
Our new Consumer Pulse study explores Millennial attitudes and behaviors toward banking and finance.