New consumer research from Chadwick Martin Bailey and iModerate Research Technologies explores the how, what and why behind the Social Sharing phenomenon
Boston, MA September 28, 2010- A recent study from Chadwick Martin Bailey and iModerate Research Technologies found that close to half (49%) of consumers share content online at least once a week, with the vast majority being shared through e-mail (86%) and Facebook (49%).
This shows that even with all the buzz around social media, email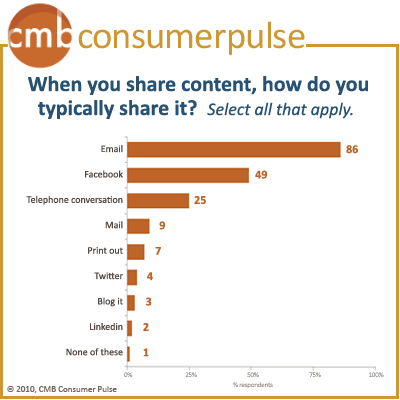 is still a key component to any online marketing initiative. Still for those 18-34, the use of the two methods are already close to even while for those 35 and over, email is still the primary way they share content online (93%).
"Social media has opened up new opportunities for marketers to amplify their brand, build loyalty and connect with consumers," says Jeff McKenna, senior consultant at Chadwick Martin Bailey. "Creating relevant, sharable content needs to be part of the overall marketing strategy, as it is an important vehicle for Word of Mouth advertising."
When it comes to deciding what to share, entertainment value tops the list. The research found that 72% of people share because they find something interesting or entertaining, much more than thinking about what recipients might value (58%). Give consumers a reason to laugh and you'll give them a reason to share, 58% say they share content online to get a laugh.
John LoGioco Vice President from Outbrain, a leading content recommendation engine adds:
"Content marketing has become a key strategy to many digital marketers. Our experience shows that readers prefer content that is interesting, and look at the source of the content (organic vs. branded) as secondary. As long as the content is interesting to the reader, they are likely to click, have a positive experience and therefore, more likely to share it within their social circle."
In terms of sharing branded vs. unbranded content, 58% said it doesn't really matter, with 14% saying they are more likely to share branded content, and 10% are actually less likely to share content that is branded. In consumers' own words:
"Who makes the content is not as important to my choice to share as is the relevance to the person I would be sending it to…" Male, age 30-34
"I don't care who makes it or where it comes from. I care about the content" Male, age25-29
"If I find the info useful I will share it no matter if it's homemade or branded" Female, age 18-24
About This Research
An executive summary report with additional findings from this study is available as a free download from Chadwick Martin Bailey. Data was collected from 1,504 adults (aged 18 and over) via a nationally representative online survey questionnaire within the United States by Chadwick Martin Bailey the week of August 23rd. In addition iModerate Research Technologies conducted one-on-one discussions to more fully contextualize their social media behaviors.
About Chadwick Martin Bailey
Chadwick Martin Bailey is a Boston-based custom market research firm who works with many of the most successful companies and best known brands in the world to help them acquire, maintain, and grow their customer base. In 2009, they were listed on the Honomichl Top 50 and continue to demonstrate their thought leadership at numerous conferences worldwide. Chadwick Martin Bailey focuses on using leading-edge research techniques to collect and translate the data into simple, business decision-focused deliverables. www.cmbinfo.com

About iModerate Research Technologies
iModerate Research Technologies listens, connects and digs deeper with consumers online to provide the research story organizations need to win in the marketplace. Years of research and development by veteran field experts, as well as analytical specialists, produced the concept, methodology and software that have allowed iModerate to help Fortune 500 companies, large and boutique research firms and prominent organizations strengthen their research results. Focused on providing customized qualitative solutions, iModerate is broadening online research capabilities by delivering essential qualitative insight. iModerate is based in Denver, Colorado. For more information please visit www.imoderate.com
Media Contacts:
Kristen Garvey
kgarvey@cmbinfo.com
Phone: 617.986.7478
Adam Rossow
arossow@imoderate.com
Phone: 303.928.8406