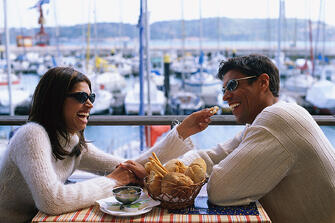 Eight years is a long time to be in a relationship with someone. When you've been with the same person for that long, chances are you either put a ring on it, or throw in the towel. If you have a solid foundation, an even balance of give and take, and you genuinely enjoy each other's company, how do you go about keeping that spark alive, rather than just going through the motions? The answer: you get creative and find ways to surprise and delight your partner. The same is true for tracking studies; if you have a strong partnership and you want it to last, you want to find ways to surprise and delight your client rather than letting your tracker go stale. For the past eight years, CMB has been working with a global cruise line on their guest satisfaction study, delivering quarterly reports each year (that's 32 reports in case you're rusty with your times tables). I've had the pleasure of being a part of this team for nearly half that time, and I've learned a few things about adding that "special something" to keep things fresh in the relationship.
One of the ways we keep our trackers fresh, compelling, and above all useful, is with "Special Chapters." For our cruise client we deliver these Special Chapters—mini-reports on hot topics, in addition to the typical brand tracking slides. We work with our client each quarter to decide on the topics of interest at that point in time, or we find new stories in the vast amount of data we have from our questionnaire. To make them truly "special," we have to get creative, so we look to other sources of data rather than just our single study to pull in what customers are saying on social media and review sites like cruisecritic.com, and we work with our client's database team to append customer information to our data in order to run more in-depth analyses.
Here are a few other ways we help keep trackers fresh:
Provide a snapshot on a new product or service
In the case of our cruise client, over the tenure of the study, two new ships were introduced in the fleet, so we created a chapter detailing each ship's performance during their inaugural years
Deep dive into a particular segment of customers
Our cruise client, like many of our clients, is a global company, giving us the opportunity to look into differences between many types of customer groups, for example:
§ Country profile scorecards on guests from different regions
§ Customer journey maps on guests with different levels of experience with the brand
Compare pre- and post-data surrounding key company initiatives
Based on recommendations we may have given in a previous quarter, our client makes necessary adjustments to improve guests' experiences onboard, and we have the ability to compare pre- and post-data to determine whether these adjustments have improved their perceptions.
…and that's just to name a few.
Don't let the monotony of a brand tracker make your relationship go stale. Get creative, surprise and delight, and you'll be walking hand-in-hand into the future for many more years to come.
Caitlin Dailey is a Project Manager for the Retail/Travel/Entertainment/Finance/Healthcare/Insurance practice. Outside of work she is a company dancer with DanceWorks Boston.
In Orlando for the Loyalty Expo next week? Drop by our

booth to talk about refreshing tired Brand Trackers, Segmentation, Customer Experience, New Product Development, or just to say hello!