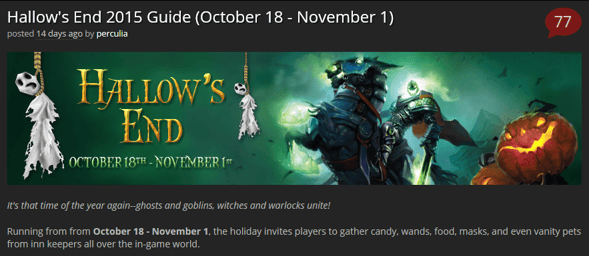 We all have our own way of celebrating the fall season. For some, it's apple-picking, leaf-peeping, or downing mug after mug of Pumpkin Spice Lattes. For me, the defining event of the fall happens not in Boston, but in Azeroth at the World of Warcraft's (WoW) annual celebration of Hallow's End. Held every year, this two-week, in-game holiday is both a great example of effective seasonal marketing and a demonstration of Blizzard Entertainment's nuanced understanding of its customer base. Not to mention, it's just plain fun.
Hallow's End was introduced to WoW in 2005, and in the past ten years, it's grown dramatically in scope and popularity. Although Blizzard hosts other in-game seasonal celebrations (Pilgrim's Bounty, Feast of the Winter Veil, and Brewfest are just a few), Hallow's End seems to attract more notice both in and out of the game than any of the others.

Why all the excitement? The success of Hallow's End is due in large part to the fact that it offers something for every kind of player. Who are they, and what do they get out of Hallow's End? Here's a sampling:
Mount Collectors: Hallow's End heralds the return of the Headless Horseman, a formidable raid boss with a sweet ride. The Horseman's steed, an undead horse with glowing green eyes and hooves, is one of the most coveted mounts in WoW, and it's only available for players to win during this event. Those who grab one will gleefully parade their prize for the rest of the year, and those who don't are doomed to count down the days until the Horseman's return.

World Travelers: For many (myself included) the most compelling feature of WoW is the massive scale and breathtaking beauty of the game's world. Sadly, high-level adventurers have little incentive to explore low-level areas. During Hallow's End, however, Candy Buckets appear in inns throughout Azeroth, offering in-game currency and achievements for players who seek them out. The Candy Bucket hunt is a great excuse to revisit old haunts and to seek out some new ones.
Pet Battlers: Pet Battling is relatively new to WoW, but it's become quite popular. Pets are small creatures or constructs that a player accumulates over time (ranging from the common Brown Rabbit to the exotic Anubisath Idol). Like WoW characters, pets can be leveled to acquire new abilities and then pitted against one another in gruesome fights to the death. Hallow's End provides the opportunity for players to add seven new pets to their arsenal, including several creepy crawlies as well as a feline familiar who wears a witches' hat and rides on a broom. Deadly and adorable!
Duelists & Jokesters: In addition to its various quests and collectables, Hallow's End creates a communal space for players, who gather to celebrate in front of the flaming Wickerman (see him below in one of my own screenshots!). It's unusual to have so many players assembled at once, and this combined with the holiday mood tends to lead to player dueling. For those who love to duel, Hallow's End is a perfect opportunity. WoW also encourages player-on-player action during the holiday by offering holiday themed wands that can be used to transform other players into bats, ghosts, skeletons, and even (gasp!) humans.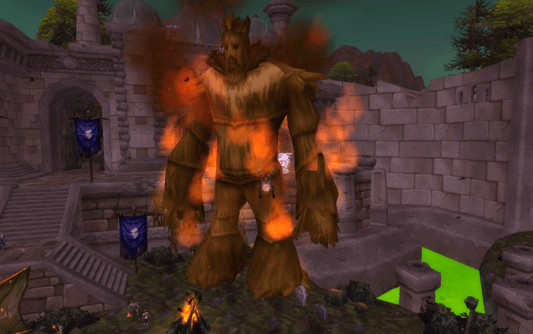 And that's not all! In addition to the above, other Hallow's End offerings include raid-quality equipment (for dungeon delvers), garrison decorations (for garrison builders), and experience bonuses (for those leveling up). Regardless of why and how you play, the holiday has something for you.
While World of Warcraft has had its ups and downs, it's indisputably one of the most well-known and well-loved games. One reason is that Blizzard not only allows, but promotes and celebrates, a wide range of play styles during Hallow's End and beyond. Ask yourself, does your business offer products or services intended for a broad customer base? Do you understand who they are, what they like, and what makes them different from one another? CMB can help! Contact us to talk segmentation and product development, and we'll help you add firepower to your own arsenal.
Happy Hallow's End!
Liz White (BadDecision) is a level 100 Blood Elf Warrior, who loves blacksmithing, long flights over Azeroth, and running advanced analytics for CMB. Give her a shout either IRL or in-game, and she'll be happy to help you optimize your build.