Last week, I attended Hubspot's INBOUND conference to attend workshops, network with fellow marketers, and hear speakers as diverse as Chelsea Clinton, Aziz Ansari, and Daniel Pink present on topics like disruption, innovation, and how to really connect in an increasingly crowded landscape. Here are just 4 (of many) key takeaways:
1. Adapt to changing SEO. Bill King and Tyler Richer from Hubspot emphasized that keywords continue to lose influence as Google continues to become smarter and smarter. How can you get around this? Start by writing content that's genuinely useful, and share your content on social media. Sharing it on social media doesn't directly affect rank, but it does affect distribution (which can affect rank). Finally, remember that there should always be an element of empathy when creating an SEO plan. Searchers have experiences with brands when they search, and you want to make sure every experience with your brand is a great one.
2. Embrace social media ads. They're here to stay. You might have noticed that Facebook's organic reach has plummeted. Larry Kim, Founder and CTO of WordStream, pointed out that most of the content people put out on social networks is never seen, and that's a missed opportunity since 28% of people's online time is spent on social networks. Social media ads are a highly scalable vehicle for content promotion, so it's time to embrace the inevitable and boost those posts!
3. Stop storytelling. Start storymaking. David Berkowitz, CMO at MRY, discussed the shift from storytelling to storymaking. The phrase might sound jargony, but semantics aside, what Berkowitz is really asking us to do is make storytelling an interactive experience. Below are some of the differences between storytelling as a monologue and storymaking as an experience: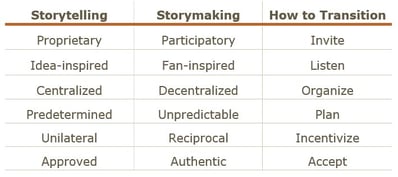 To see an example of this in action, look no further than Coca-Cola's "Share a Coke" campaign. You can find a bottle of Coca-Cola with your name on it in-store or create your own online. This has inspired a plethora of consumer created content, including this pregnancy announcement that has almost 4.5 million views on YouTube.
4. Be brave. During her keynote, Brené Brown stressed that the path to joy, love, and trust lies in vulnerability. Being vulnerable means being brave and being willing to show up and be seen when you have no control over the outcome. Each of us faces a choice between comfort and courage every day, and it's about time we start choosing the latter in both our professional and personal lives. How? Don't say you're different—be different. Take a page out of Ben & Jerry's book and dare to be distinct.
Did you attend? Tell us your favorite takeaways in the comments.
Kirsten Clark is a Marketing Associate at CMB. She also had the privilege of seeing the hysterical (no, really, there were tears) Amy Schumer at INBOUND. (Amy, if you're reading this, please consider being my friend. I make excellent guacamole.)