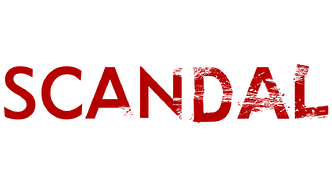 Do you have plans tonight?
If you're like me, you'll be snuggled up on your couch with a glass of red wine in one hand and Twitter pulled up on your phone in the other, ready and waiting for tonight's Scandal finale. I'll admit it: I love all Shonda Rhimes' shows. I've watched Grey's Anatomy since season 3 and How to Get Away with Murder after it premiered last fall. But as much as I love these two shows, I know I can DVR them and avoid spoilers. There's one of Shonda's shows, however, that I will move mountains to watch live because I just know that if I don't, I will be spoiled the minute I go online. That show, ladies and gentlemen, is Scandal.
Since its premiere in 2012, Scandal has positioned itself as "event television"—the kind of can't-miss show that needs to be watched live to get the full experience— which, if you think about it, is a pretty amazing feat. Just a few years ago, event television was thought to be dead with few exceptions (award shows, sporting events, etc.), but Scandal has resurrected it. How? Through cliffhangers, top secret plots, and brilliant marketing campaigns. But none of these have contributed more to this positioning than the show's masterful use of Twitter.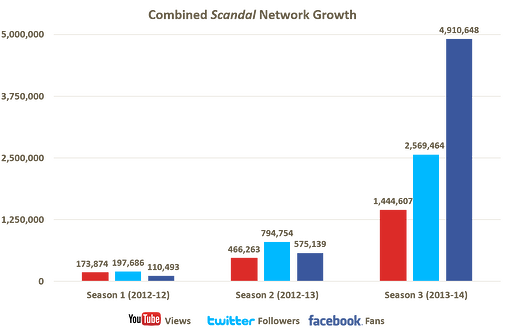 The community the show has built on Twitter has been key to Scandal's success, and this success story has a lesson that all brands should remember: loyalty and engagement are key. So, how has Scandal been able to do this? Through an immersive campaign that integrates organic fan-generated content with participation from cast and crew members. Each Thursday night, I am one of the #Gladiators scrolling through Twitter to read live tweets from fellow fans as well as cast members. The actors on the show are not the only people participating—fans can chat with Scandal's writers (@ScandalWriters), prop master (@scandalprops), makeup department (@ScandalMakeup), and others.
In addition to live tweeting, Scandal has also brilliantly incorporated hashtags into its social media strategy. For instance, in 2012, the show was one of the first programs to advertise on Twitter and to feature a promoted hashtag (#WhoShotFitz) in advertising. The show uses a variety of hashtags for different purposes. For example, the show used #ScandalRecruitment during one month in season three to attract new viewers, and it often promotes #AskScandal, which viewers can use to ask a cast or crew member a question about the show.
All of this has culminated in a massive social media following. The show's fans send out over 350,000 tweets per episode and, until recently, Scandal had the highest average tweets per episode during live airings of any broadcast drama this season. The show that beat Scandal? Newcomer Empire, which has based its social media strategy (live tweeting, promoted hashtags, etc.) off the success of Scandal's strategy.
You're probably asking yourself: why does this matter? First of all, after watching Olivia Pope shut someone down with a scene-stealing speech, is there anything more exciting than getting to directly interact with Kerry Washington about that exact scene? (The answer is no, people.) More importantly, Twitter released a study last May which found that after seeing TV-related tweets, 90% of people take "subsequent action such as watching a show they've never watched before, resuming a show that they'd previously stopped watching, and/or searching for more information about the show online." Let this be a lesson to all brands (not just television shows): building a passionate fan base on Twitter generates loyalty and engagement, which in turn generates increased revenue.
So, fellow Gladiators, cancel your plans and settle in, because tonight promises to be another adventure—both on-screen and on your Twitter feed.
Kirsten Clark is a Marketing Associate at CMB who one day aspires to be like Olivia Pope. . .except without all torture, murders, and Presidential affairs.