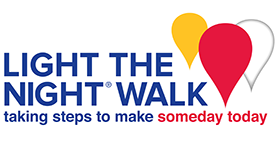 This Thursday, CMBers will participate in the Leukemia and Lymphoma Society's (LLS) annual Light the Night Walk. My colleagues first joined the walk when I was diagnosed with Hodgkin's Lymphoma in 2008 as a way to support me in my fight against cancer. The family friendly event starts at dusk on the Boston Common, and the walk is only 2 short loops around the perimeter. During the walk, everyone carries one of three kinds of lanterns: a red lantern shows support, a white lantern represents a survivor, and a gold lantern represents the memory of a lost loved one. It is a truly special event and an inspiring sight.
We at CMB, like most others, have colleagues and loved ones who have been touched by cancer. Every year, we walk to raise money and awareness so that research can advance. Including this year's walk, we will have raised $80,000 over the past 8 years. As a cancer survivor, it means so much to me that something as negative as a cancer diagnosis could result in such a positive movement by my colleagues.
LLS funds research with the goal of curing blood cancers, and many of the advances made in blood cancer research can be used to treat other types of cancer. It provides support to patients and their families, and I (as well as countless others) have personally benefited from this research. Due in no small part to the advances made from this very research, I celebrated five years in remission this May and am now considered cured. I was the recipient of a lifesaving stem cell transplant and proton radiation therapy…and these are just two examples of the advanced therapies now available because of LLS and other research organizations. Thanks to them, I will be holding my white lantern high this Thursday. I am one of the lucky ones.
From the LLS website: LLS has invested more than $1 billion in research since our inception. Over that time, survival rates for many blood cancer patients have doubled, tripled and even quadrupled. Moreover, we have learned how to cure certain blood cancers. And many therapies first approved for blood cancers are now helping patients with other types of cancers and serious diseases.
But more than one third of blood cancer patients still do not survive five years after their diagnosis. So more funding is needed to advance more research and to ensure access to treatments to help save more lives.
---
Catherine Shannon is the Director of Finance at CMB. She's a two time cancer survivor, and she looks forward to Light the Night Thursday.