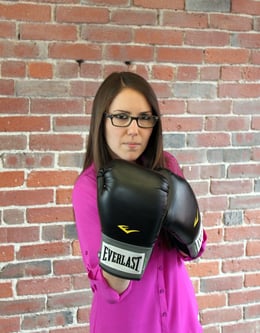 Every year, Survey Magazine names 10 "Data Dominators," who are conquering data in different ways at their companies. This year, our very own Talia Fein was chosen. She discusses her passion for data in Survey Magazine's August issue, and we've reposted the article below.
When I first came to CMB, a research and strategy company in Boston, I was fresh out of undergrad and an SPSS virgin. In fact, I remember there being an SPSS test that all new hires were supposed to take, but I couldn't take it because I didn't even know how to open a data file. Fast forward a few months, and I had quickly been converted to an SPSS specialist, a numbers nerd, or—perhaps more appropriately—a data dominator. I was a stickler for process and precision in all data matters, and I took great pride in ensuring that all data and analyses were perfect and pristine. To put it bluntly, I was a total nerd.
I recently returned to CMB after a four-year hiatus. When I left CMB, I quickly became the survey and data expert among my new colleagues and the point person for all SPSS and data questions. But it wasn't just my data skills that were being put to use. To me, data management is also about the process and the organization of data. In my subsequent roles, I found myself looking to improve the data processes and streamline the systems used for survey data. I brought new software programs to my companies and taught my teams how to manage data effectively and efficiently.
When I think about the future of the research industry, I imagine survey research as being the foundation of a house. Survey data and data management are the building blocks of what we do. When we do them excellently, we are a well-oiled machine. But a well-oiled machine doesn't sell products or help our clients drive growth. We need to have the foundation in place in order to extend beyond it and to prepare ourselves for the next big thing that comes along. And that next big thing, in my mind, is big data technology. There is a lot of data out there, and a lot of ways of managing and analyzing it, and we need to be ready for that. We need to expand our ideas about where our data is coming from and what we can do with it. It is our job to connect these data sources and to find greater meaning than we were previously able to. It is this non-traditional use of data and analytics that is the future of our industry, and we have to be nimble and creative in order to best serve our clients' ever-evolving needs.
One recent example of this is CMB's 2015 Mobile Wallet study, which leveraged multiple data sources and—in the process—revealed which were good for what types of questions. In the case of this research, we analyzed mobile behavioral data, including mobile app and mobile web usage, along with survey-based data to get a full picture of consumers' behaviors, experiences, and attitudes toward mobile wallets. We also came away with new Best Practices for how best to manage passive mobile behavioral data, as it presents new challenges that are unique from managing survey data. Our clients are making big bets on new technology, and they need the comprehensive insights that come from integrating multiple sources. We specifically sampled different sources because we know that—in practice—many of our clients are being handed multiple data sets from multiple data sources. In order to best serve these clients, we need to be able to leverage all the data sources that are at our and their disposal so that we can glean the best insights and make the best recommendations.
Talia Fein is a Project & Data Manager at Chadwick Martin Bailey (CMB), a market research consulting firm in Boston. She's responsible for the design and execution of market research studies for Fortune 500 companies as well as the data processing and analysis through all phases of the research. Her portfolio includes clients such as Dell, Intel, and Comcast, and her work includes customer segmentation, loyalty, brand tracking, new product development, and win-loss research.