This January, the ABC Family channel will become "Freeform." The name change, triggered by a misalignment between ABC Family's current brand strategy and associations the current name conjures, aims to appeal to the brand's target audience—a more mature, young adult demographic. President Tom Ascheim calls this group "Becomers," males and females ages 14-34 who are going through an exciting life stage of firsts, ranging from "first kiss to first kid."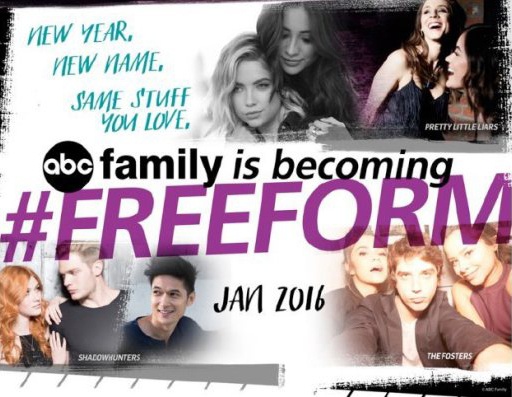 So, what can viewers expect from Freeform? According to the company, at least some things will stay the same. Freeform will keep a number of popular shows (e.g., Pretty Little Liars and The Fosters) and continue beloved traditions like Harry Potter Weekends and 25 Days of Christmas. But viewers can also expect new programming that takes the brand further from its family-friendly image.
While the name change seems warranted, a rebrand can certainly flop if not carried out thoughtfully (think: when Radio Shack became "The Shack"). Here are four steps worth following to ensure long-term success in launching a rebrand:
1. Conduct thorough research about the competitive landscape and your target market. Rebranding involves a tremendous amount of preparation, time, and effort, and it risks confusing customers and losing brand equity. It's wise to consider the repercussions before making changes that might not solve the underlying problems. Renaming infamous private security firm Blackwater to the shorter XE, for instance, hasn't done the trick. For ABC Family's part, research revealed many respondents unaware of the brand see it as "wholesome," which is an indication that the channel's name was a real sticking point to broadening its audience.
2. Communicate early and often. Being proactive about communication is essential during a rebranding campaign to avoid confusion and to dissuade potential rumors. All marketing and promotional materials should be honest and clarify any questions customers may have, such as the reasoning behind the change or what to expect from the new brand. On ABC Family's social media pages, for instance, some viewers expressed concerns about whether or not the new network would continue its popular 25 Days of Christmas campaign. The channel is leveraging these platforms as a way to answer questions and ease viewers' fears.

3. Engage customers. Getting the consumer involved is a productive way to create buzz around the rebrand. One way ABC Family has done this is through a user-generated campaign (UGC) in which fans can create content to be posted on the channel's website. This effectively generates hype around the launch just in time for the January television premieres. Social media can also be used to cultivate engagement with fans. ABC Family already has an impressive social media presence around hit show Pretty Little Liars, which is cable's second most tweeted-about series, but the channel will need to continue encouraging active participation throughout the rebrand.

4. Don't let the name change stand alone. The name change itself should only be part of a rebrand, and it should be accompanied by an internal strategic shift. The branding must deliver on its promises, or the rebrand will fail to bring about any brand lift. A rebrand can't be a "superficial facelift," but a sustainable strategic change that allows for the brand to flourish.
Only time will tell if Freeform can create new content that attracts Becomers and evokes viewers' "spirit and adventure," while also leveraging existing brand equity to maintain its current core audience.
Julia Walker is an Associate Researcher who is very excited to continue watching Harry Potter marathons on the new Freeform network.
For the latest Consumer Pulse reports, case studies, and conference news, subscribe to our monthly eZine.