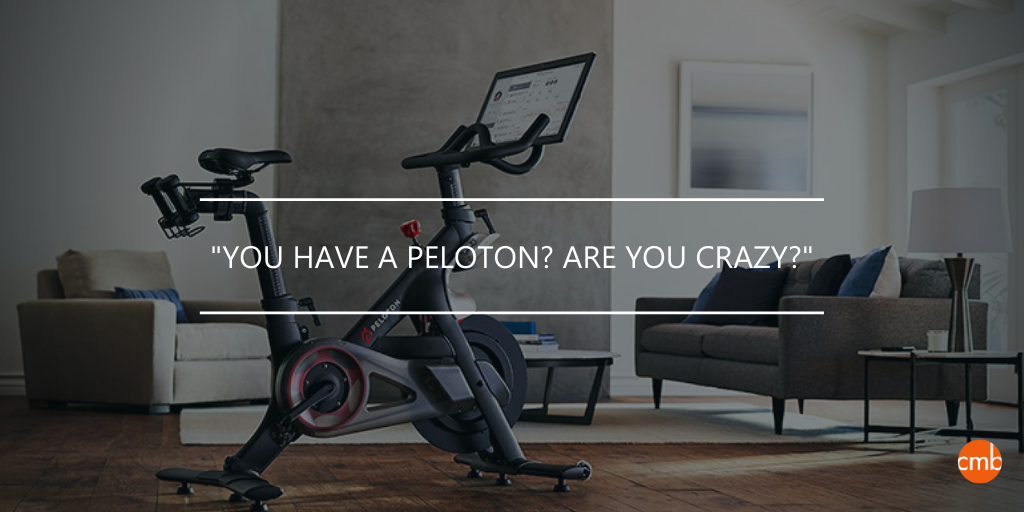 "You have a Peloton? Are you crazy?" I've heard this multiple times from people who are shocked that I was willing to pay "that much" for an exercise bike. Yes I did, and frankly, my fiancée and I love it (#NotAnAd). I still remember the first Peloton commercial I saw. It featured a fit younger female biking in the middle of her living room in what appeared to be a penthouse in New York City. It came off as a luxury, a product for the rich, not something that belonged in the corner of your dining room where the only view is an outdated china cabinet. Fast forward to Christmas 2019, Peloton takes a seemingly innocent—now notorious—approach to being more obtainable with the slogan, "for anybody that wants it." Peloton's attempt to balance luxury with affordability and attainability has proven challenging.
Enter COVID-19, suddenly, that initial sticker shock seemed rather small when my only option is working out at home. In the past few months I have heard more and more of my friends buying a Peloton bike, including a few that called me crazy when I took the plunge a year ago. Peloton has recently reached over a million subscribers and their biggest problem is delivering bikes fast enough. So how does a brand go from a widely panned marketing flop to selling more products in a few days than they expected in the entire month?
It's not a complex formula, when you take away an outlet for people, they are going to look to fill it somehow. That's exactly what's happening for Peloton during COVID-19, they've been able to capitalize on a bad situation. But what happens when gyms reopen, and people adjust to the new normal? How does the rapid growth Peloton has been experiencing become more than just an outlier? True, this won't be a toilet paper situation, they can't expect people to start hoarding exercise bikes, but that doesn't mean Peloton can't become the first-choice outlet for working out.
Peloton has always been willing to spend money on advertisements, and even the infamous ones, have made Peloton a well-known name. In fact, I would argue that the average person can't name more than 2 or 3 stationary bike brands. This means, that even though the market is oversaturated, people only recognize a few brands. Now more than ever Peloton should continue pushing their advertisements, but with a different approach. Recently, we've seen a shift in advertisements due to the pandemic, whether its poking fun at the fact that there is always that one person who can't figure out how to unmute themselves on Zoom, or just showing their compassionate side towards the situation. The main point is brands are acknowledging our experience in a timely manner. Peloton is a unique brand because even during this troubling time, they can remain almost fully functional. They have trainers constantly putting out new classes, both from the comfort of their own home (safely and alone) and inside one of their New York studios. They must let everyone know, whether they are an existing customer or not, that they remain focused on physical fitness and can provide anyone the opportunity to stay healthy. Now more than ever Peloton can realize their goal of providing fitness "for anybody who wants it".
One thing is for sure, change is inevitable for everyone. People are eager to get back to a gym or spend the money on advancing their own home gyms. No one can be sure what the new normal or long-term impact will be like when this is over, but in a time where interaction is unfeasible, connection is critical. Brands like Peloton, Netflix, and HelloFresh are emerging as leaders because they are focused on the human element. They clearly benefit from more people staying at home but what happens when those people start to leave? How do the brands that have seen exponential growth during COVID-19 transition themselves into the new normal? But humans are creatures of habits, and as long as Peloton continues to stress their flexibility, compassion, and purpose, exercising at home will remain a habit.
---

Daniel McDonald, Associate Researcher, is a proud first-time homeowner, which is the perfect addition to his Peloton bike.
Follow CMB on Facebook, LinkedIn, and Twitter for the latest news and updates.