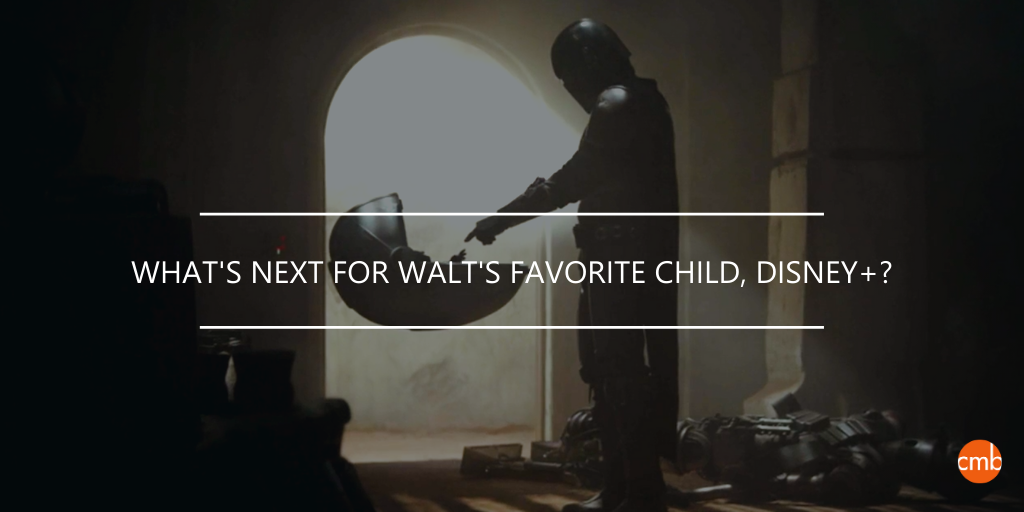 Growing up as the second oldest of five children, I can confidently say that you parents of multiple children are lying when you say you don't have a favorite. Sure, the favorite may vary depending on time or circumstance, but still…we know. Most parents, despite this, do a great job of making sure their time, love, and attention is spread equally for the most part. But when Disney reorganized its media properties under the heading of Disney Creative (Disney+, ESPN+, Hulu, Disney-ABC TV), it made no secret of it that Disney+, with its 73M subscribers, is the current golden child.
With the pandemic still taking a toll on Disney's parks, resorts, and cruises and the streaming wars impacting the success of cable networks across the board (yes, even Disney-ABC TV), the company has turned its attention and resources to streaming, specifically Disney+. It announced a strategic reorganization of its media and entertainment business, including the addition of a distribution team, with the goal of amplifying its success in the space. The distribution team will take the lead on monetizing content and oversee operations of the company's other streaming services, including Hulu and ESPN+. These reallocation of resources and public affirmations make clear that Disney sees this direct to consumer model, specifically in the form of Disney+, as the path to the future financially and strategically.
Why specifically Disney+ when there are so many offerings under its media and entertainment umbrella? There's a number of factors that set up the streaming service to win from the start, from the timing of COVID-19 and the subsequent increase in streaming to the library of solid classics and originals not just drawing in but retaining subscribers. Disney+'s strong value proposition and brand awareness gave it an edge that other platforms had to build up over time – and some, like Hulu, are still struggling to do so.
Interested in reading more? Read this article about the Emotional, Identity, & Other Benefits of Disney+ >
You may remember that back in 2019, Disney took control of Hulu, the then-future of Disney's streaming ambitions. As any child knows, there are few things more disheartening than having your parent take something from you only to give it to your sibling. Soon after Disney took over Hulu, the streaming services proposed a plan for its competitive growth via international expansion. While initially backed by the parent company, Disney has since pivoted and now chosen to pursue a new general entertainment service outside the United States under Star, the company's Indian media subsidiary. The reason for this change? Disney claims it's due to Star's preexisting international name recognition, though there is room to speculate that it does not want to inflate the value of Hulu when it still owes Comcast one-third ownership share at a price TBD in 2024 for the takeover deal. For now, Hulu will take a backseat to the golden child Disney+. Perhaps we should anticipate some more angsty content from Hulu (or maybe it's "just a phase").
As the streaming category continues to grow and evolve, consumers will likely need to decide at some point which services to keep and which to cancel. These decisions will be based on several factors, including the habits they've established and budgetary reasons (who doesn't want to get the most bang for their buck?). Bundling options may become more important. With Disney+, its parent company also owns linear networks (ABC, ESPN, etc.), Amazon Prime Video is included in your Prime subscription, and the streamlined connection to Apple's hardware ecosystem may make Apple TV an easier choice.
Another huge deciding factor is obviously the content libraries. Why subscribe if your favorite shows and movies aren't available? Netflix, perhaps the only "pure" streaming service, may struggle in this area compared to Disney, who has a myriad of content at its disposal. Disney's media re-organization may suggest that it plans to go around traditional cable operators and package its networks' content via a streaming bundle. The seismic shake-ups continue with yesterday's announcement that Warner Brothers will simultaneously air ALL of its 2021 movies on HBO Max. With so much uncertainty, the one thing we can count on is more disruption. Personally, I can't wait to grab my popcorn and watch it unfold.
---

Ann is a serial streamer who loves keeping up with industry trends in media and technology. She frequents virtual webinars and conferences to continuously grow her understanding of the market and consumer (want to know which one she's signing onto next? Just ask!).
Follow CMB on Facebook, Instagram, LinkedIn, and Twitter for the latest news and updates.