I'm back from IIR's TMRE conference—three intense days spent with hundreds of consumer insights professionals who are charged with supporting the C-Suite in these perilous and changing times. Reflecting on the challenges facing these brave souls, I'm reminded of Joseph Campbell's Hero's Journey, the narrative pattern found in millions of stories from Greek myth to Disney films. If it's been awhile since your last literature class, refresh yourself on the Journey here or with this simple example from Cinderella.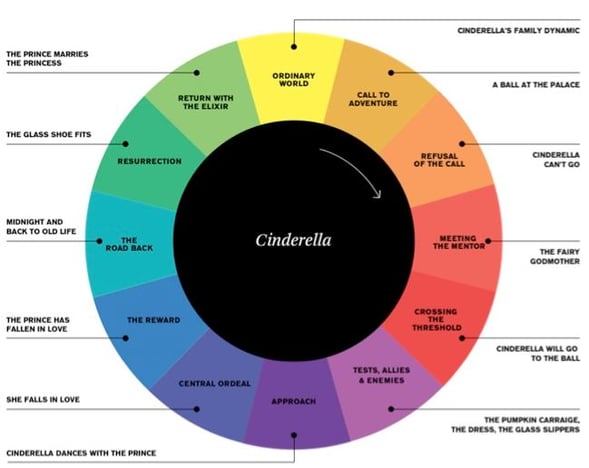 Now, come with me as we follow our insights heroes and heroines on the path to re-invent and re-discover the magic that drives businesses forward.
Ordinary World and the Call to Adventure: The world has changed, and the Hero faces a challenge. GfK's CEO, David Krajicek likens insights folks to calligraphers and 11th century monks who copied manuscripts and whose wondrous artistry was killed by the scalability and speed of movable type. David says that insights folks must find a way to provide CMOs with immediate answers and handcrafted artistry (which requires our patience and focus), but the latter is becoming less frequent. A lot of the time, fast and directional is all decision-makers are willing to pay for.
Refusal of the Call:

Our Hero balks at the seemingly impossible task. The C-Suite still needs artistry and reflection, but the craft of insights requires varied tools, exceptional rigor, mastery, and time. The swift and violent current of commerce requires insights folks to offer speed. There is a place in a portfolio of insights for short-term efforts as well as more contemplative efforts. Many research suppliers offer fast/inexpensive/directionally accurate solutions, and many others offer more pensive/structured thinking. Each side refuses the call.
Meeting the Mentor: Our Hero finds inspiration in disruption. Seth Godin reminds us that the boss keeps begging for more—more ratings, more shelf space—yielding average products for average people. You can't grow by solving for the average. Brands that are growing are brands that look forward (think: AirBnB). The Hero and the Hero's Journey must progress to avoid becoming a commodity.
Crossing the Threshold: Our Hero takes the first step into the new world. While everyone in the insights world is talking about data, only 6% report that they've crossed the threshold into actually fusing passive (unstructured) data with survey research (structured) data. One company already on its way is LinkedIn. As LinkedIn's Sally Sadosky and Al Nevarez shared, the site has insourced most of its survey research, and LinkedIn is marrying the survey data to its data sources. The company is using big data to align its offerings with the most impactful opportunities. LinkedIn classifies/segments, ranks drivers, categorizes text, and generates lift for key metrics.
Tests, Allies, and Enemies: Our Hero discovers friends and foes. On to the sessions at TMRE. . .the tests, the allies, and the enemies of the Hero as he/she journeys. Several speakers talked in generalities rather than tell their unique story—they played the middle. Our heroes found the allies and the tests in the other rooms and were rewarded with meaningful insights, including:

Remain optimistic, but embrace negative metrics: Poker player Caspar Berry reminded us to embrace uncertainty and to rise to meet the challenge despite the fear of failure. Risk-taking leaders are consistent and successful. They also get conned a lot, but they remain optimistic.
Know the game: Heineken's Joanne McDonough conducted an entertaining and memorable presentation on the brand's positioning—"behaving premium." Heineken conducted mobile ethnos and interviews at exclusive night clubs in Miami, Los Angeles, and NYC. The company uncovered insights about the "Champagne Girl," Table Service, and a lot more about dudes and their nights out.
Know the giants by name: Competing in the expectation economy has its impact challenges says @trendwatching's Maxwell Luthy. It's critical to understand the Internet of Things (IoT), the sharing economy, the "near me" or localization push, 2-way transparency (I rate the brand and the brand rates me), citizenship (of the world), and more.
Show your effort: Dan Ariely stressed that we need to understand that people's cognition is relative to the time they're willing to put into it. How can we eliminate friction? Storytelling to make insights actionable. Simple testing of the details. If there's a way you can eliminate barriers—do it.

Approach: Our Hero is joined by allies to prepare for the new world. John Dryden and Kimberley Clark's Laura Dropp talked about the next generation—Gen Z—who are always connected and never alone. These youngsters (ages 10 to 20) need you to be an easily accessible resource. Gen Zers naturally blend the physical and the virtual, making real connections fluidly, and they want our help to make a difference in the world.
Central Ordeal: Our Hero confronts his/her worst fears. The C-suite turnover is great, and the lowly research Hero is cast aside, playing a role perceived by many as not worthy of its own budget. It is here that researchers must make decisions about the level of risk they're willing to take—breaking away from the tried but tired models of the past.
The Reward: Our Hero's risks are rewarded. Compromises are made, and organizations are restructured to handle fast and directional insight. The budget for the thoughtful, foundational, deeper-diving insights is rewarded as the lightbulb goes on in the C-Suite.
The Road Back:

Our Hero makes his/her way back, transformed. The marketing we grew up with is going away, and it's time to get schooled by the world around us—embracing the new connections we must make with one another.
Resurrection: Our Hero must prove himself/herself once again. To drive brand zeal and customer loyalty, it's not enough to provide a tasty meal or a clean hotel room. Consumers want a meal to be instagrammable and the hotel experience to be differentiated. At TMRE, we took clients out to Café Tu Tu Tango. We expected a good meal, but we received much more—excellent tapas and sangria, a great band, two artists painting at desks mingled with the diners (their art for sale on the walls), and a tarot card reader. It was a memorable and differentiating experience and a good example of why we can't be content with business as usual.
Return with the Elixir: The Hero continues on with the power to transform as he/she has been transformed. To grow profitably, all of us need to be memorable, show our artistry or our speed, connect to the IoT, and be authentic. Research that lacks either showmanship or artistry will not suffice. We need the storytelling techniques to make insights memorable, entertaining, and, ultimately, actionable.
Where are you on your Hero's Journey?
Julie blogs for GreenBook, ResearchAccess, and CMB. She's an inspired participant, amplifier, socializer, and spotter in the twitter #mrx community, so talk research with her @julie1research.
Are you following us on Twitter? If not, join the party!