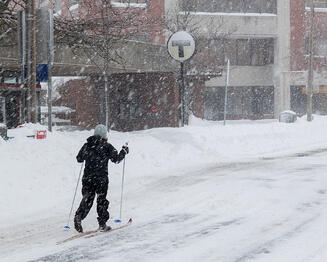 Maybe you've seen the news? This winter, Boston ushered in a new ice age. I'm joking (sort of), but you'll forgive me since we have had six, SIX consecutive snowstorms, dropping over 90 inches of snow on the region. Commuting has become a game of strategy, and shoveling and "roof raking" have overtaken hockey as the city's top winter sport. You know it's bad when The New York Times' editorial board tries to lift their city's spirits by reminding New Yorkers that at least they don't live in Boston. Ouch!Of course these storms have been no laughing matter for area businesses and employees, and customer loyalty is critical for surviving these stressors. So what can companies do to leverage loyalty when their customers are buried under 7+ feet of snow?
Make me love you so much I'll go out of my way to get to you. Loving a brand can help a customer look past inconvenience. For example, I have been using a service to help me decorate my house. The appointment when we were going to make some final decisions just happened to fall during one of the many snowstorms. I should have rescheduled—it was snowing and the roads were awful. But I was so excited that I just couldn't wait, and I drove through the snow to make the appointment. Are your customers willing to drive through a raging storm to get to you? That's an example of the true love and loyalty we strive for.
Build a strong foundation of trust and confidence. Between commuting nightmares, school closings, and travel bans, much of our work was being done outside of normal business hours. When I explained our situation to clients and coworkers, they understood. Communication and transparency are critical—be honest and upfront, and your loyal customers will respond. But. . .
Even the most loyal customers have a breaking point. A few weeks ago, my husband and I had highly anticipated dinner plans, but we ended up not going because we knew we wouldn't have the patience to handle the parking challenges. We weren't alone, and because of this, restaurants in particular have suffered. Businesses can use this time to find other avenues to connect with customers, e.g., doing competitive research or communicating to your (snowbound and captive) customers via social media, getting them excited about when they can come and see you next.
Alternative online experiences are critical. Even though I couldn't get out, I still needed things to do, and the snowpocalypse gave me the opportunity to beef up my online purchases and explore new websites. This is just one reason (of many) it's important for businesses to have a functional and enjoyable online and mobile experience for customers who can't get to you.
One man gathers (shovels?) what another man spills. Customer loyalty is truly tested during times like these. Our public transit system has been having major problems. It's been over a week since our last snowstorm, but our service is nowhere near back to normal. My colleague, who just couldn't take it anymore, called an Uber and paid $50 for a 3 mile ride to work. It is unlikely the MBTA will lose customers over its spotty service, but will Uber or Lyft gain new and loyal customers as a direct result from the MBTA's limited service? It's surely possible.
The fact is, we can't control the weather, and we can't control every touch-point in the customer experience. But we can make sure we're prepared by building a strong base of loyalty that can see through stormy weather and won't melt come spring.
Tara Lasker is a Research Director at CMB who is a survivor of 7 school snow days in 3 weeks, limited bus/train service, and severe cabin fever. She is looking forward to a family ski trip to North Conway, NH where she'll actually be able to enjoy the snow.