If you live in Eastern New England, I am willing to bet you've seen a Jordan's Furniture ad. Like Giant Glass (1-800-54-Giant!) and Bernie and Phyll's (quality, comfort and price—that's nice!), it's a brand we New Englanders recognize instantly. For those of you outside the Northeast, Jordan's is a 5 store chain in Massachusetts, New Hampshire, and Rhode Island. And while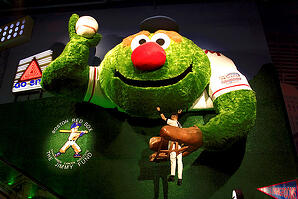 they are known for their creative ads, the store's core message is always the same:
We have a wide variety of products at low prices

We're local and we serve the locals

We offer "shopper-tainment"—an experience above and beyond a typical store
Our work with brands at CMB tells us that defining the brand promise and how it matches up with a customer's experience is more effective than measuring satisfaction in a vacuum. And when CMB works with clients to measure and understand customer experience we take the components of the brand's value proposition and measure them for all the possible ways customers experience the brand—from how customers research products, to the promotions, to the in-store shopping experience.
A recent trip to Jordan's with my husband and 2 year-old, had me thinking about the multiple elements that make up the customer experience. I hadn't been to Jordan's in years, but I remembered a lot of activity, including a trapeze. Back then, I walked right by and did what I needed to do. But this time the "activity," which was a bit distracting the first time around, was a welcome addition for entertaining my daughter. There's an enormous Wally the Green Monster, mini-cars for the kids to drive, ice cream, and a ton of other fun stuff that allowed me to shop – dare I say—leisurely.
My trip to Jordan's highlighted how the different elements of shopping have changed for me over the past few years—I've gone from single girl to married with a 2 year old and another baby due any minute. Long gone are the days of casual shopping. But now the experience is a greater consideration for where I will shop, and the shopping experience is something Jordan's has mastered.
I can't ignore the big question, did I buy anything? Not this time, but let's just say that Jordan's is high on my list the next time I need to shop for furniture. Would this type of experience deter the singletons who could do without the trapeze and fountain show? Maybe, but, Jordan's knows their market, how to speak to them, and how to deliver. They kept their brand promise and have increased my likelihood to return. Well done.
Tara Lasker is Director of Project Operations at CMB, she welcomed a brand new baby boy on Monday, and will no doubt have many more opportunities for buying furniture in the future.