"How do I love thee? Let me count the ways." "You're my favorite brand ever." "You've taken such good care of me over the years we've been together." "I can see myself spending the rest of my life with you." How many of your customers would say such things about you?
Loyalty is a behavior, and behaviors often have underlying attitudes that drive them. We might continue to purchase the same product over and over for a variety of reasons. Don't get me wrong: repeat business is almost always a good thing. But, if it comes at a negative margin, it may not be a good thing. If you frequently incentivize your customers, you might be buying loyalty (deal loyalty), but are you making money doing it? If your deal loyals are promoting you, are they promoting the deal or your brand? In a perfect world, we not only create a behavioral commitment, but also an emotional bond with the brand and, ultimately, the company.
Many companies track the Net Promoter Score (NPS) as a measure of loyalty. This adds another potential behavior to the mix—advocacy. If we look at a traditional purchase conversion ladder, advocacy or evangelism would be at the top of the pyramid. Promoters are certainly advocates, but are they also evangelists? Is promotion really enough? Don't you really want to know what they're saying?
Advocacy is attempting to influence decisions. Evangelism is relaying information about a particular set of beliefs to encourage conversion. Advocacy may encourage lexicographic information processing—buy cheapest, buy fastest, etc. Evangelism should encourage a more holistic view of evaluating the brand. The implication is that beliefs are probably more deeply rooted in brand performance. This creates a bond with the brand that transcends getting a good deal. You want folks that are proud to wear your logo and serve your product as well as folks who would gladly buy other goods/services from you if you want to extend the franchise.
In a recent survey, we found that about 60% of brands promoters love the brand. If they don't love you, what are they saying about you? On the flip side, over 80% of those that love you are promoters. Clearly promoters have value to the franchise in helping grow the brand. As a company, you not only want more promoters, you'd like to believe they are, in fact, promoting the brand and the company and not something else.
How can we improve on tracking the NPS score? We find a way to capture the emotional bond of your true loyals. Those customers who love you will clearly go out of their way to buy you, pay more for your product or service, and proudly share your brand with others. Growing this share of your customer base will certainly help you grow both the top line sales and bottom line net profits.
At CMB, we've been looking at the Emotional Fingerprints™ brands leave on their customers. We've developed a measure of the emotional bond customers have for brands. When we look across different segments of your loyal customers, we can clearly see that those that love you clearly are more bonded to your franchise.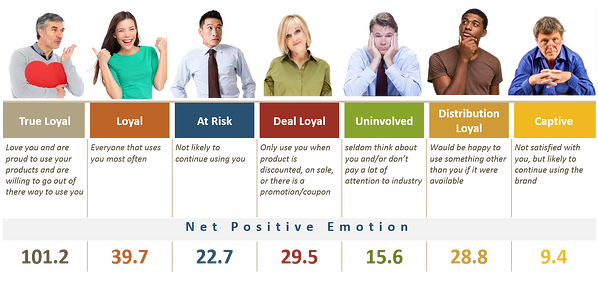 So, even if you forgot the roses this Valentine's Day, don't forget to send your favorite customers a forget-me-not. Let them know how much you appreciate their business and their love.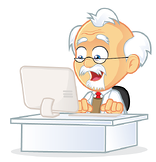 Dr. Jay Weiner is the top digit-head at CMB. Starting next month, he'll answer your burning market research questions in his new blog series: Dear Dr. Jay. You can send your questions to DearDrJay@cmbinfo.com or submit anonymously here: http://forms.cmbinfo.com/dear-dr.-jay