Summer brings many joys—BBQ's, the beach, and one of my favorite holidays. . .I'm referring, of course, to Shark Week. For over 25 years, the Discovery Channel has loaded as much shark-related content as possible into a 7-day period, including TV programming, online content, and social media frenzies by both the network and other "official" (and non-official) partners.While some of these partnerships are no-brainers (e.g., Oceana, National Aquarium, and Sea Save Foundation), other less obvious partners such as Dunkin Donuts, Cold Stone Creamery, and Southwest Airlines, must get creative with their marketing to connect their brands to "the most wonderful week of the year." Southwest, for example, offered flyers the chance to watch new content via a special Shark Week channel and to enter a sweepstakes for a chance to swim with sharks. Both Cold Stone Creamery and Dunkin Donuts debuted special treats ("Shark Week Frenzy"—blue ice cream with gummy sharks—and a lifesaver donut, respectively).

But it didn't stop there—brands on social media found ways to tie in products to Shark Week in every way possible. Just take a look at these posts from Claire's, Salesforce, and Red Bull.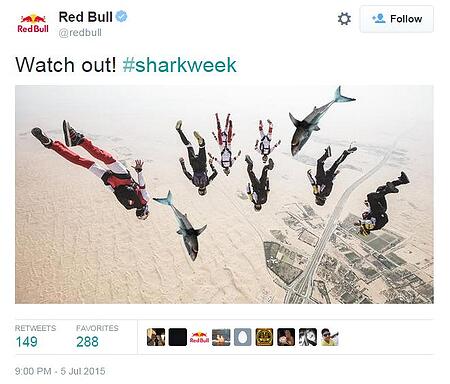 So, what's in it for these brands? Why go out of their way to connect themselves to something like Shark Week, which is seemingly unrelated to their services and products? It's as simple as the concept of brand associations. Since brand associations work to form deeper bonds with customers, brands are often on the lookout for opportunities that will boost their standing with customers. Shark Week attracts millions of viewers each night, and since it's one of the few true television events that remains, it presents the perfect opportunity for brands to engage with customers in a way they don't often get to do. Furthermore, it demonstrates that these brands are in tune with what their customers like and what's happening in the pop culture world. And, judging by the amount of interactions brands received from consumers, I'd say it worked.
If you missed the fun of Shark Week last month (the horror!) or just want more, don't worry—Shweekend is just around the corner (August 29th), and I'll be anticipating what brands can come up with this time. . .
Athena Rodriguez is a Project Consultant at CMB, and she is a certified fin fanatic.
Speaking of social media, are you following us on Twitter? If not, get in on the fun!